Pramila Jayapal Says Opposing Joe Biden's COVID Relief 'Tactical Mistake' for GOP
Congresswoman Pramila Jayapal (D-WA) said it was a "big tactical mistake" for Republicans to oppose President Joe Biden's popular $1.9 trillion COVID relief bill in a final House vote on Wednesday night.
The Washington Democrat told CNN's Anderson Cooper that GOP lawmakers would now have to return to their constituencies and explain why they opposed the popular stimulus package, which offers a round of $1,400 direct checks.
The Democratic-controlled House of Representatives gave the $1.9 trillion stimulus bill its final approval in a 220-211 vote largely along party lines. Not a single Republican backed it, and Jared Golden was the only Democrat to oppose the bill, which will now be signed off by President Biden.
Speaking to CNN, Jayapal said: "It's a very big tactical mistake for Republicans, and that's why I think you see some of the Republicans trying to claim credit for some of the things that are in this bill.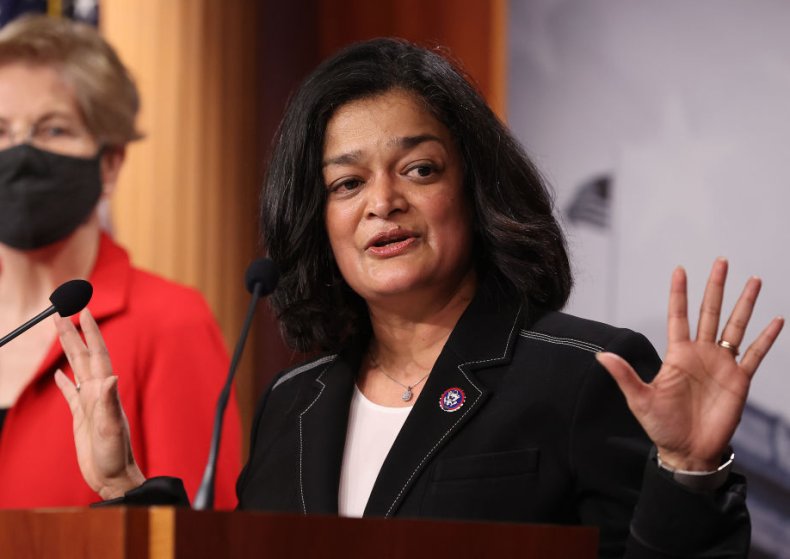 "They're going to have to go home to their constituents—and this bill has 76 percent approval across the country—and they're going to have to explain why they voted no on a package that puts money in people's pockets, and help's people survive this terrible set of crises we're in right now."
She added that Republicans would have to decide whether they would continue to obstruct the Democratic legislative agenda, or "roll up their sleeves" and work on bipartisan solutions.
The Washington Democrat rebuked her Republican colleagues after a 50-49 Senate vote to approve the relief package last week similarly broke down along party lines, with no GOP lawmaker breaking ranks to back the bill.
According to a handful of new polls, their position is at odds with much of the GOP base. One survey published by Morning Consult and Politico this week found that 59 percent of Republicans either strongly or somewhat supported Biden's stimulus plans. Seventy-one percent of independents also said they backed the bill.
Roughly a fifth of Republicans (19 percent) polled said the president's stimulus plan should have actually offered more relief, while a little more than a third (35 percent) said it offered the right amount of support. Only 35 percent of GOP voters felt the bill provided too much relief.
Asked who they felt was responsible for progress being made on the next relief package, a meagre 6 percent said GOP lawmakers were responsible, while 36 percent awarded credit to Biden.
An AP-NORC poll released last week also found that 70 percent of Americans backed the president's response to the virus, including a sizeable 44 percent of Republican voters.
A Pew Research survey, conducted between March 1 and March 7, suggested that 41 percent of Republican and Republican-leaning Americans backed Biden's relief bill. Fifty-seven percent said they opposed the package.
The graphic below, provided by Statista, shows the overall spending composition of the American Rescue Plan Act.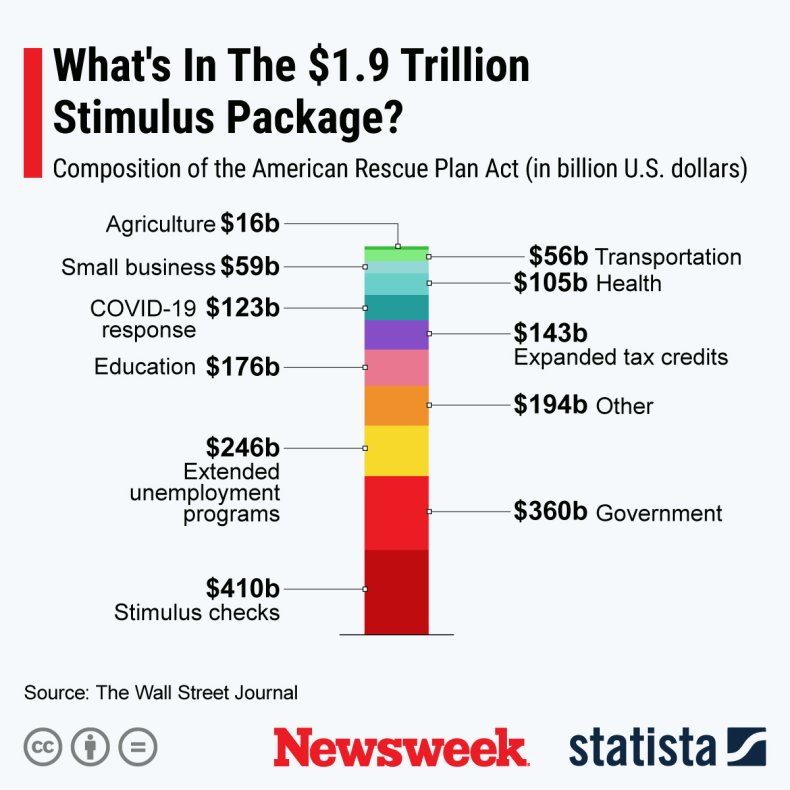 Update 3/11/21, 5:45 a.m. ET: This article was updated to include an infographic.