Joe Biden, Elected to Tame the Virus, Sees His COVID Death Toll Surpass Donald Trump's
Joe Biden's presidency is headed for another grim milestone, as COVID-19 deaths under his administration are about to surpass those recorded while Donald Trump was in office.
Biden campaigned heavily on his ability to rein in the pandemic and was strongly critical of Trump's response. Although Biden ordered nationwide mandates that Trump never considered, he failed to significantly reduce the spread of the coronavirus, and his words are coming back to haunt him as lawmakers look toward the midterms.
America's death toll from COVID-19 increased to more than 845,000 on Thursday, an increase of 420,000 since Biden was inaugurated. When Trump left office, the death toll stood at 425,211, according to the Centers for Disease Control and Prevention (CDC). The United States is recording about 2,000 new deaths per day, according to a tracker maintained by Johns Hopkins University, and at the current rate, the death toll under Biden could exceed Trump's within the next few days.
Michael Gordon, a Democratic strategist, told Newsweek that "all aspects of COVID" are a political problem for the president because the buck stops with him on issues of national importance.
"If somehow we can get it under control, then the president will be seen to keep his promise and will reap the political benefits. But if next November we're still living under a cloud of COVID, then we can add it to the list of reasons why the Democrats will get shellacked in the midterms," Gordon said.
As a presidential candidate, Biden went after Trump for his response to the health crisis, arguing that any president responsible for 200,000 deaths "should not remain as president of the United States of America." Biden also called Trump "unfit" to lead the country and blamed the former president's "negligence and incompetence" for the loss of lives and rising cases in the summer before the election.
"From day one, Donald Trump downplayed the threat COVID-19 posed, ignored scientists, and refused to take action," Biden posted on Twitter in the summer of 2020. "Now, nearly 5 million cases and more than 150,000 deaths later, it's crystal clear we're paying the price for his failed leadership."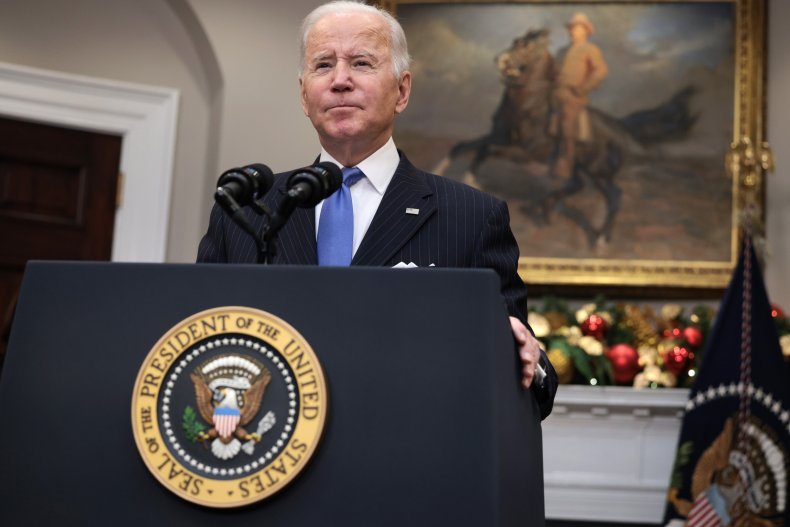 While accepting the Democratic nomination for president, Biden criticized Trump for not having a plan to combat the crisis and said he would implement a national strategy on his presidency's first day. Since taking office last January, he has signed executive orders mandating masks on federal property and vaccines for federal employees.
He also ordered companies with at least 100 employees to require that their workers get vaccinated or submit to weekly testing and wear masks. However, on Thursday, the Supreme Court struck down the mandate. The unsigned opinion argued that the Department of Labor does not have the power to "regulate public health more broadly," and requiring vaccinations "certainly" falls in that category.
Leading up to the presidential election, Biden was widely seen as the preferred candidate to handle the outbreak. But his actions have failed to significantly change its trajectory.
The below graphic from Statista shows COVID-19 deaths that occurred under former President Donald Trump and President Joe Biden.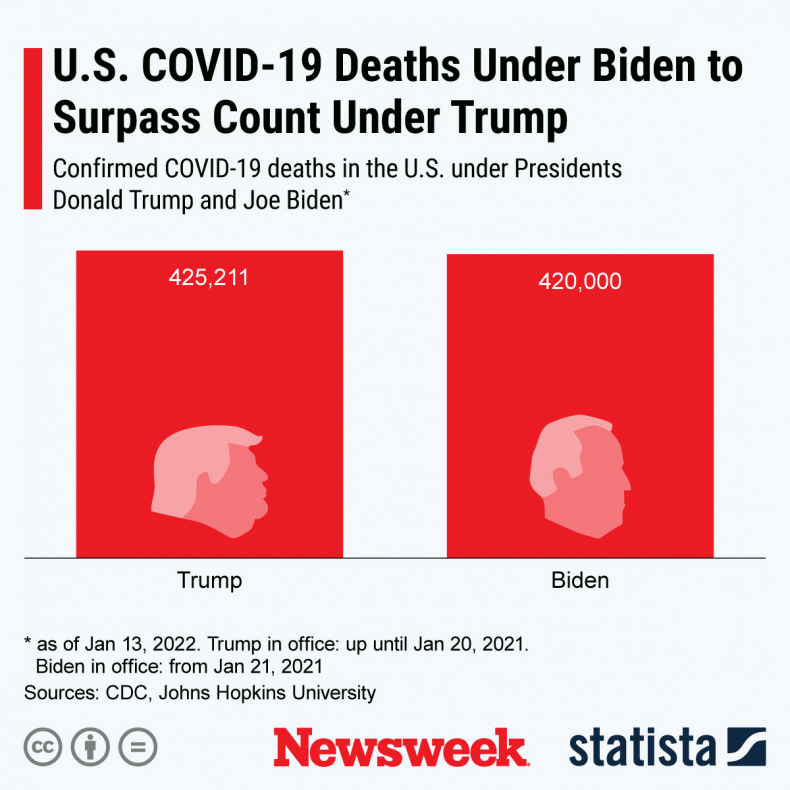 When Trump left office, more than 24 million people had been infected by the virus, and the death rate in America was about 1.7 percent. Cases have more than doubled in the year Biden has been in office, and while the death toll has dropped in recent months, it hovered around 1.6 percent or higher for the bulk of 2021. Hospitals have continued to see surges in patients, causing some to ration care, pause elective surgeries and issue warnings that they're at the breaking point.
As Biden's presidency moves toward its second year, voters' confidence in his ability to lead the nation out of the pandemic has dwindled. In May, he had a 62 percent approval rating for his handling of the crisis, and at the time vaccinations were rising and cases falling. However, months later, as vaccinations plateaued and states saw surges in virus cases, Biden's approval rating for his response to the coronavirus started to fall, according to FiveThirtyEight.
Nearly equal numbers of Americans approve or disapprove of Biden's handling of the pandemic, and the ongoing crisis has prompted some officials to reinstate mask mandates.
Mark Weaver, a Republican strategist, told Newsweek that Biden as a candidate over-promised and Biden as the president underdelivered with regard to the virus. Weaver suspected that the metrics Biden used to win the election will now be used to judge his presidency, which could hurt Democrats in the midterms.
America is now being hit with a new variant that puts even those who were vaccinated at a greater risk of infection. Omicron has shown to be more infectious than other variants, becoming the dominant variant in the United States within weeks of the first case being identified. It has fueled enormous surges in cases across the country, and experts believe infections will continue to rise.
Although COVID-19 cases due to Omicron are largely mild, Dr. Anthony Fauci, director of the National Institute of Allergy and Infectious Diseases, said the increased infections are likely to lead to increased hospitalizations and deaths.
The nation's response to the Omicron variant was marred by long waits for tests and delays in results. Biden is hoping to alleviate the strain on testing by distributing 500 million at-home tests beginning in January, although it's unclear how soon all 500 million will be available.
Biden has also purchased 20 million doses of Pfizer's COVID-19 pill, which could be a game-changer in helping to keep people out of the hospital. However, the bulk of the doses aren't set to be delivered until June, making them useless against the current Omicron outbreak.
Despite deepening concerns about Omicron, Biden has urged people not to panic. He noted that the United States is in a far different position compared with the end of 2020. At that point, only a small fraction of people had been vaccinated against COVID-19, and children weren't even eligible for shots.
The White House has defended Biden's response to the pandemic, saying it is starkly different from his predecessor's, and he earns high remarks from Democrats. However, the president is struggling with Independents, and a referendum on his coronavirus response in November could give Republicans the majorities they need to regain control of both houses of Congress.