Joe Biden's Energy Policy Will Strengthen Autocrats and Islamic Terrorists, Says Polish PM
Polish Prime Minister Mateusz Morawiecki has warned that President Joe Biden's energy policy is playing into the hands of the autocrats and terrorist organizations that seek to undermine the U.S.
Speaking with Newsweek during an interview in Warsaw, Morawiecki suggested that Biden's pivot away from fossil fuels risks empowering dictatorships like Russia and Saudi Arabia, from which money could flow to terrorist groups in the Middle East and beyond.
Biden's green push has seen his administration prioritize renewable energy projects, order a pause and review of all oil and gas drilling on federal land, and push to eliminate fossil fuel subsidies, among other measures.
Republicans and the fossil fuel industry have warned that the president's vision threatens America's energy independence and strategic position as the world's top oil-producing nation—achieved thanks to the explosion of shale production over the past decade.
"The United States started to be the critical point of oil production just two or three years ago—now even more important a player than Saudi Arabia," Morawiecki told Newsweek in the interview, of which a full transcript is published.
"And I prefer very much to be under such an umbrella, which is good for the U.S. and is good for the entire globe—it's good for the democratic planet not to be in the hands of the Russians, OPEC and the Arab producers.
"So by depriving America of this very tool, I think we collectively in the transatlantic community are going to be weakened because the dictators and autocratic regimes, such as many in the Middle East and the Russians and some others, are going to dictate prices.
"And they will have more money for terrorist activity in the Muslim world, they will have more money for more aggressive military policy and we will be paying more. So our economic growth is going to be weakened.
"We are looking at all the changes and evolutions with high attention, and we are very concerned about these changes."
Morawiecki's conservative Law and Justice Party (PiS) has pushed for closer ties to the U.S. in recent years, particularly during former President Donald Trump's time in office. The Polish government has repeatedly warned of the danger posed by Russia, arguing that President Vladimir Putin is trying to recreate a greater Russian empire.
PiS and Morawiecki have themselves been accused by their opponents of pulling Poland into authoritarianism, underpinned by anti-democratic, homophobic, sexist, and xenophobic rhetoric to mobilize voters and undermine opponents.
Earlier this year, intense protests rocked the country as demonstrators marched against a controversial new anti-abortion law that would prohibit such procedures unless in cases of rape or incest or when a pregnancy threatened the life of the mother.
Critics at home and abroad have been particularly concerned about the government's judicial reforms, which opponents say constitute an attack on the country's independent legal system. Poland and the EU remain at odds over the changes.
During the election campaign in October, Biden placed Poland alongside nations like Belarus and Hungary in his condemnation of "totalitarian regimes" buoyed by the Trump administration.
But despite all the criticism, PiS has retained strong domestic support, particularly in rural areas. The party has also been strengthened by years of economic growth, Poland now closing the gap on its Western European counterparts having joined the EU in 2004.
Like most other nations, the country was set back by the COVID-19 coronavirus pandemic. Morawiecki believes his government's "Polish Deal"—lower taxes for middle and lower earners combined with significant investment—will enable economic "rebirth."
"But we are concentrating now on the third decade of the 21st century, and to catch up with Western Europe in terms of standards of living—and also leapfrogging them, in many instances," he said.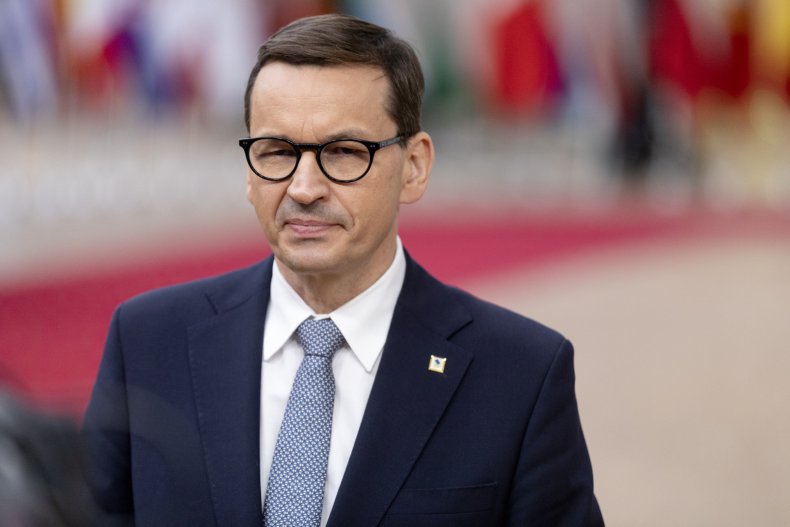 Trump's Democratic opponents spent four years condemning the former president for his perceived closeness to the Kremlin, and his apparent failure to restrain Putin. Biden's campaign zeroed in on this, promising to be tougher on Moscow than Trump.
Biden has been publicly critical of Putin since taking office, throwing his weight behind Kremlin critics, seeking to undermine Moscow's allies in Belarus, and implementing new sanctions in response to Russian covert operations against dissidents and Moscow's cyberattacks on U.S. companies and institutions.
But Russia skeptics have criticized Biden for refusing to do more to stop the Nord Stream 2 pipeline, a multi-billion project connecting Russia to Germany to enable direct transfer of Russian natural gas to Europe.
The project is a boon for Europeans looking for cheap energy, but also gives Moscow greater pull over the continent's electricity supply; a concerning security lapse for the U.S. and some of its fellow NATO nations.
The White House has described the project as a "Kremlin geopolitical project that threatens European energy security," but the president has refused to implement U.S. sanctions on the company building it.
Secretary of State Antony Blinken said Monday that Nord Stream 2's completion is a "fait accompli."
He added: "I think we have an opportunity to make something positive out of a bad hand that we inherited when we took office," suggesting the U.S. would act if Russia tried to use the gas supply as a weapon.
"We are very disappointed, in Poland, about the recent change of the position of the United States in particular because, over the last couple of years, we have worked hand-in-hand with the U.S. administration to stop or to slow down the development of Nord Stream 2," Morawiecki told Newsweek.
"And it was only recently where the American administration changed their view on this with false hopes that this will help to repair the relations between the U.S. and the European Union.
"Well, Germany is not the European Union. Germany is Germany, and they have their own interests and it happened that their interests are quite aligned and on the same page with the Russian interests.
"But this is not aligned with the transatlantic interests. So Germany is on the collision course with the transatlantic strategy, in that view, regarding its own energy interests."
He added: "By this, I don't only mean importing American gas...That's not really the primary significance here."
Morawiecki suggested it would be Russia, rather than Germany or Europe, that would benefit most.
"The primary significance is that by stopping Nord Stream 2, we were trying to not help the Russians accumulate funds for their military developments and aggressive policy," he said.
"And it was quite successful until very recently. So such a change was very disappointing, and not only for Poland but for many European countries."
Asked whether the Polish government had expressed these concerns directly to the White House, Morawiecki replied: "Yes. We've expressed our disappointment quite publicly."
The pipeline could also deepen the crisis in Ukraine, Morawiecki said, where Kiev remains locked in a simmering conflict with pro-Moscow fighters in the east of the country. Crimea too is now firmly in Russian hands following the Kremlin's annexation of the peninsula in 2014.
Ukraine is still a transit country for Russian gas heading to Europe, a status Germany said this week it must retain even after Nord Stream 2 is completed. But Morawiecki suggested Moscow might exploit the situation to further isolate Kyiv.
"Russia is going to get a strong instrument in their hands to further divide transatlantic interests and to use its weaponry toward Ukraine and Belarus overtly and covertly," the prime minister said.
"Nothing is going to stop them now marching deeper into Ukraine, because their gas pipeline system—I mean the Ukrainian one—is going to be redundant pretty soon after the Nord Stream 2 pipeline is completely established and fully operational."
Poland is pushing ahead with its own energy strategy to escape what Morawiecki called Russia's "gun to our head."
The country is investing in new natural gas terminal capacity in the Baltic Sea, a floating terminal off the port city of Gdansk, plus a new pipeline to the Norwegian shelf via Denmark.
Morawiecki said these projects will all enable the government to meet increasing gas demand in Poland, which is expected to rise from just below 20 billion cubic meters per year to some 27 cubic meters by 2028. The new capacity will be "more than sufficient for Poland," the prime minister said.
The Polish leader admitted concerns about "the problems resulting from the suspension of the construction of the Baltic Pipe on the Danish part of the gas pipeline," though added: "I hope that these are temporary difficulties that we will overcome for Europe's energy security."
He continued: "So from our point of view, we are going to be independent of Russian blackmail for the first time in our history, and this gun to our head no longer exists in terms of the pricing pressures or threats of closing the tap of gas at whatever entry point into Poland.
"This is not just about the security of the gas supplies into Poland—it's about much more than this. It's about the integration and common strategy of the transatlantic community vis-à-vis Russia.
"And this has been put under question by the 180-degree change of policy that just happened by the American administration."