Joe Biden Blasted for 'Present to Putin' By Not Sanctioning Nord Stream 2 Pipeline Firm
President Joe Biden is under fire from both Republicans and Democrats after waiving sanctions on the company behind a controversial gas pipeline between Russia and Germany that is considered a major geopolitical prize for the Kremlin.
The U.S. said it would not impose new sanctions on Nord Stream 2 AG or its German Chief Executive Officer Matthias Warnig—an ally of President Vladimir Putin.
The consortium, which is majority-owned by the Russian majority state-owned energy corporation Gazprom, has nearly completed the pipeline. This would take gas from the Russian Arctic under the Baltic Sea to Germany.
With U.S. sanctions already in place on Moscow over issues including election interference and the SolarWinds cyberattack, the project's critics in Congress argued that the pipeline would make Europe too reliant on Russian energy and could be used by the Kremlin as leverage to wield influence.
But in a statement on Wednesday, Secretary of State Antony Blinken said that while his administration has "unwavering" opposition to Nord Stream 2, whose completion it would "continue to oppose," he said that it is "in the national interest of the United States" to waive sanctions on Nord Stream 2 AG, its CEO and corporate officers.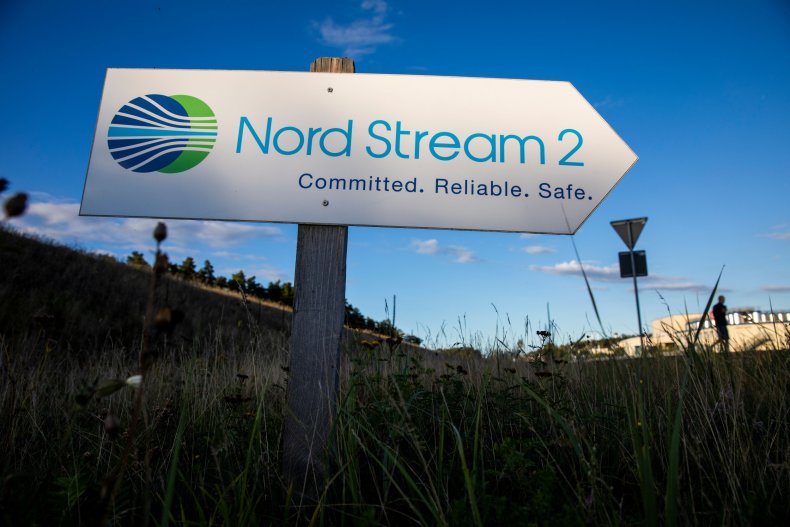 The German government has refused to stop the project, which is 95 percent completed, arguing that it is a commercial venture. German Foreign Minister Heiko Maas described the U.S. move as a "constructive step."
But Iowa Senator Chuck Grassley was among the lawmakers condemning the decision. In a tweet he said that Nord Stream 2 AG was run by a former "Stasi officer in commie E Germany," referring to Warnig's role as a former East German intelligence officer.
"Why wld Biden deliver such a present to Putin after they questioned Trump dealings w Putin??" he tweeted. Similar language was used by Idaho Senator Jim Risch, the senior Republican on the Senate Foreign Relations Committee, who described the waivers as "a gift to Putin."
Senator Tom Cotton (R-AK) tweeted: "Nord Stream 2 should be left incomplete to rust in the Baltic—not rescued by an American president." Earlier, in responding to a report that predicted the waiver, Texas Senator Ted Cruz tweeted: "Stunning. In defiance of U.S. law, Biden is actively helping Putin build his pipeline."
"Objectively speaking, the Biden administration is shaping up to be the most pro-Russia administration of the modern era," he added.
There was harsh criticism from within Biden's party as well. Jeanne Shaheen (D-NH), a senior member of the senate foreign relations committee, said that "every effort should be made to prevent completion of the Nord Stream 2 pipeline."
Meanwhile, Senator Bob Menendez (D-NJ), who chairs the committee issued a statement that said: "The administration has said that the pipeline is a bad idea and that it is a Russian malign influence project.
"I share that sentiment, but fail to see how today's decision will advance U.S. efforts to counter Russian aggression in Europe."
The State Department concluded that there was sanctionable activity linked to project and imposed measures on four Russian ships, including the Akademik Cherskiy which had laid pipes for the project.
There are also sanctions on five other Russian entities, including the Russian Marine Rescue Service. However, a U.S. official told Reuters that stopping the $11 billion project which was 95 percent completed "has always been a long shot."
The sanctions waiver announcement came as Blinken met with his Russian counterpart, Sergei Lavrov, and could help repair relations between Washington and Moscow, ahead of an expected summit between Biden and Putin next month.
It also avoids a potential rift between the U.S. and Germany as Biden tries to reach to European allies.
However, the sanctions waivers could pose a problem for ties with Ukraine which the pipeline would bypass, meaning that Kyiv, which has lobbied Washington to stop the project, would miss out on crucial revenue.
Yuriy Vitrenko, CEO of Ukraine's state-owned energy company, Naftogaz, said Nord Stream 2 was Moscow's "most malign and dangerous geopolitical project."
In a statement to Newsweek, a State Department spokesperson said that sanctions on Nord Stream 2 AG would negatively have impacted U.S. relations with Germany, the EU, and other European allies and partners.
"The issuance of this waiver provides space for diplomatic engagement with Germany to address the risks a completed Nord Stream 2 pipeline would pose to Ukraine and European energy security.
"Strong Transatlantic relationships are in the national interest of the United States, and the Administration has committed to rebuilding relationships with European allies and partners," the spokesperson added, pointing to measures imposed on Russia under Protecting Europe's Energy Security Act.
Newsweek has contacted the Ukrainian foreign ministry for comment.
UPDATE, 05/22/21, 04.35 a.m. This story has been updated to include a statement to Newsweek by the State Department.