Joe Biden Faces Christian Backlash Over Transgender Children Remark
Democratic presidential nominee Joe Biden is facing criticism among some Christians for his unequivocal endorsement of transgender identity and rights for young children.
During his ABC News town hall in Philadelphia on Thursday night, Biden said there should be "zero discrimination" against children who are transgender. His remarks came after Mieke Haeck—a mother of an eight-year-old child who identifies as transgender—asked the former vice president whether he would overturn President Donald Trump's "dangerous and discriminatory agenda" against transgender rights.
"I will flat-out just change the law. Eliminate those executive orders," the Democrat responded. "There is no reason to suggest that there should be any right denied your daughter ... that your other daughter has a right to be and do."
Biden's stance on the issue quickly drew condemnation among some Christians groups.
Family Research Council Action, an American fundamentalist Protestant activist group, accused the presidential candidate of promoting the "unfounded belief that all children with 'gender dysphoria' are innately and immutably 'transgender."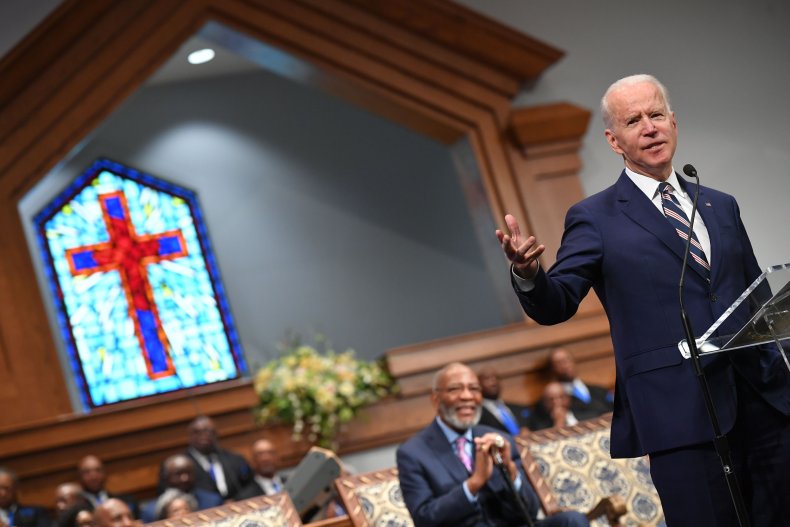 On Friday, the group released an analysis claiming scientific research has found long-term harm in gender transition procedures among minors.
"Joe Biden is wrong to encourage gender transitions for 8-year-old children," said Peter Spring, Senior Fellow for Policy Studies at Family Research Council Action.
Denny Burke, an Associate Pastor at Kenwood Baptist in Louisville, Kentucky, condemned Biden for encouraging children to deny their biological bodies.
"No, no, no. If you have a child with gender conflicted feelings, you aren't helping them by encouraging them to embrace body-denying propaganda," he tweeted. "Their body isn't lying to them about maleness/femaleness. Don't lie and tell them that it is."
Many Americans don't know that Biden is Catholic. Of 3,000 adults asked online between September 26 and 26, by Redfield & Wilson Strategies for Newsweek, 56 percent said they weren't aware that the former vice president was of that faith, compared to 44 percent who said they knew.
In the final stretch of his campaign, Biden has increasingly promoted his connection to the Catholic faith and touted the prospect of being the country's second Catholic president—six decades after former President John F. Kennedy made history as the first.
Recent campaign ads show Biden praying, standing next to Pope Francis and reading on a pulpit. In one radio ad, a parishioner explained how Biden is a regular at her church's Sunday Mass.
Despite his faith, the vice president has previously faced backlash among the community for holding views that are at odds with Catholic teachings. In late September, cardinal Raymond Burke called for Biden to be excluded from receiving Catholic sacraments due to his long history of pro-choice positions.
"Certainly, he is not a Catholic in good standing, and he should not approach to receive Holy Communion," Burke said. "A Catholic may not support abortion in any shape or form."
Biden's stance on transgender rights have irked some conservatives, but rights groups have praised his commitment to enacting protections for the community.
"We deserve a president who will fight for transgender rights, advocate for our community and affirm that Black Trans Lives Matter," tweeted the Human Rights Campaign. "Joe Biden is that leader."
American activist Charlotte Clymer said she wasn't surprised when Biden gave an empathetic answer to trans rights during the town hall.
"He's been doing this for quite some time. He was the first national leader to publicly support trans rights back in 2012," she tweeted.
Biden's position contrasts the policy positions taken by his Republican opponent. In his capacity as president, Trump has repeatedly attacked transgender people and rolled back existing discrimination protections for the community.
Newsweek reached out to Biden's campaign for comment.