Anti-Catholic Prejudice a Fear for 28 Percent of Voters; Half Don't Know Joe Biden's Religion, Poll Shows
More than a quarter of respondents in a recent poll feel there is a "growing hostility" towards Catholics in the United States.
Of 3,000 adults asked online September 26 to 27, by Redfield & Wilson Strategies for Newsweek, 28 percent said they felt this was the case.
Just more than a third, 35 percent, said they did not agree or disagree there was a growing hostility towards Catholics, while 17 percent said they did not know. Around a fifth, 21 percent, said they disagreed with this suggestion.
With religion having been discussed alongside issues linked to politics in recent times, around two fifths, 41 percent said religion is not at all important in determining how they vote. On the other hand, 23 percent said it was very important.
In regards to religion and politicians, the majority of those asked said they were not aware Democratic presidential candidate Joe Biden was Catholic. Of those asked, 56 percent said they were not aware, compared to 44 percent who said they were.
Biden has faced scrutiny on religion in the run up to the election, with some members of the Catholic church having questioned whether followers can vote for him due to some of his stances politically and suggesting he will not uphold certain "Catholic values."
However, other senior members of the Catholic church have urged people to not suggest voting for Biden is sinful and are insisting it is not, despite some members of the clergy having claimed this to be the case.
Comparing President Donald Trump and Biden, more people asked in the recent polling were likely to say Trump's religious views did not align with theirs than Biden's.
Around a third, 32 percent, chose zero when asked on a scale to 10 how much they thought their views on religion aligned with Trump's. On the other end of the scale, 14 percent chose 10.
For Biden, 19 percent chose 0 whereas 15 percent chose 10.
This comes after previous surveys have indicated people are more likely to think Biden is religious than Trump. Trump, however, has attempted to use religion as an attack line against Biden, suggesting his rival and his fellow Democrats are "against God."
Asked for comment on the polling, Ken Farnaso, deputy national press secretary for the Trump campaign, told Newsweek: "The hostility to Catholic beliefs and the rise in violence against houses of worship, religious symbols, and sacred spaces is quickly becoming an epidemic across the country led by radical leftists hell-bent on destroying the very moral fabric of our nation.
"President Trump has fought and will fight to preserve our religious freedoms, but it is undoubtedly clear that in Joe Biden's America, we won't be safe."
Newsweek has contacted the Biden campaign and the White House for comment on the polling.
The polling data of the 3,000 registered voters from all political affiliations across the U.S. was collected through an online survey created by Redfield & Wilson Strategies.
The pollster group is a member of the British Polling Council (BPC) and the American Association for Public Opinion Research (AAPOR) Transparency Initiative.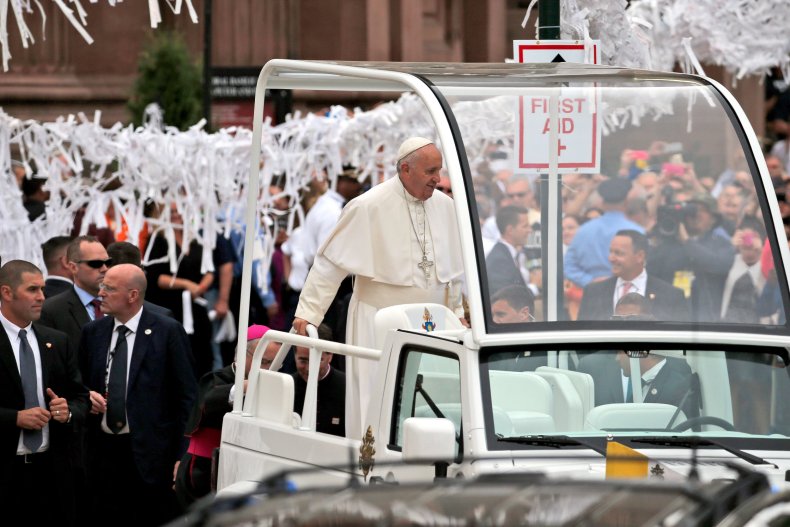 Update 09/30/20: This article was updated to include comment from the Trump campaign.