Why Joe Biden Is Banning Menthol Cigarettes
The U.S. Food and Drug Administration will be "working toward issuing proposed product standards within the next year" to ban menthol cigarettes, it revealed on Thursday.
The ban aims to "reduce tobacco addiction and curb deaths" and "address health disparities," the FDA said in a statement.
Acting FDA Commissioner Janet Woodcock said on Thursday: "Banning menthol—the last allowable flavor—in cigarettes and banning all flavors in cigars will help save lives, particularly among those disproportionately affected by these deadly products.
"Armed with strong scientific evidence, and with full support from the [Biden] Administration, we believe these actions will launch us on a trajectory toward ending tobacco-related disease and death in the U.S."
The announcement follows a lawsuit filed against the FDA last June by the African American Tobacco Control Leadership Council, the group Action on Smoking and Health, the American Medical Association and the National Medical Association.
The lawsuit claimed that the council and the other three groups had "repeatedly called for FDA to fulfill its statutory duty to re-evaluate tobacco product standards and take up a rule to ban menthol cigarettes. FDA has failed to do so, refusing even to resolve a Citizen's Petition … filed more than seven years ago."
The petition calling for a menthol ban had been filed in 2013 by 19 public health organizations.
The lawsuit added: "FDA's delay, inaction, and failure 'to move quickly' has been devastating, leading to millions of people initiating smoking cigarettes, and thousands of premature deaths."
Woodcock said on Thursday: "With these actions, the FDA will help significantly reduce youth initiation, increase the chances of smoking cessation among current smokers, and address health disparities experienced by communities of color, low-income populations, and LGBTQ+ individuals, all of whom are far more likely to use these tobacco products."
Xavier Becerra, the health and human services secretary, said in a statement on Thursday: "This science-based decision reflects the Biden Administration's commitment to improve the health of all Americans and to tackle health disparities in our most marginalized communities."
Impact of menthol cigarettes
The FDA said on Thursday: "Menthol masks unpleasant flavors and harshness of tobacco products, making them easier to start using. Tobacco products with menthol can also be more addictive and harder to quit by enhancing the effects of nicotine."
There are currently around 18.6 million menthol cigarette smokers in the U.S. Among all Black smokers, nearly 85 percent smoke menthol cigarettes, while 30 percent of white smokers use menthol cigarettes, according to the FDA.
The American Medical Association says smoking-related illnesses are the leading causes of death among African Americans.
After the ban was announced, the association said: "A report by a committee of the FDA concluded that if menthol cigarettes had been removed from the marketplace in 2010, then (a) by 2020, roughly 17,000 premature deaths would have been avoided and about 2.3 million people would not have started smoking. It is critical to ban menthol now."
Phillip Gardiner, co-chair of the African American Tobacco Control Leadership Council, said on Wednesday: "Smoking rates are going down, but people's use of menthol is not. Who's being left in the market are menthol smokers. They've been predatorily marketing these products to the African American community."
Delmonte Jefferson, executive director of the Center for Black Health & Equity, told NBC earlier this week: "Menthol is just another example of the health inequities that have plagued African Americans for generations."
What supporters say
The health groups that filed the lawsuit have all welcomed the FDA announcement.
In a statement on Thursday, Action on Smoking and Health said: "After more than a decade of inaction from the federal government on menthol, the Biden Administration acted quickly and definitively to prioritize Black lives and to make progress towards ending the institutionalized racism African Americans face as a result of menthol cigarettes.
"While a menthol ban does not go into immediate effect, our hope for a better, brighter, and healthier tomorrow starts today."
In a joint statement with ASH, Gardiner said: "The AATCLC strongly encourages that tobacco control activists throughout the country continue to fight to ban the sale of menthol tobacco products at the local, state and federal level.
"We know that this rule-making process could take years and we know that the tobacco industry will continue to do everything in their power to derail any attempt to remove their deadly products from the market."
What others say
In a statement shared with Newsweek on Friday, a spokesperson for British American Tobacco, one of the world's largest tobacco companies, said: "The published science does not support regulating menthol cigarettes differently from non-menthol.
"The scientific evidence neither shows a difference in health risks between a menthol and a non-menthol cigarette, nor does it support that menthol cigarettes adversely affect initiation, dependence or cessation.
"BAT's US subsidiary, Reynolds American Inc. will evaluate any proposed regulation and will participate in any consultation and the rule-making process by submitting robust, science-based evidence.
"Our corporate purpose is clear: to reduce the health impact of our business through our multi-category portfolio of scientifically substantiated reduced risk products."
Imperial Brands, another large international tobacco company, said in a statement: "There is no conclusive science to support a ban on menthol," adding that it expected most menthol smokers to switch to other cigarettes. "We would not therefore anticipate any significant impact on our U.S. business."
Newsweek has also contacted the tobacco companies Altria and R.J. Reynolds for comment.
The American Civil Liberties Union has raised concerns that a ban would "foster an underground market" for menthol cigarettes and "disproportionately impact Black and Brown communities."
Aamra Ahmad, a senior legislative counsel at the ACLU, said on Wednesday: "There are serious concerns that the ban implemented by the Biden administration will eventually foster an underground market that is sure to trigger criminal penalties which will disproportionately impact people of color and prioritize criminalization over public health and harm reduction.
"At this pivotal moment, as the public demands an end to police violence erupting from minor offenses, we call on the Biden administration to rethink its approach and employ harm reduction strategies over a ban that will lead to criminalization."
In its announcement on Thursday, the FDA said the "enforcement of any ban on menthol cigarettes and all flavored cigars will only address manufacturers, distributors, wholesalers, importers and retailers.
"The FDA cannot and will not enforce against individual consumer possession or use of menthol cigarettes or any tobacco product."
Newsweek has contacted the FDA, the U.S. Centers for Disease Control and Prevention and the World Health Organization for comment.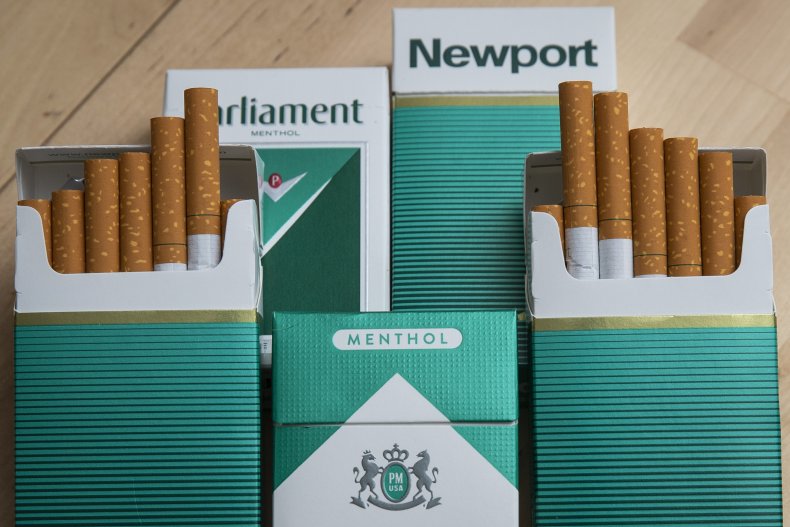 Newsweek, in partnership with NewsGuard, is dedicated to providing accurate and verifiable vaccine and health information. With NewsGuard's HealthGuard browser extension, users can verify if a website is a trustworthy source of health information. Visit the Newsweek VaxFacts website to learn more and to download the HealthGuard browser extension.