Why Did the U.S. Crack Down on Fruit E-Cigarette Flavors, but Not Menthol?
The Trump administration has announced a crackdown on e-cigarette flavors popular with children, such as fruit and mint. However, tobacco and menthol flavors remain untouched.
The U.S. Food and Drug Administration (FDA) announced the policy in a statement on Thursday, which it hopes will curb "epidemic levels" of youths vaping.
According to the 2019 National Youth Tobacco Survey, more than 5 million U.S. middle and high school students said they had used e-cigarettes in the past 30 days. Between 2017 and 2019, the proportion of high schoolers reporting they vaped spiked from 11.7 percent to 27.5 percent. This prompted concern among health professionals due to the harm nicotine can do to the developing brain, and the increased likelihood of children trying regular cigarettes after vaping.
Officials believe allowing the sale of menthol and tobacco products will give adults using e-cigarettes as a means to stop regular smoking a place to turn. Data suggests young people are "particularly attracted to e-cigarette flavors such as fruit and mint, much more so than tobacco or menthol-flavored e-cigarettes," the FDA stated.
U.S. Secretary of Health and Human Services Alex Azar commented in a statement: "By prioritizing enforcement against the products that are most widely used by children, our action today seeks to strike the right public health balance by maintaining e-cigarettes as a potential off-ramp for adults using combustible tobacco while ensuring these products don't provide an on-ramp to nicotine addiction for our youth."
The FDA emphasized it has not approved any of what it calls electronic nicotine delivery systems, meaning all such products are illegally marketed and subject to enforcement at any time. But at the moment, menthol and tobacco flavored liquids aren't the agency's priorities, it said.
The move follows an outbreak of vaping-related lung injuries in the U.S., which has caused 2,561 hospitalizations and five deaths, according to the U.S. Centers for Disease Control and Prevention. The body advised adults who use e-cigarettes to monitor themselves for symptoms of the condition.
But it stressed those vaping as an alternative to cigarettes should not go back to smoking. Evidence suggests that although e-cigarette products aren't totally safe, they appear to be less risky than combustible products. They also seem to be more appealing and effective than other nicotine replacement treatments.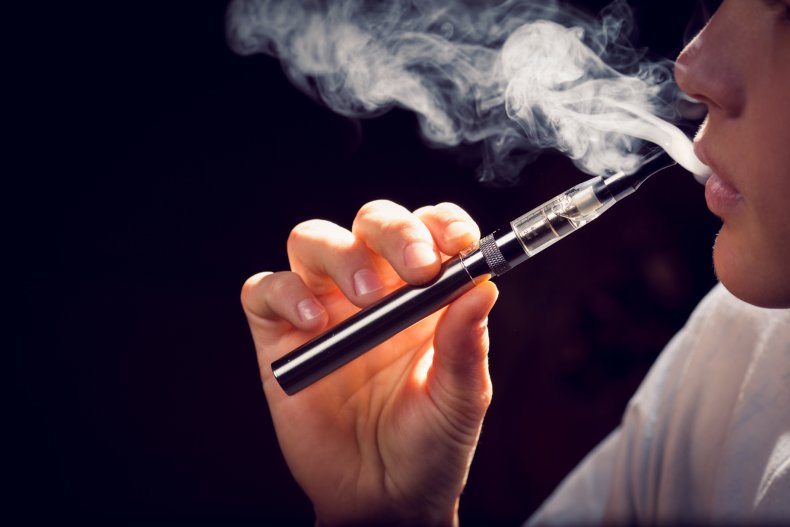 Lion Shahab, associate professor in health psychology at University College London, criticized the ban, arguing flavors are an important motivator for smokers to switch over to vaping.
Restricting flavors puts e-cigarettes on a par with regular cigarettes in the U.S., he told Newsweek, "removing one of the motivations for smokers to try and reduce the harm from combustibles by trying much less harmful e-cigarettes."
"As long as cigarettes remain legally available, it makes no sense—everything else being equal—that e-cigarettes are treated the same way. Cigarettes are uniquely harmful and any effort to restrict choices of smokers to switch will likely have a negative impact on population health," he said. Smoking kills over half of life-long users, including over 400,000 smokers in the U.S. each year, Shahab said.
Experts also told Newsweek the decision to not clamp down on the sale of menthol e-cigarette liquids should not be viewed as an indication that such products are safer. Some wrongly believe menthol tobacco cigarettes are healthier and safer, due to marketing campaigns in the past.
Simon Cotton, honorary senior lecturer in Chemistry at the U.K'.s University of Birmingham, questioned whether menthol is safer in terms of smoking cessation, pointing to research suggesting menthol flavors may contribute to addiction to nicotine, and therefore to smoking or vaping.
Dr. Miranda Ween, from the Royal Adelaide Hospital, Australia, highlighted that some studies have found additional flavoring chemicals in e-liquids labeled menthol. "It is not clear how any regulation will control for this," she told Newsweek.
"Menthol e-cigarettes have been found to have some level of toxicity in studies, so they are not exempt from the concerns raised by e-cigarette research," she added.
Offering advice to smokers looking to quit, Ween continued: "It's important to note that e-cigarettes have not gone through an FDA approval process for safety and efficacy as a smoking cessation tool.
"Therefore, the best recommendation is nicotine replacement therapies that have gone through safety testing such as the patch. Talk to your local health professional about what is the best option for you."
Lion said evidence-based approaches like nicotine replacement therapy, combined with behavioral support to stop smoking can quadruple chances of long-term abstinence compared with going it cold turkey.
"However, if a smoker has continuously tried and failed to stop using conventional methods, e-cigarettes have been shown to be an effective way to stop smoking and may be more suitable for some smokers."