Joe Biden's Resistance to Green New Deal Helps Win Back Blue-Collar Democrats in Pennsylvania
Win Pennsylvania and take the White House may be a view that oversimplifies a turbulent election campaign still likely to throw up surprises, but Joe Biden's push for the presidency has been boosted by unions reassured that his party would not be hostile to fossil fuel-reliant industries that are the lifeblood of the swing state.
President Donald Trump took the Keystone State by only 44,000 votes and this time around it has been in the crosshairs of the Democrats keen to make amends for 2016 when Hillary Clinton was accused of ignoring those outside its major conurbations, thus costing her its 20 crucial electoral votes.
Hoping to reprise his 2016 Rust Belt success, Trump has tried to portray Biden as being inveterately opposed to fracking—the process of extracting gas through hydraulic fracturing—which drives the state's industry but provokes environmentalist angst.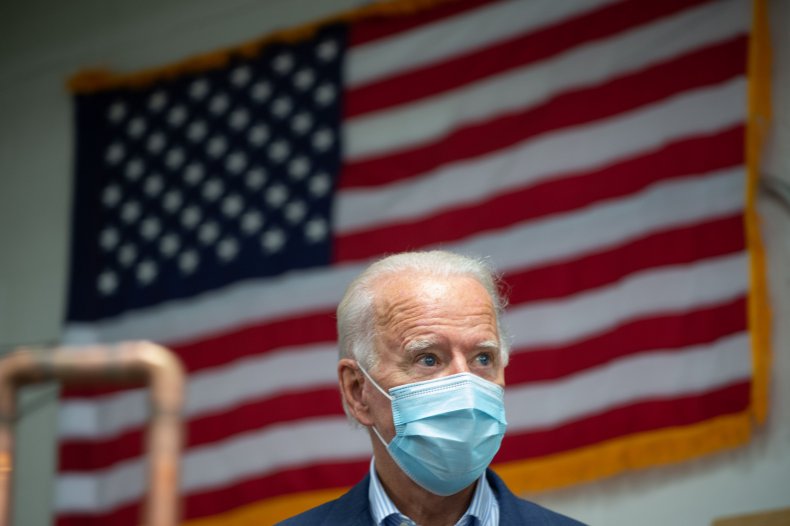 "Joe Biden has repeatedly pledged to abolish fracking. He's a liar," Trump told a rally in Johnston, Pennsylvania on Tuesday.
Biden's actual position is that he would ban new gas and oil permits—including fracking—on federal lands only. But Trump's attempts at painting Biden as an enemy of industry, and by inference, jobs, have forced the former vice president to pronounce what had been considered an ambiguous view on fracking and energy.
"Biden goes out to Alleghany County a month ago and he says 'I am for fracking'. Why is he for fracking? Because he is appealing to the working class voters that Hillary Clinton paid no attention to," Terry Madonna, director at the Center for Politics and Public Affairs at Franklin & Marshall College, in Lancaster, Pennsylvania told Newsweek.
However Madonna, who conducts frequent polling in the state, said Biden offered, "no detail, no specifics and he doesn't bring it up.
"Most people think that progressive Democrats will push their agenda, which will be more climate change legislation which could affect fracking."
During Thursday's Town Hall at the Constitution Center in Philadelphia, Biden was asked about the health and environmental impacts of the procedure. "I think you have to make sure the fracking is in fact not admitting methane or polluting the well," he said.
Biden used the ABC News event to reiterate his belief the Green New Deal's aims of 100 percent renewable energy by 2030 were unrealistic, saying "you can't get there...you're going to need to be able to transition...to get to the place where we invest in new technologies that allow us to do things that get us to a place where we get to net zero emissions."
"What we have to do is the future rests in renewable energy," he said, adding that "we should be moving toward finding the new technologies that are going to be able to deal with carbon capture."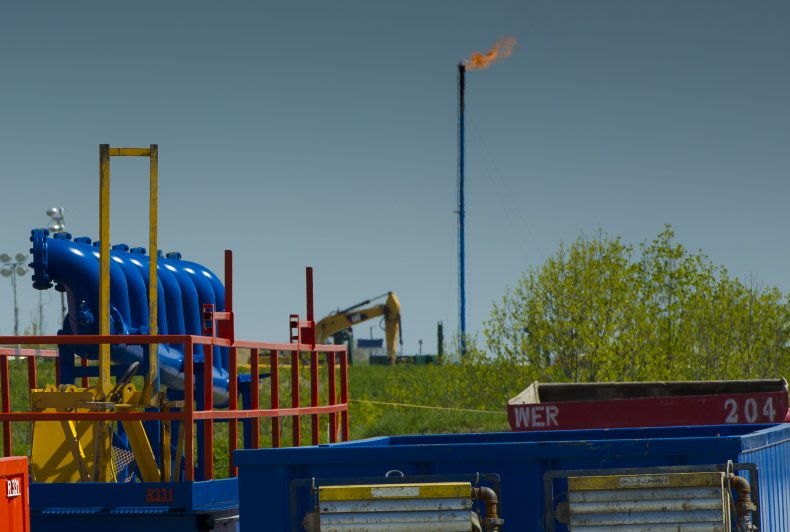 A poll last month by ALG Research found that voters in Pennsylvania, as well as Ohio, did not know where Biden stood on energy. Nearly a quarter (24 percent) said he is pro-natural gas, a third said he was anti-natural gas, and 43 percent were not sure. But Biden's recent messages on fracking have offered some clarity.
"It was very important to my members, that's what they wanted to hear," James Cassidy, business manager of Insulators Local No. 2 union just outside Pittsburgh, told Newsweek before Thursday's Town Hall.
"Fracking has helped this community so much. We want to keep it but we want to do it in a way that doesn't affect the environment too," Cassidy said.
The coronavirus pandemic put a stop to much of his union's 1,000 members' work, which entails installing insulation material on piping and boilers in natural gas plants. This meant that his union was not just concerned about Biden's energy policies, but see him as a better champion for workers whose livelihoods have been shaken up by the economic turmoil the pandemic has wrought.
Cassidy believed that Trump's choice of attorneys for the National Labor Relations Board (NLRB) will work against his members and feels there is a disconnect between the president's message on protecting jobs and the Republicans' track record with unions. This has shaped his union's view to back Biden.
"If anything goes to the Supreme Court or federal courts, we are going to lose and it is going to have an impact on workers to collectively bargain," Cassidy said.
"I can't understand why anyone in organized labor can support him, I really don't," he said referring to Trump, "I am not saying Joe Biden is going to be our savior, but as far as a labor standpoint is concerned, he is 100 percent head and shoulders above President Trump."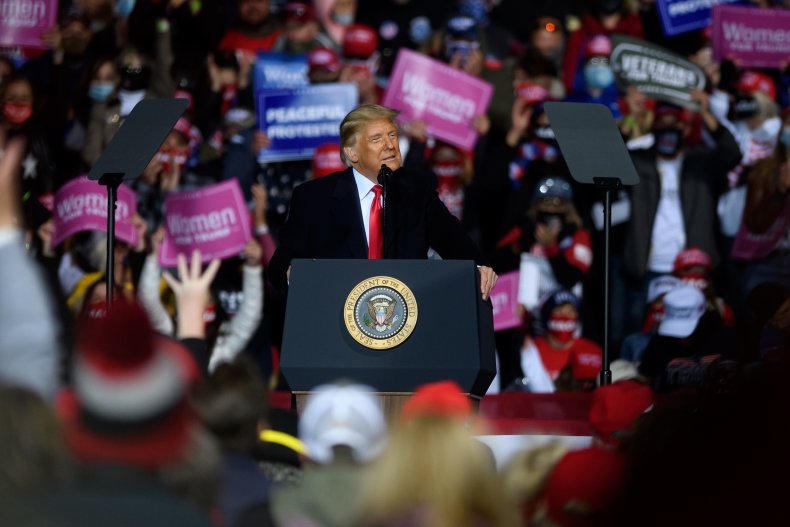 Other bodies such as the Carpenters and Operating Engineers Unions have thrown their support behind the former vice president. Jim Kunz from the International Union of Operating Engineers for Local 66, told The New York Times he is reassured that Biden understood fracking's importance to western Pennsylvania.
A regular attendant at the annual labor day parade in Pittsburgh where he marches with union leaders, Biden's history with unions is holding him in good stead, superseding any doubt Pennsylvania workers might have over his energy policies.
Jeff Nobers, executive director of the Builders Guild of Western Pennsylvania, which represents 60,000 workers, said that Biden's campaign staff had reached out to union leaders in south-western Pennsylvania to clarify his policy on fracking.
"I think people still have some levels of concern to various degrees," he told Newsweek, "but he has allayed some of their fears."
"I think it was enough to make the union leadership feel comfortable with endorsing him and that he would be true to his word, because he does have a long history with labor unions."
This week in one poll, Biden led by seven points in the state where he frequently brandishes his Scranton roots. His distancing from the liberal Green New Deal during the presidential debate and recent town hall shows his sensitivity over what voters in Pennsylvania might project onto his environmental policies
Tara Zrinski is a cleaner energy advocate who serves on Northampton County Council in the north-east of the state and is running for the Pennsylvania House of Representatives. Northampton is one of the 216 so-called "pivot counties" which backed Barack Obama in 2008 and 2012 but switched to Trump in 2016.
She said she tries to appeal to energy sector workers to show them that there is a path to shift jobs towards renewable energy but understands Biden's reticence to go into detail about it.
"He straddles that position and tiptoes around it. I do understand it, we aren't going to transition overnight," she added.
"The unions have almost been co-opted by the natural gas industry to protect jobs and they have bought the line that they need to help the fossil fuel industry to protect union jobs," she said.
"Lots of unions have Republican membership which is antithetical to what they are trying to do to unions because Republicans are notorious for wanting to bust unions," she told Newsweek.
With the move towards carbon neutrality inevitable, the industry is choosing between making a smoother transition away from fossil fuels and the relative intransigence of the GOP on climate.
Reassured that a Green New Deal-style revolution is not happening, Biden and the Democrats are being trusted to better navigate a lower carbon world.
"From the standpoint of the labor unions and a lot of industries, the Green New Deal was no deal at all," said Nobers, adding that he is still concerned about "unanswered questions" over what clean energy jobs will be created.
"What Vice President Biden is doing is taking the goals of that, the structure of that and implementing it in a reasonable manner that protects existing jobs, that allows things to be put in place to transition folks that may have their jobs eliminated because of the changes."
"The world is going to progress, the world is going to change and we are not going to try to stop that," said Nobers, although he pointed out, "You can't turn the switch off tomorrow. There has to be a transition."
The graph below provided by Statista shows the fundraising by the Joe Biden campaign until October.