Joe Biden Gets GDP Boost Ahead of Speech on Economy
U.S. Gross Domestic Product (GDP) rose at an annual rate of 2.9 percent in the fourth quarter of 2022, according to figures released on Thursday morning by the the Bureau of Economic Analysis (BEA).
"The increase in real GDP reflected increases in private inventory investment, consumer spending, federal government spending, state and local government spending, and nonresidential fixed investment that were partly offset by decreases in residential fixed investment and exports," the BEA said.
The latest GDP figures will be seen as good news for President Joe Biden as inflation has continued to decrease, unemployment remains low and he prepares to give a major speech on the economy on Thursday.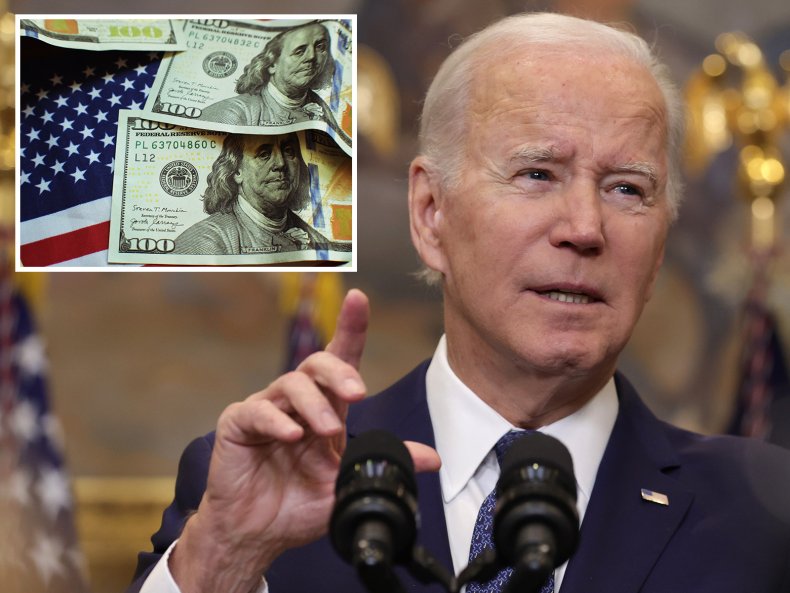 U.S. GDP increased at an annual rate of 3.2 percent in the third quarter of 2022. That was in contrast to a decline of 0.6 percent in the second quarter and a 1.6 percent decrease in the first quarter.
"For all of 2022, the U.S. economy grew 2.1 percent," the BEA's official Twitter account announced on Thursday. That may dampen talk about a recession.
Some economists have expressed concerns that the U.S. is heading for recession and declining consumer spending is one factor that could indicate a potential economic downturn.
In November, consumer spending rose by $19.8 billion or 0.1 percent from the previous month, and the Commerce Department reported that retail sales for December declined 1.1. percent—the largest monthly decline since December 2021.
Figures for consumer spending in the fourth quarter will not be available until Friday. When they become available, they may give a clearer indication of consumer confidence and the likelihood of a recession.
Thursday's positive GDP numbers come as Biden is set to make a speech about the economy in Springfield, Virginia, at 2:45 p.m. ET, where he is likely to address the matter.
Biden and his administration have repeatedly said they do not believe the U.S. is moving toward a recession. On January 5, the president said that the economy was seeing "really bright spots" and was heading for a "new plateau."
He is also expected to criticize a Republican proposal to introduce a national sales tax to replace federal income and other taxes. Biden has previously mocked the legislation.
The Fair Tax Act would also abolish the Internal Revenue Service (IRS) by the end of the fiscal year 2027, but the bill appears to be doomed after Speaker of the House Kevin McCarthy seemed to express his opposition to it on Tuesday.
In addition to taking aim at the Fair Tax Act, the president will now have the positive GDP figures to point to when he discusses the economy in Virginia and they should boost confidence that a recession is not imminent.
Two quarters of negative growth are often seen as evidence of recession but the last two quarters of 2022 saw economic growth, while the U.S. economy is not considered to be in recession officially until that determination is made by economists who sit on the Business Cycle Dating Committee, which operates under the auspices of the National Bureau of Economic Research (NBER).
The committee has not said that the economy is currently in recession.
The BEA acknowledged on Thursday that 2.9 percent GDP growth in the fourth quarter was a deceleration but said this "reflected a downturn in exports and decelerations in nonresidential fixed investment, state and local government spending, and consumer spending."
"These movements were partly offset by an upturn in private inventory investment, an acceleration in federal government spending, and a smaller decrease in residential fixed investment. Imports decreased less in the fourth quarter than in the third quarter," the BEA noted.
Newsweek has asked the White House for comment.
Update 01/26/23 09:15a.m. ET: This article was updated to include more information.