Joe Biden Has Given Up Healing America
President Joe Biden has now been in office for just over a year and his recent comments suggest he may have given up on attempts to unify the country that he previously embraced.
The president's recent hot mic remark calling Fox News White House correspondent Peter Doocy a "stupid son of a b***h" is the latest harsh criticism he's levied and came just weeks after he took aim at former President Donald Trump.
Biden's tone is significantly different from the 2020 election and during much of his first year in office when he struck a conciliatory tone and called for national healing. He also previously expressed hope of forging bipartisan agreement.
The president's apparent shift away from healing and unity could have implications for how his administration will deal with Republicans in Congress this year ahead of midterm elections in November.
On December 14, 2020, after the members of the Electoral College had certified his victory, Biden said: "Now it is time to turn the page, to unite, to heal."
The president's inaugural address on January 20, 2021, also focused on unity and healing the country.
"We can join forces, stop the shouting and lower the temperature," Biden said. "For without unity there is no peace, only bitterness and fury. No progress, only exhausting outrage. No nation, only a state of chaos. This is our historic moment of crisis and challenge, and unity is the path forward."
Biden acknowledged at the time that "speaking of unity can sound to some like a foolish fantasy these days" and acknowledged "racism, nativism, fear, demonization have long torn us apart."
"To most insiders, it sounded like a polite fiction," Paul Quirk, a political scientist at the University of British Columbia in Canada, told Newsweek. "Promoting bipartisan cooperation is something presidents are expected to do at the beginning of their terms. When President Trump used his inaugural address to stoke anger toward his political enemies, former President George W. Bush was overheard commenting 'That was some weird sh*t.'"
"But jawboning about unity doesn't have much effect," Quirk said. "The parties in Congress are more sharply divided than at any time in more than a century, and their constituencies—especially on the Republican side—don't like compromise."
After his first year in office and with major parts of his legislative agenda frustrated in Congress, the president's tone appears to have shifted and he's become much more vocal in his criticism of his political opponents.
Marking the first anniversary of the January 6, 2021, storming of the Capitol, Biden offered his strongest criticism yet of former President Donald Trump, suggesting he was a threat to democracy.
"For the first time in our history, a president had not just lost an election. He tried to prevent the peaceful transfer of power as a violent mob reached the Capitol," Biden said.
The president said of his predecessor: "His bruised ego matters more to him than our democracy or our Constitution, he can't accept he lost."
"A former president of the United States of America has created and spread a web of lies about the 2020 election. He's done so because he values power over principle, because he sees his own interest as more important than his country's interest and America's interest," Biden went on.
That critical tone was also in evidence during a speech on January 11 in support of voting rights legislation that is now indefinitely stalled in the Senate. Biden caused Republican outrage by appearing to compare opponents of the legislation to well-known segregationists and Confederate President Jefferson Davis.
"Do you want to be on the side of Dr. King or George Wallace? Do you want to be on the side of John Lewis or Bull Connor? Do you want to be on the side of Abraham Lincoln or Jefferson Davis?" Biden asked.
During his campaign, Biden struck a bipartisan note and he tried to work with Republicans during the first year of his administration.
Though he scored a bipartisan win with the $1.2 trillion bipartisan infrastructure bill, the president recently seemed doubtful about working successfully with the GOP again.
At a press conference on January 19, Biden criticized the Republican Party more broadly and appeared to acknowledge that his hopes of bipartisanship had not worked out.
"One thing I haven't been able to do so far is get my Republican friends to get in the game of making things better in this country," the president said.
"I did not anticipate that there'd be such a stalwart effort to make sure that the most important thing was that President Biden didn't get anything done," Biden went on. "Think about this: What are Republicans for? What are they for? Name me one thing they're for."
When the president was asked about working with Republicans when he was vice president from 2009 to 2017, he said they "weren't nearly as obstructionist as they are now."
Mark Shanahan, associate professor at the Department of Politics and International Relations at Reading University in the U.K. and co-editor of The Trump Presidency: From Campaign Trail to World Stage, told Newsweek that Biden has "finally woken up to the fact that the Disunited States of Political America has no intention of all holding hands and singing kumbaya."
"Every president wants to be a superhero in the White House, reaching across the aisle and turning opponents into advocates," Shanahan said. "Some like Clinton in the 90s compromised their principles to achieve their aims through aping their opponents' policies."
"Others like Johnson used forceful, sometime coercive persuasion, while even further back, the likes of Eisenhower used charm and public approval as a lever of influence," he said.
"Biden may be charming, but he's not currently popular in the country, can't unite his own party and has met blank stares of resistance from the red side of the Congressional aisles," Shanahan said.
"He is mightily cheesed off with Congress, and the mantle of smiling, reliable Joe is starting to slip—as evidenced by vocalizing what he should have kept between his ears when faced by the press. The Mr. Nice Guy strategy has achieved nothing—and he only see a way to claw back popularity with the public if he can denigrate his opponents for their groundless intransigence," he added.
David A. Bateman, an associate professor of government at Cornell University, told Newsweek that Biden wasn't "naive enough" to believe in bipartisanship.
"If Biden has given up on national healing and bipartisanship it's only in the way a bald man might give up on getting his hair back," Bateman said.
"He has very little power to reverse the decline in bipartisanship because no president does. They can make it worse, the way Trump did," Bateman went on.
"But even that's just on the margins. Presidents just aren't that powerful, and the drivers of polarization are not rooted in the level or type of congressional outreach performed by presidents and certainly not by their individual interactions with the media," he said.
"I don't think he's given up on it because I don't think he was ever naive enough to believe in it, at least not for most high priority issues," Bateman said.
"With the first year of Biden's term behind him, he knows he is not likely to get any more significant legislative victories and that Republicans will provide no more bipartisanship on administrative priorities until after November, at best," Bateman added. "So he might as well sell himself to Democrats as a fighter in the hopes that they don't stay home in the midterms."
It remains to be seen how Biden's approach will affect Democrats' relationship with Republicans in Congress but his hopes for bipartisan solutions could now be at an end. That attitude could inform the Democrats' campaign strategy for the midterms.
In the context of his recent comments, Biden's remark about Doocy seems to be part of a trend. Doocy has been part of Fox News' combative coverage of the Biden administration and many of the network's most high-profile on-air personalities regularly criticize the president.
Doocy later told Fox News' Sean Hannity that Biden had called him and "cleared the air" but the president's apparent loss of patience is in keeping with his recent critical turn.
Facing his second year as president and crucial midterm elections that Democrats could lose, it appears Biden may have given up on national healing and bipartisanship.
Newsweek has asked the White House for comment.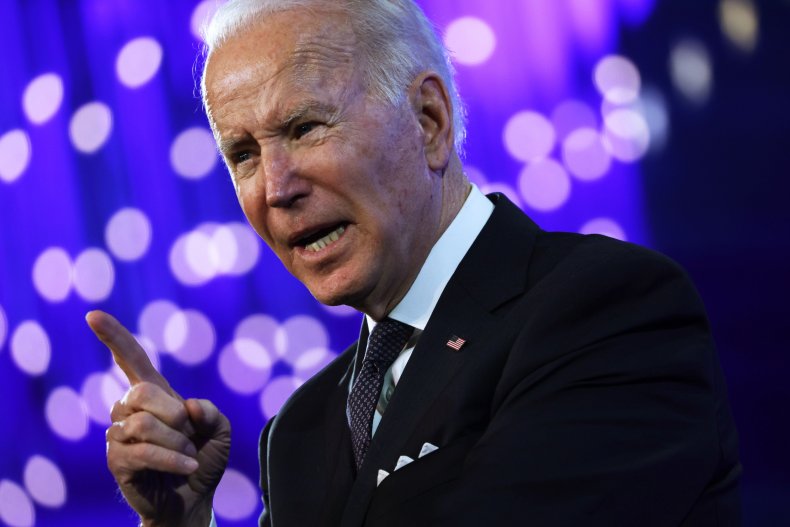 Update 01/27/22 6:40 a.m. ET: This article was updated to include expert comment.