Joe Biden Hits Back at Trump's Attacks on His Mental Capabilities: 'Watch Me, Mr. President'
Democratic presidential nominee Joe Biden has hit back at President Donald Trump's attacks on his mental capabilities.
In recent months, 74-year-old Trump and his campaign have clung to verbal gaffes Biden has made and repeatedly, without evidence, sought to paint the president's 77-year-old rival as mentally unfit, often referring to him as "Sleepy Joe."
In an interview with Fox News anchor Chris Wallace last month, Trump declined the opportunity to label Biden as senile, but said he was "mentally shot."
Biden was pressed about Trump's attacks on his mental fitness by ABC News anchor David Muir in his first joint sit-down interview running mate, California Sen. Kamala Harris.
The former Vice President insisted that despite his age, he "absolutely" could serve two terms as president. If elected, Biden would be 78 on Inauguration Day in January 2021 and the oldest ever occupant of the White House.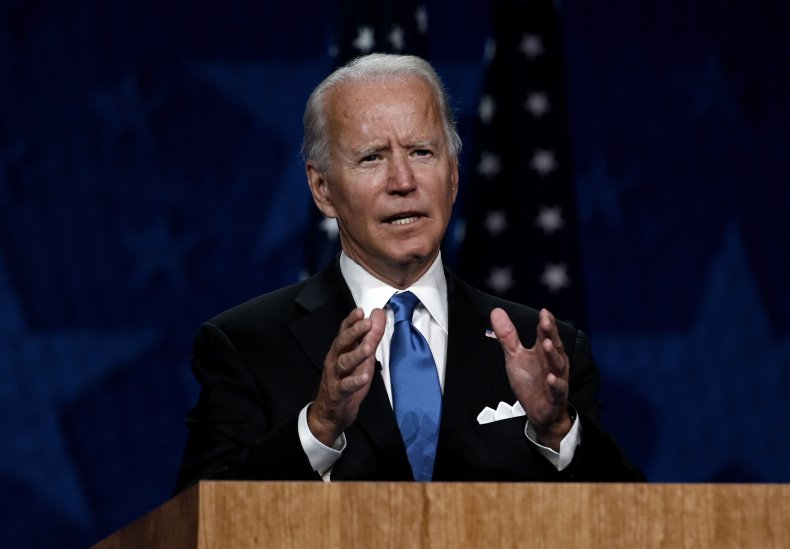 "[Trump's] campaign has called you 'diminished.' And I'm curious how you'd respond to that," Muir asked Biden.
"Watch me. Mr. President, watch me. Look at us both," Biden said, referring to Harris, 55. "Look at us both, what we say, what we do, what we control, what we know, what kind of shape we're in."
Biden acknowledged that it is "legitimate" to ask anyone over the age of 70 whether or not they are fit to lead the country. "Only thing I can say to the American people, it's a legitimate question to ask anybody. Watch me," he added.
Later, Biden said that when he called himself a transition candidate, he did not mean a one-term president. "We haven't spent nearly enough time building the bench in the Democratic Party," Biden told Muir.
He said he wants to make sure that when the election is over, "we have a new Senate, we won back statehouses, we're in a position where we transition to a period of bringing people up to the visibility that they need to get to be able to lead nationally."
Asked if that means he is leaving open the possibility of serving eight years as president, Biden replied: "Absolutely."
Biden accepted the Democratic Party's presidential nomination with a 24-minute speech during the first ever virtual Democratic National Convention.
Many praised the address, including Wallace on Fox News, who said he thought it was "enormously effective."
"Remember, Donald Trump has been talking for months about Joe Biden as mentally shot," Wallace said. "I thought that he blew a hole, a big hole in the characterization."
Meanwhile, Trump has stumbled through some of his own interviews of late. He recently bragged about passing a cognitive test that is designed to flag signs of dementia in older people and insisted Biden would not be able to pass it.
Biden and Harris' first joint sit-down interview will air on ABC on Sunday night at 8 p.m. ET.