Joe Biden's Homebuyer Tax Credit Not Enough to Fix America's Housing Crisis
Joan Vieldhouse has been renting her three-bedroom home in Philadelphia for years.
The only thing stopping her from buying her first home? "Money," she told Newsweek.
Vieldhouse, 56, said her credit "tanked" after she was recently out of work for a couple of months. "I couldn't pay all my bills on time," she explained. "I'm struggling to get that back up."
A homebuyer tax credit like the one promised by President Joe Biden during his campaign would make a "big difference" to when Vieldhouse could start thinking about buying a home, she said.
"That would be fantastic...I could probably do something with that," Vieldhouse, who works as a recovery specialist, said.
Two bills have been floated in Congress that would help Americans buy homes through either a tax credit or downpayment assistance. The First-Time Homebuyer Act would create a refundable tax credit worth up to 10 percent of the purchase price, or $15,000, for the purchase of a home.
But some advocates say such incentives are not enough to fix the nation's housing crisis, and argue that far more is needed to close the racial wealth and homeownership gaps.
Democratic Rep. Earl Blumenauer, who introduced the bill in the House with Rep. Jimmy Panetta, said the legislation is just one element of "big, bold housing agenda" aiming "to combat the housing affordability crisis and address centuries of overtly racist and discriminatory housing policies that have left massive wealth, homeownership, and opportunity gaps between white communities and communities of color."
In a statement to Newsweek, he said: "As housing prices and demand continue to rise to historic levels, we need to do more to create opportunities for those who've been locked out of homeownership."
Blumenauer added: "We are continuing to grow support for this legislation and are looking for opportunities to move it forward in Congress to support first-time homebuyers who are struggling to break into an unprecedented housing market."
Georgi Banna, the director of policy and program development at the National Association of Housing and Redevelopment Officials (NAHRO), agreed that a homebuyer credit or downpayment assistance would have a "tremendous impact" on American families.
Saving enough for a down payment and other costs can be the huge obstacle to buying a home for many families, Banna said. So a $15,000 credit "will go a long way to helping moderate, low income families really bridge that gap in financing and get them to the closing table," he said.
"We don't have the supply."
However, Dan Immergluck, a professor at Georgia State University who conducts research on housing, said the current proposal for a homebuyer tax credit is too broad given the low inventory of affordable homes on the market, especially in major metropolitan areas.
The first-time homebuyer tax credit included in the 2008 Recovery Act during by Barack Obama's administration came at a time when the market was weak, he said.
"We had the foreclosure crisis, so there were lots of houses available. We don't have that now. We don't have the supply," Immergluck told Newsweek.
"My concern about a broad-based program is it's a little bit like throwing gasoline on a fire. You really don't want that right now. You want a targeted program, to give the advantage to people who have been excluded from wealth creation and from homeownership."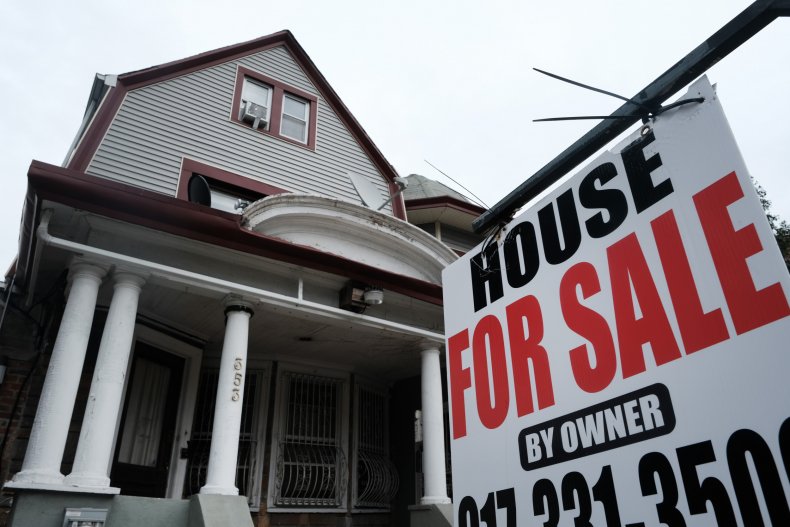 Immergluck described the racial wealth gap as a "major problem" when it comes to homebuying. "We have lots of evidence that Black borrowers have been excluded from credit markets and have been given higher costs loans," he said.
Analysis by the Urban Institute found the average wealth of white families ($919,000) was over $700,000 higher than the average wealth of Black families ($140,000) and of Hispanic families ($192,000) by 2016. And the gap in the homeownership rate between Black and white families in the U.S. reached 30.5 percentage points in 2018, the highest level in 50 years, according to the think tank.
Immergluck also noted that Black renters have been disproportionately impacted by the COVID-19 pandemic, and are more at risk of eviction. "What people don't get is that when they're evicted, they often are leaving with debt. So it's aggravating the racial wealth gap," he said.
"We can provide the American dream of homeownership."
Downpayment assistance, rather than a tax credit, would be more beneficial in closing the gap, Immergluck argued.
The Urban Institute has estimated that providing down payment assistance to first-time, first-generation homebuyers who earn up to 120 percent of the area median income would impact about 5 million people, fairly evenly distributed between Black, Latino and white households.
"We have an opportunity to say, look, we've identified both a historic and a continuing legacy of disparate treatment towards Black households," Immergluck said. "So the federal government has an obligation to target homebuying programs that provide downpayment assistance to basically ameliorate that difference."
A bill advanced by Rep. Maxine Waters proposes to do just that.
Waters, the chairwoman of the Hour Committee on Financial Services, announced a legislative housing package last month that included the Downpayment Toward Equity Act of 2021, which aims to address racial wealth and homeownership gaps by providing $100 billion toward downpayment and other financial assistance for first-generation homebuyers.
It would provide grants of up to $20,000 to first-generation homebuyers below a certain income threshold and up to $25,000 if the homebuyer is from a "socially and economically disadvantaged" background.
"For the first time in a generation, we have a real opportunity to fix these deep-rooted issues in our housing system," Waters said. "We can end homelessness. We can make rental housing affordable. We can provide the American dream of homeownership. We can do all of this by finally making the investments that we have postponed, diminished, or denied for years."