Joe Biden Honors Fallen Officer Brian Sicknick in Moving Photos of Capitol Ceremony
President Joe Biden honored fallen U.S. Capitol Police officer Brian Sicknick in a moving ceremony in Washington, D.C. on Tuesday evening.
The newly elected president and first lady Jill Biden arrived at the U.S. Capitol to pay their respects to the late officer Sicknick, who died from injuries sustained while responding to pro-Trump rioters who stormed the building on January 6.
Sicknick's remains will lie in state at the very building he died defending, inside the Capitol's Rotunda. The distinguished honor is typically only bestowed upon former presidents, military officials and members of Congress.
The somber ceremony took place less than four weeks after the officer's death, beginning at 9:30 p.m. ET on Tuesday at the East Front of the Capitol as Sicknick's remains arrived in a hearse.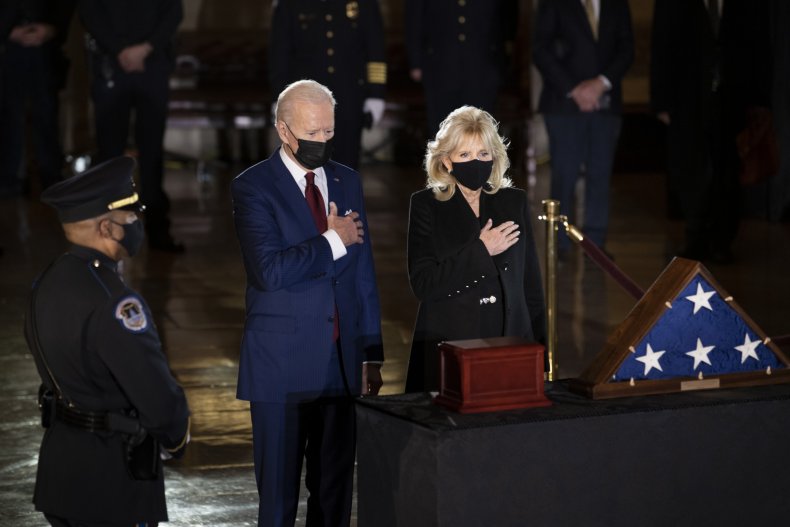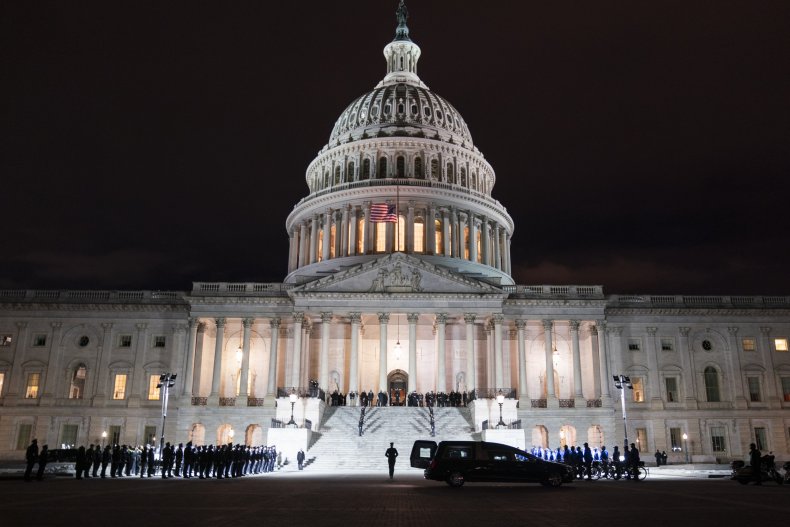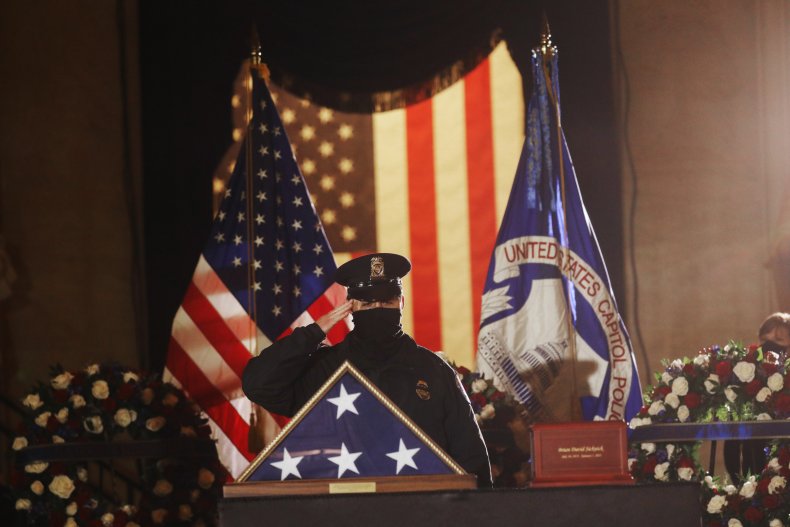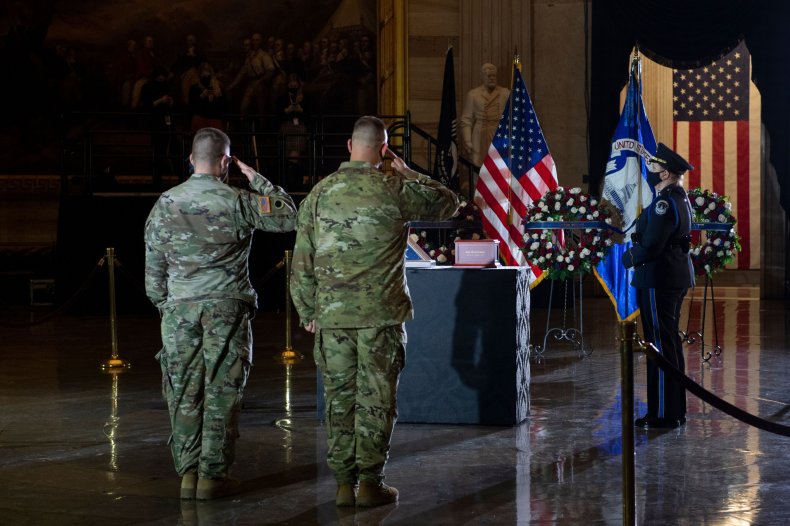 A fellow Capitol Police officer carried the box containing his cremated remains up the steps as police officers stood at attention outside the building that was stormed by violent protesters on January 6.
Speaker of the U.S. House of Representatives Nancy Pelosi, Senate Majority Leader Chuck Schumer, Senate Minority Leader Mitch McConnell and House Minority Leader Kevin McCarthy were present for the ceremonial arrival of Sicknick's ashes.
"The U.S. Congress is united in grief, gratitude and solemn appreciation for the service and sacrifice of Officer Brian Sicknick," Pelosi and Schumer said in a statement before the ceremony.
"The heroism of Officer Sicknick and the Capitol Police force during the violent insurrection against our Capitol helped save lives, defend the temple of our democracy and ensure that the Congress was not diverted from our duty to the Constitution. His sacrifice reminds us every day of our obligation to our country and to the people we serve."
The 42-year-old former officer will lie in honor until February 3 before he will be buried at Arlington National Cemetery.
His family released a statement on Saturday thanking "congressional leadership for bestowing this historic honor on our fallen American hero."
"We also wish to express our appreciation to the millions of people who have offered their support and sympathies during this difficult time. Knowing our personal tragedy and loss is shared by our nation brings hope for healing," the statement read.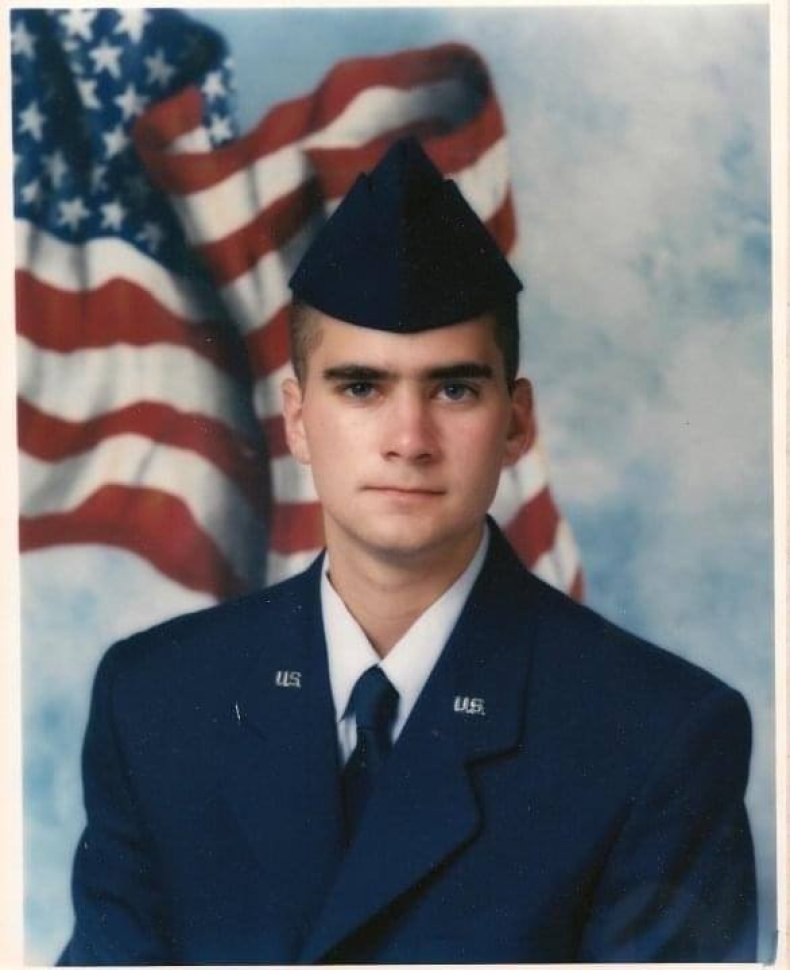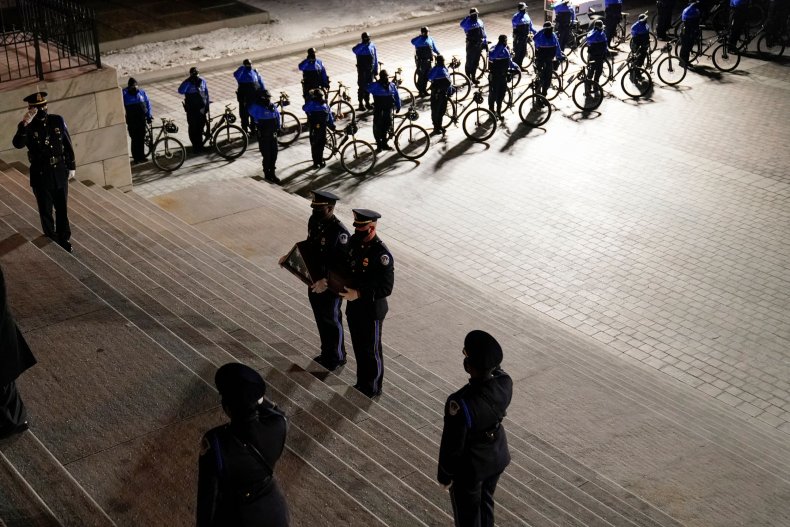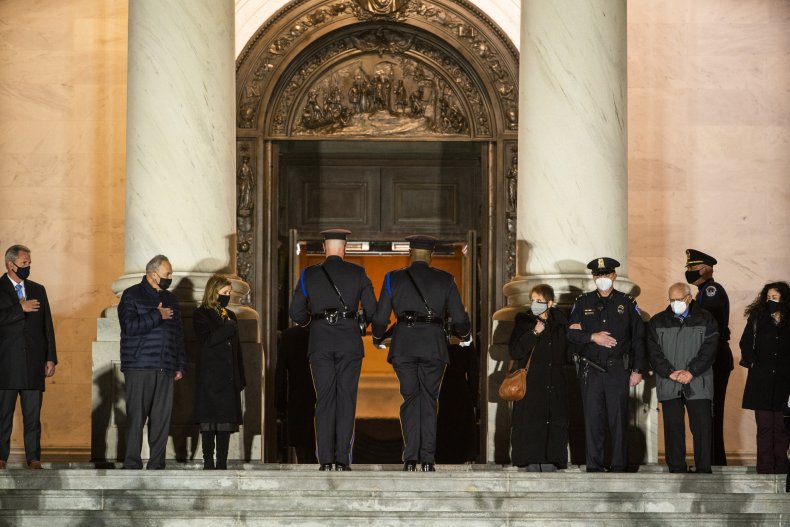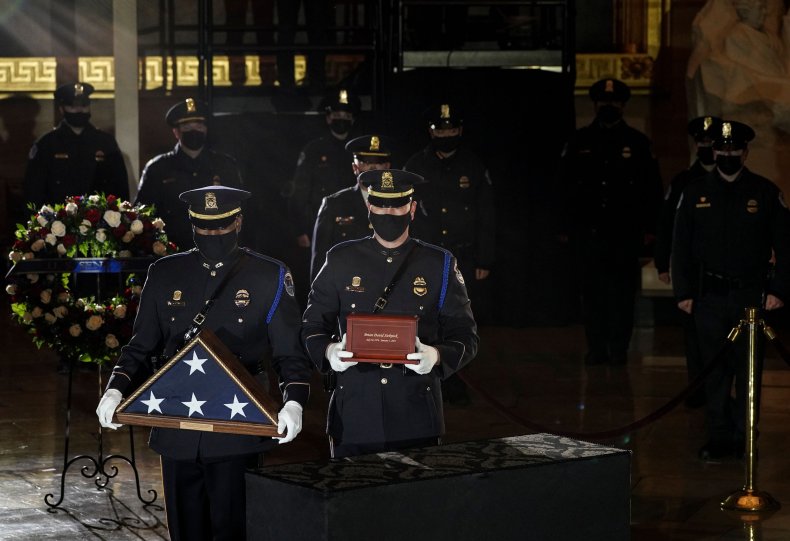 Sicknick enlisted in the New Jersey Air National Guard in 1997 where he served for six years before joining the Capitol Police in 2008.
The New Jersey native died at about 9:30 p.m. on January 7 the day following the riots "due to injuries sustained while on duty," according to a statement from the United States Capitol Police.
"Officer Sicknick was responding to the riots on Wednesday, January 6, 2021, at the U.S. Capitol and was injured while physically engaging with protesters. He returned to his division office and collapsed. He was taken to a local hospital where he succumbed to his injuries.
"The death of Officer Sicknick will be investigated by the Metropolitan Police Department's Homicide Branch, the U.S. Capitol Police and our federal partners," the statement said.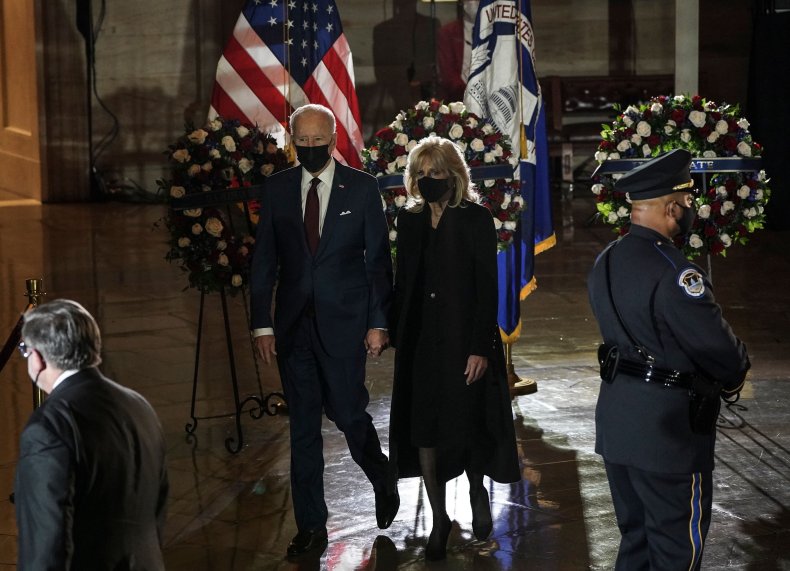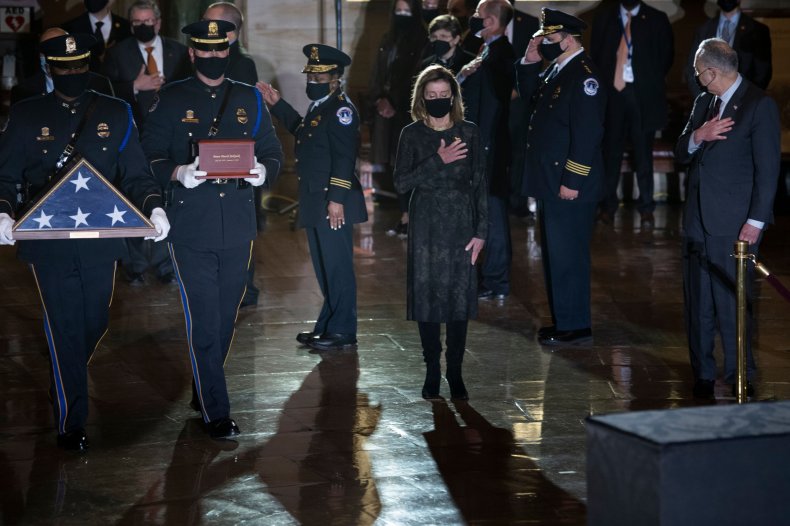 Sicknick was placed on life support in hospital after reportedly being struck in the head with a fire extinguisher wielded by a protester.
His ceremonial rest comes as investigators are working to build a murder case and prove a cause of death. Although multiple photos and videos show Sicknick engaging with rioters, authorities are yet to find a specific moment in which he suffered the fatal injuries.
Sicknick's death was the fifth fatality in connection with the riots, in which supporters of President Donald Trump stormed the Capitol to protest the certification of the 2020 presidential election.
Protester Ashli Elizabeth Babbitt, a 35-year-old U.S. Air Force veteran, also died after being shot by a Capitol police officer.