Who is Ashli Babbit? Woman Shot Dead in Capitol Siege Was U.S. Air Force Veteran
Ashli Elizabeth Babbit, one of four people who died in connection with the violent riots at the U.S. Capitol on Wednesday, was a 14-year U.S. Air Force veteran and resident of Ocean Beach, a neighborhood in San Diego, California.
The 35-year-old was shot by a Capitol police officer.
She was "transported to a local hospital where, after all life-saving efforts failed, she was announced deceased," said Police Chief Robert Contee of Washington, D.C.'s Metropolitan Police Department (MPD).
The woman began climbing through a broken window near the Speaker's Lobby at the Capitol building before a single gunshot was heard and she fell back to the ground.
Babbit, who was a high-level security official throughout her tenure with the Air Force, was a strong supporter of President Donald Trump, her husband told KUSI News.
Her previous husband, Timothy McEntee, noted the pair were married from April 2005 to May 2019 and they served in the Air Force together.
Describing her as "a wonderful woman with a big heart and a strong mind" McEntee told The San Diego Union-Tribune: "I am in a state of shock and feel absolutely terrible for her family. She loved America with all her heart. It's truly a sad day."
Recalling the moment he saw a photo of the woman shot at the Capitol, McEntee said he "immediately knew it was her but was unaware she was in town so I initially had doubts because she lives in California.
"But [I] reached out to a friend and he said she was in town for the rally," he added.
According to business records, Babbit was also the chief executive officer of Fowler's Pool Service & Supply, Inc., a swimming pool supply store in Spring Valley, California.
Babbitt's shooting remains under investigation by the MPD's internal affairs division, "as we investigate all officer-involved deaths in the District of Columbia, including ones from other agencies," Contee said.
The three others who died during the riots—one woman and two men—suffered "separate medical emergencies which resulted in their deaths," Contee said.
More than 52 arrests have been made, including 47 violations of the citywide curfew enacted by Washington Mayor Muriel Bowser on Wednesday.
The mayor's office said in a statement Wednesday: "First Amendment protests have turned violent. Many persons came to the District armed and for the purpose of engaging in violence and destruction and have engaged in violence and destruction.
"They have fired chemical irritants, bricks, bottles, and guns. They have breached the security of the Capitol and their destructive and riotous behavior has the potential to spread beyond the Capitol," the statement added.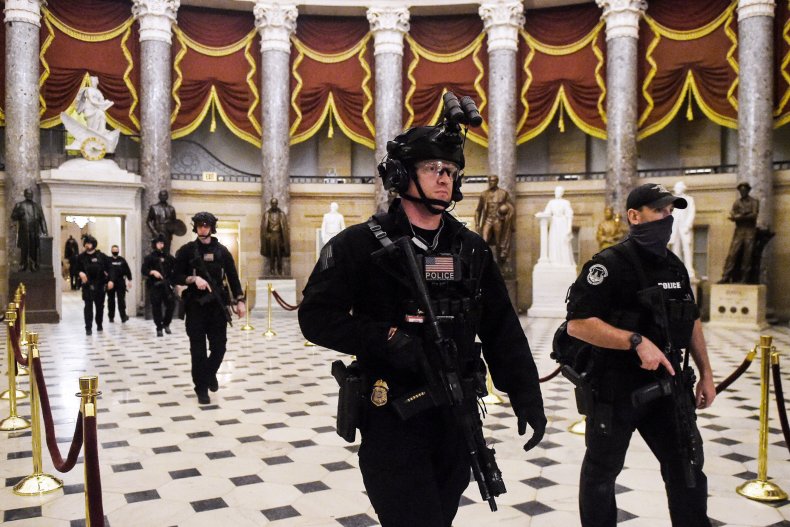 The graphic below, produced by Statista, shows the percentage of adult Americans who feel the use of violence to advance political goals is justified.