Joe Biden Says 'There Are Least Three' Genders in Iowa Campaign Stop
The Iowa State Fair is a frequent stop for presidential hopefuls looking to woo voters, but Democratic candidate Joe Biden made at least one enemy on his visit there Saturday.
In a video posted by Turning Point USA founderCharlie Kirk, an unseen woman tells the former vice president she is an Iowa college student. She then asks him how many genders there are.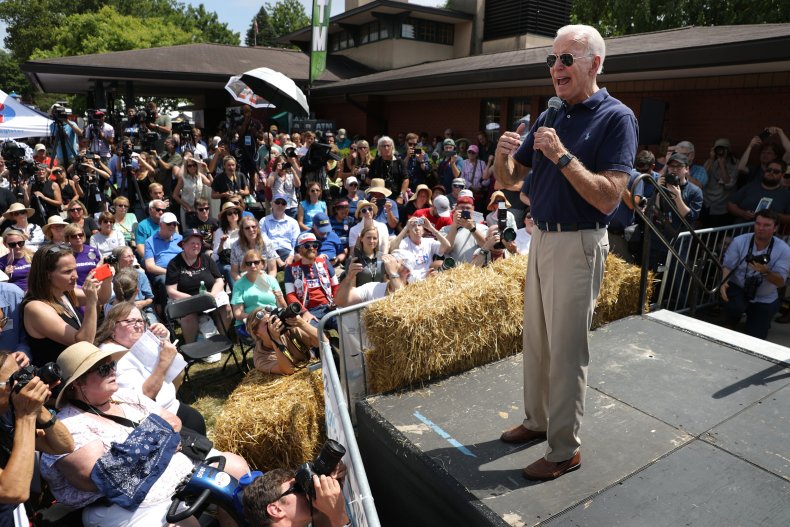 "There are at least three," Biden, 76, can be heard saying. The woman then asks him to name them.
"Don't play games with me, kid," he responded, adding that he was the "first one" in the Obama administration to come out in support of marriage equality.
Kirk claimed the woman who posed the question, who identified herself as Katie, was one of his field staffers, and claims Biden "forcefully grab[bed]" her during the brief encounter. The blurry video has been greatly slowed down, making it difficult to assess any physical contact between the two.
Still, Turning Point USA labeled the video "Joe Biden grabs Co-ed"
Kirk founded Turning Point USA (TPUSA) in 2012 when he was 18. The right-wing outfit maintains a "Professor Watchlist," which monitors college teachers the group claims discriminate against conservative students. Accused of influencing student government elections and harassing progressives on campus, TPUSA has been described as "alt-lite" group by the Anti-Defamation League.
Republican donor Foster Friess sits on the group's advisory council, as does Ginni Thomas, wife of Supreme Court Justice Clarence Thomas. In May 2019, Candace Owens resigned as TPUSA communications director after suggesting the main problem with Adolf Hitler was that he wanted to globalize.
Kirk became CEO of Students for Trump in July, with the goal of amassing one million college supporters for the president.
Biden has been accused of inappropriately touching women before: In March, former Nevada assemblymember Lucy Flores claimed the former VP put his hands on her shoulders, smelled her hair and slowly kissed the back of her head at a 2014 event.
Biden released a video in April claiming he hugged people or grabbed their shoulders because of a desire to "make a human connection" but said he would try to be more "mindful and respectful of people's personal space" as "social norms are changing."
At the second presidential debates, Biden was chided for telling Senator Kamala Harris "Go easy on me, kid."
"Kid? She's a grown woman, Biden," tweeted television writer Dominic Mitchell (Westworld, In the Flesh). "Come on, man. Don't be such a sexist wuss straight out the 1950s."