Joe Biden on Republican Rule-Breakers: 'We Gotta Send Them to Jail'
President Joe Biden joked that the GOP rule-breakers should be sent "to jail" while discussing how competing with Republicans is like playing Monopoly with someone who cheats.
Speaking to Jimmy Kimmel Live! in his first in-person late-night talk show appearance since he took office, Biden discussed gun control in the U.S. and the issues with trying to get both sides to agree on reform.
Kimmel asked Biden why he doesn't just issue executive orders to combat gun violence, noting that former President Donald Trump "passed those out like Halloween candy."
Biden said that he has issued a number of executive orders "within the power of presidency" but that he doesn't want to "emulate Trump's abuse of the Constitution" and constitutional authority.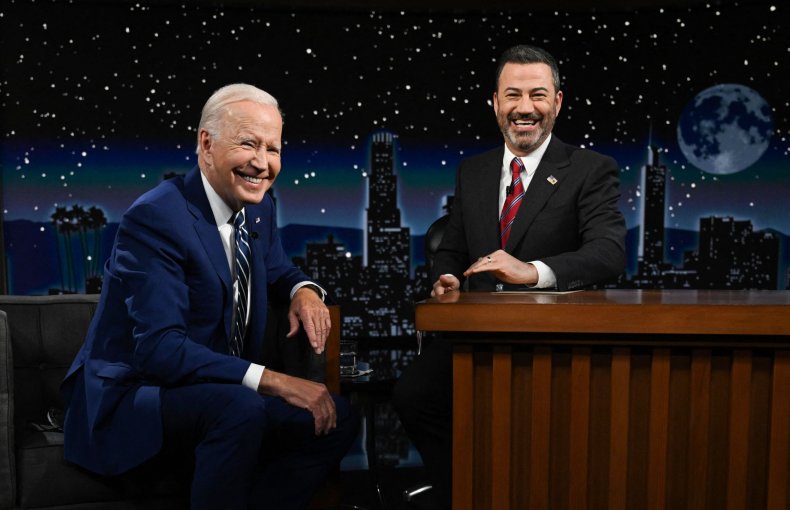 "We often get asked, 'look, the Republicans don't play it square, why do you play square?'" Biden said. "Well, guess what? If we do the same thing they do, our democracy would literally be in jeopardy."
Kimmel then made the analogy that the situation is like when "you're playing Monopoly with somebody" who won't follow any of the rules.
"How do you ever make any progress if they're not following the rules?" Kimmel asked.
"We gotta send them to jail," Biden replied, in reference to the square in the board game.
The remarks were given as the House voted to pass through a number of gun reform legislation that was introduced in the wake of the mass shootings which occurred in Buffalo, New York, and a school in Uvalde, Texas.
The Protecting Our Kids Act, which would raise the minimum age to purchase a semi-automatic weapon from 18 to 21 and ban civilians from using high-capacity magazines, passed in a 223-204 vote on Wednesday night.
Five Republicans—Reps. Adam Kinzinger (Illinois), Anthony Gonzalez (Ohio), Brian Fitzpatrick (Pennsylvania), Chris Jacobs (New York) and Fred Upton (Michigan)—bucked the GOP party line and voted for the measures, with two Democrats—Jared Golden (Maine) and Kurt Schrader (Oregon)—voting against them.
Elsewhere during the interview, Biden described inflation as the "bane of our existence" as the U.S. is experiencing decades-high levels but said that the country's economy is strong enough to deal with it.
Biden said that inflation is mainly targeting food and gas prices, with Kimmel suggesting "that's what kills you" because there is a billboard telling "everyone how expensive everything is."
"If Donald Trump leaves one of those Sharpies over for you, you could maybe change the price on that," Kimmel said.
The host was making reference to so-called "Sharpiegate" in which Trump displayed an edited version of a National Hurricane Center map that appeared to have an added on pen line to suggest that 2019's Hurricane Dorian trajectory may affect the edge of Alabama.
Trump had previously said the hurricane could hit Alabama, despite forecasters saying it wouldn't.