Former Vice President Joe Biden joined calls for Amazon to pay more taxes on Thursday.
"I have nothing against Amazon, but no company pulling in billions of dollars of profits should pay a lower tax rate than firefighters and teachers. We need to reward work, not just wealth," the presidential candidate tweeted, linking to a New York Times article from April that noted Amazon paid zero federal taxes in 2018.
An April report from the Institute on Taxation and Economic Policy found that 60 companies on the Fortune 500 did not pay any income tax on $79 billion last year and actually earned rebate totaling $4.3 billion. Amazon, which earned $11 billion in income and received a $129 million rebate from the government, was the most profitable company that paid no income taxes.
"Amazon pays all the taxes we are required to pay in the U.S. and every country where we operate, including paying $2.6 billion in corporate tax and reporting $3.4 billion in tax expense over the last three years," a company spokesperson told Newsweek over email. "The government has designed corporate tax law to encourage businesses of all sizes to invest in the U.S. economy to drive growth and create jobs."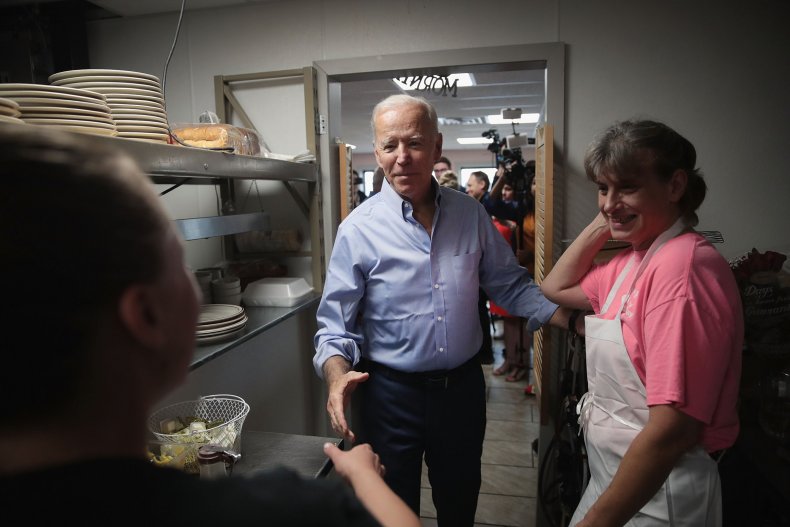 Large companies have long taken advantage of federal loopholes to pay below the federal tax rate. In addition to dropping the corporate tax rate from 35 percent to 21 percent, the Trump administration's 2017 tax overhaul aided the ability of companies to pay less in taxes by letting businesses immediately expense equipment and machinery.
Biden's statement added to growing Democratic agitation over corporate tax rates, a topic which has held a prominent role in early 2020 discussions. Senators Bernie Sanders and Elizabeth Warren, who, after Biden, are receiving the most public support in 2020 polls, have focused on decreasing the wealth gap and raising taxes on the wealthy.
Warren has proposed a 7 percent tax rate on corporate profits above $100 million. Citing economists from the University of California, Berkeley, she said that the tax will generate $1 trillion over ten years. Focusing on personal wealth, Warren has also called for "Ultra Millionaire" tax, which she said would fund social programs by levying a 2 percent annual tax on household wealth above $50 million.
Sanders has unveiled a bill to expand the estate tax so that individuals inheriting more than $3.5 million would be taxed. The current estate tax applies to those who inherit $11 million.