President Joe Biden and First Lady Jill Biden will return to the White House from Camp David on Monday afternoon to celebrate the Fourth of July in Washington D.C.
The Bidens are expected to arrive in Washington D.C. around 1:30 p.m. ahead of their Independence Day barbecue for military families, which is set to begin at 5 p.m. Biden will deliver remarks to celebrate the occasion, according to the White House.
The president and the first lady will then make their way to the National Mall where they will watch the fireworks display shortly after 9 p.m.
As Biden marks his second Independence Day in office, his approval ratings have fallen to historic lows.
Last year, the majority of Americans—52 percent—approved of the job Biden was doing in the White House, according to FiveThirtyEight. Polling conducted just ahead of the long weekend found that as of July 1, nearly 56 percent of Americans disapproved of Biden and only 39 percent say they approve.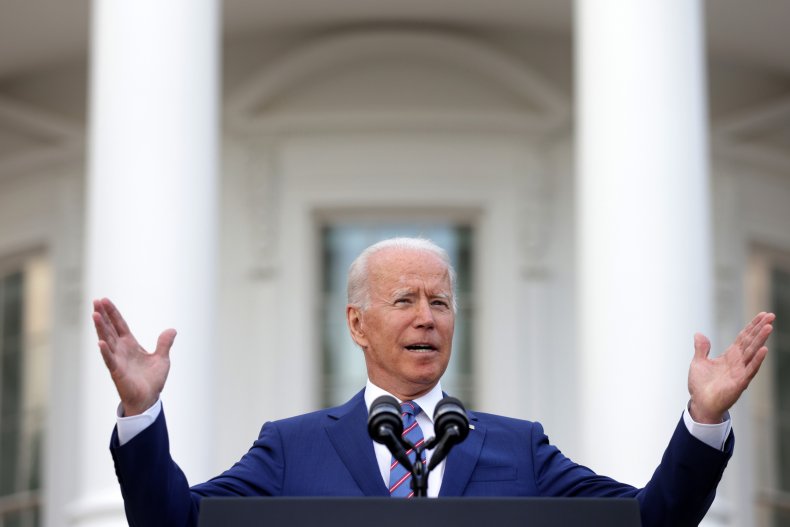 During his 2021 Independence Day speech, Biden celebrated the holiday with the nation's independence from COVID.
"Two hundred and forty-five years ago, we declared our independence from a distant king. Today, we're closer than ever to declaring our independence from a deadly virus," Biden said more than a year into the pandemic. "That's not to say the battle against COVID-19 is over. We've got a lot more work to do."
Despite Biden's optimism, the highly contagious Omicron variant that spread rapidly over the following winter indicated that the pandemic was far from over.
This year, a different issue is plaguing Biden's presidency. Russia's invasion of Ukraine, paired with ongoing COVID-related supply chain issues and rising consumer prices, have made inflation the top concern for most Americans.
Although more than 3 million jobs were added to the U.S. economy in the first six months of the Biden administration, inflation reached a 40-year high last month as gas prices reached $5 a gallon.
While Biden has vowed to bring down prices, polling shows that three in five Americans disapprove of his handling of economic recovery.
In a statement made to the Associated Press over the weekend, White House spokesperson Chris Meagher said, "Fighting inflation and lowering prices is the president's number one economic priority, and he's laser-focused on doing everything he can to make sure the economy is working for the American people."
"We're in a strong position to transition from our historic jobs recovery to stable and steady growth. Because of the work we've done to bring the pandemic under control, COVID is not the disruptive factor it has been for so long," Meagher added.