What to Watch on July 4? Live Concerts, TV Shows, What to Stream and More
There are many ways to celebrate Independence Day and there is no end to what is available to watch on TV to mark the occasion.
From live fireworks displays and concerts across the U.S. to the films and TV shows that embody the Fourth of July spirit, there's something for everyone.
Here, Newsweek provides a guide to what there is to watch on the holiday.
What
Firework Shows Can You Watch on July 4?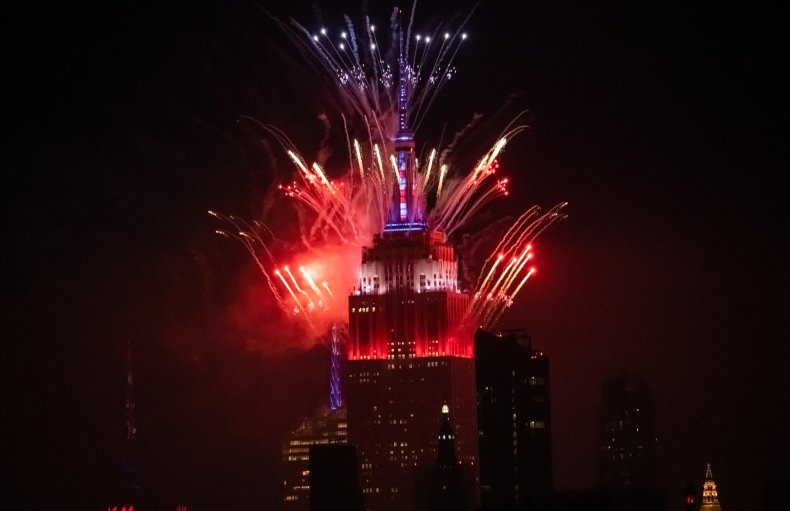 One staple of July 4 celebrations is fireworks, and there are a number of live fireworks displays that will be shown on TV.
NBC will be showing Macy's Fourth of July Fireworks from New York on the network at 8 p.m. ET/PT, and the event can also be streamed on Peacock. A second screening will be available on NBC from 10 p.m. ET.
Pitbull, Carly Pearce and Brett Eldredge are among the musicians performing during the Macy's event, and those based in New York City will have the chance to watch the show in person across the Big Apple.
Washington, D.C.: A Capitol Fourth will be screened on PBS from 8 to 9:30 p.m. ET, and the fireworks display will feature performances from the likes of Darren Criss, Yolanda Adams and Gloria Gaynor.
Meanwhile, Old Dominion will headline the "CMT Let Freedom Sing! Music City July 4" in Nashville, Tennessee, and the Independence Day event will be available to watch on CMT from 8:30 p.m. ET.
Joining Old Dominion on stage are Gramps Morgan, Cassadee Pope and Levi Hummon, to name just a few.
Fourth of July Streaming Guide: The Best TV Shows and Films to Watch
There are a number of iconic films to watch on the Fourth of July, and not all of them are Independence Day, though that is obviously a classic and will be available to watch on TNT at 7 p.m. ET (and can be streamed on Prime Video, Roku or Hulu).
National Treasure is a great film to watch on Independence Day, as the Nicholas Cage-led action film centers on a plot to steal the Declaration of Independence. What more could you want? The film is available to stream on Disney+ and Prime Video.
One great film for the entire family is Night at the Museum. The comedy follows Larry (Ben Stiller), a night guard at the Museum of Natural History, as the exhibits come to life around him. The film is available to stream on Disney+.
For those looking to watch something patriotic on Independence Day, look no further than Netflix for options like Forrest Gump, Saving Private Ryan, and the aptly titled The Patriot.
In terms of TV shows, viewers can settle in for powerful war epics The Pacific or Band of Brothers. The two shows are available to stream on HBO Max.
Disney+ has a number of great options for any July 4 watch party, including Lin-Manuel Miranda's iconic musical Hamilton that explores the life of Alexander Hamilton and features a killer soundtrack.
Those keen to watch a blockbuster or two can enjoy the Captain America films on Disney+, with Captain America: The First Avenger making a particularly good choice for the holiday.
Jaws may seem like an odd choice for Independence Day viewing but since the film is set on July 4,why not add it to your watchlist? The iconic Steven Spielberg drama will air on TV on Syfy and is available to stream on Peacock.