Biden Harris Shirts, Caps and Other Merchandise You Can Buy to Celebrate Election Win Over Trump
Biden Harris merch was used to show support for the president-elect Joe Biden and the vice president-elect Kamala Harris in the run-up to the election. But now, there is plenty of merchandise to be bought to celebrate their win over President Donald Trump.
From official merch from the Joe Biden store to third-party sellers on Zazzle and Etsy, there are numerous new T-shirts, caps, and more for sale to celebrate the Biden-Harris victory.
Whether you're looking to celebrate Biden's win with an "A Presidency For All Americans," or Trump's loss with a "No, Mr. President. YOU are fired" sweatshirt, there are so many options.
Official Joe Biden Merch Store
The official Joe Biden merch store has released new merchandise since the president-elect's win, including a "Victory fist bump" T-shirt featuring an image of Biden and Harris at the victory party, selling for $30.
Another T-shirt design, available in navy and white, reads: "A Presidency For All Americans," and is selling for $35. Other merchandise includes a cap that says "No. 46," selling for $30, as well as a face mask that says: "Unity," selling for $35.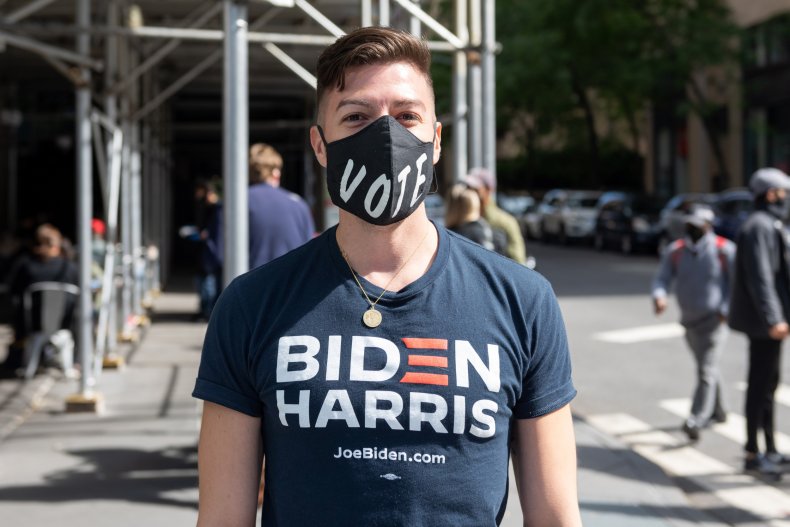 Zazzle Biden Harris Merch
Zazzle is selling plenty of merchandise that is perfect for celebrating the Biden-Harris win.
There are T-shirts featuring Biden and Harris' stand-out moments from the presidential debates, like this T-shirt that says: "Will you shut up, man?" selling for $22.95, and this "I'm speaking" T-shirt selling for $25.65.
Another T-shirt features the words "Hope, light, love" over Biden's classic aviators selling for $33.50, while another says "Bye Don" in the style of the Biden Harris logo, selling for $26.50.
Etsy Biden Harris Merch
Etsy sellers were quick to come up with creative merch ideas following Biden's win, including a white sweatshirt that says: "No, Mr. President. YOU are fired," and a grey sweatshirt that reads: "Kamala, Michelle, Elizabeth, and Ruth," after Harris, Michelle Obama, Elizabeth Warren, and Ruth Bader Ginsburg.
Other Biden Harris merchandise available on Etsy includes this college-style sweatshirt and a Barbie-style Biden Harris T-shirt.
Though the election is now over, with just over two potentially tumultuous months until Biden's inauguration on January 20, 2021, Biden Harris fans may want to wear a new T-shirt or baseball cap to continue to show their support for the president-elect and vice president-elect.
Newsweek has affiliate partnerships. If you make a purchase using our links, we may earn a share of the sale.