Jussie Smollett was sentenced to 150 days in prison this week for faking a hate crime but prior to revelations that the 2019 attack on the Empire star was staged, he had received widespread support from celebrities and public figures.
Joe Biden and Kamala Harris are among the public figures whose tweets of support for Smollett from January 2019—before Biden became president—remain up on Twitter.
"What happened today to @JussieSmollett must never be tolerated in this country," Biden tweeted at the time, adding: "We must stand up and demand that we no longer give this hate safe harbor; that homophobia and racism have no place on our streets or in our hearts. We are with you, Jussie."
Meanwhile, Harris who was a senator before being elected vice president in 2020, praised Smollett who she described as "one of the kindest, most gentle human beings I know" and called the attack a "modern day lynching."
"I'm praying for his quick recovery," she tweeted at the time. "This was an attempted modern day lynching. No one should have to fear for their life because of their sexuality or color of their skin. We must confront this hate."
The actor, 39, was convicted on five of six charges in December of staging a 2019 attack made to look like a racist, homophobic hate crime was committed against him.
Footage of Smollett's sentencing has gone viral after he screamed "I am not suicidal" as he was led away from the courtroom.
Samuel L. Jackson and his wife LaTanya Richardson pleaded for clemency for Smollett during his sentencing hearing.
In a letter to the judge, Jackson backed Smollett and said that he "comes from a good family."
"It is with the respect of knowing this, that I humbly implore you to please find an alternative to incarceration for Jussie Smollett," the couple wrote in the letter.
"It is my understanding that Jussie was convicted of Class 4, disorderly conduct, which to my understanding, people convicted of this offense historically are sentenced to various alternatives to incarceration."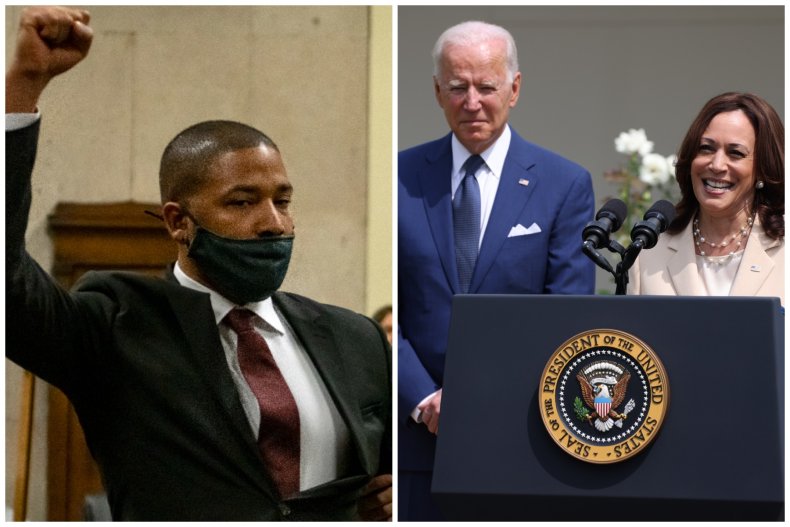 Smollett was sentenced to 30 months of felony probation on Thursday with no travel restrictions, $120,106 in restitution to the city and a $25,000 fine, along with spending the first 150 days of his sentence in the Cook County Jail.
After the sentencing, the actor yelled: "I am innocent. I could have said I am guilty a long time ago."
"If anything happens to me when I go in there I did not do it to myself," Smollett said as he was led from court.
Cook County Judge James Linn told Smollett: "Your very name has become the adverb of lying" and added that Smollett caused "real damage to victims of hate crimes" and said the jury's verdict was "accurate and correct."
"You're just a charlatan pretending to be a victim of a hate crime, and that's shameful," the judge said.