Joe Biden Keeps Sunglasses on for Queen Elizabeth II Meeting Despite Royal Protocol
Joe Biden met Queen Elizabeth II on Sunday but did not take his sunglasses off in a potential breach of royal protocol.
The president was given a Guard of Honor at Windsor Castle and the U.S. national anthem was played. However, Biden kept his dark glasses on as he put his hand up to his chest standing alongside the 95-year-old monarch.
The faux pas came shortly before he joined Elizabeth for tea in the world's oldest occupied royal castle alongside first lady Jill Biden.
However, the queen did not appear to react badly, sharing several moments of laughter.
Biden is not the first famous figure to have broken the royal rule. Vogue editor-in-chief Anna Wintour kept on her famous sunglasses while she sat on the front row at London Fashion Week in 2018.
At the time, former royal butler Grant Harrold told the Press Association: "Ms Wintour should know that to wear sunglasses when talking to another person, with no medical reason, is unacceptable.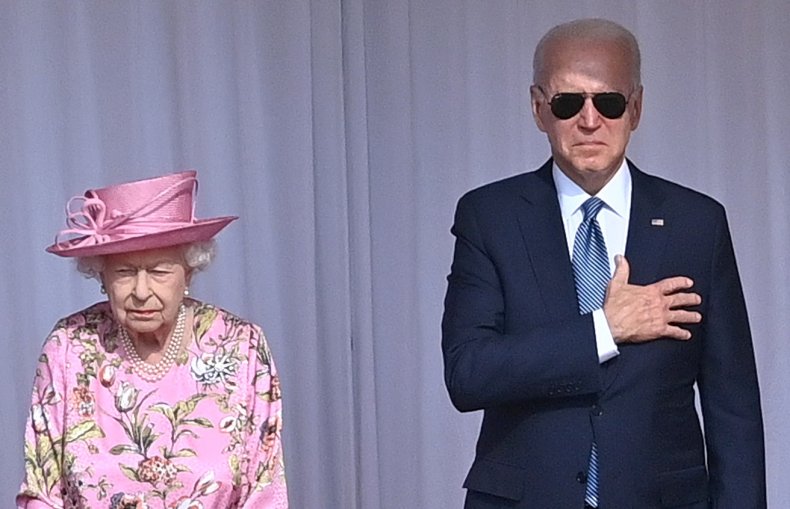 "She should have removed them before being in the presence of the Queen, let alone in discussion."
He added: "Eye contact is important while holding a discussion, and not removing sunglasses is the height of bad manners and a serious breach of royal protocol.
"If the Queen gave her permission to keep them on then that would be acceptable, however this would be unlikely."
While Wintour's glasses were worn indoors, Biden was shielding his eyes from the glare of the English summer, with temperatures in Windsor hitting 80 degrees Fahrenheit.
However, in better news for the visiting president he managed not to touch Elizabeth, avoiding a diplomatic gaffe that Donald Trump made in 2019. The former president put a hand on the monarch's back as she stood for his toast at a state banquet.
The Bidens arrived by helicopter in Marine One before holding hands as they made their way through the castle's Quandrangle.
He still had his sunglasses on as they made their way up to the dais where the queen was sitting.
The president and first lady stood on either side of the queen during a Guard of Honor in the Quadrangle of Windsor Castle.
The visiting couple, fresh from three days of talks at the G7 Summit in Cornwall, South West England, then inspected the soldiers on their own.
Ordinarily, Elizabeth would likely have joined them to walk alongside the ranks of The Queen's Company First Battalion Grenadier Guards in red coats and bearskin hats.
However, she too has been working at the summit over the last few days as part of a royal charm offensive.
The family have been out in force demonstrating their "soft power" role, seeking to win the hearts and minds of world leaders.
The queen met the Bidens on Friday at a reception for G7 leaders at eco-friendly educational charity the Eden Project, in Cornwall.
Reuters reported how Elizabeth drew laughter during a photo call as she asked Biden, U.K. Prime Minister Boris Johnson and others: "Are you supposed to be looking as if you're enjoying yourselves?"