Queen Elizabeth II, who has reigned for nearly 70 years, was never meant to become the British monarch, but her fate was transformed with the abdication of her uncle, Edward VIII, to marry American divorcee Wallis Simpson.
Her father, then took the throne in 1936 becoming George VI and going on to reign throughout Britain's involvement in World War Two.
Elizabeth, his eldest daughter, was on a visit to Kenya when he died at Sandringham, Norfolk, on February 6, 1952.
Her coronation (pictured below) was on June 2, 1953, and was the first to be broadcast live to a television audience. It was watched by more than 27 million people in Britain, and plenty more around the world.
The event was heralded as a moment of modernisation for the monarchy and a landmark moment for the rise of TV, as video cameras were brought into Westminster Abbey.
The move was authorized by the queen herself, against advice, but led to 85 million people in the U.S. watching recordings of the highlights, the BBC reported.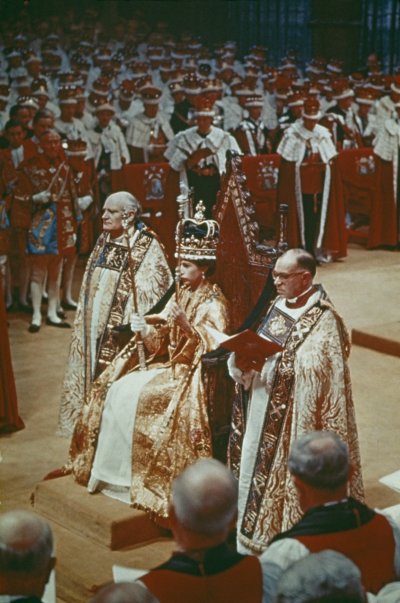 Weekly meetings with Britain's Prime Ministers were a feature throughout Elizabeth's reign. Her very first was Winston Churchill.
The war time leader was midway through his second period as Prime Minister when she took the throne in 1952.
At this encounter (below) in 1953, the queen brought her two children, Prince Charles and Princess Anne with her.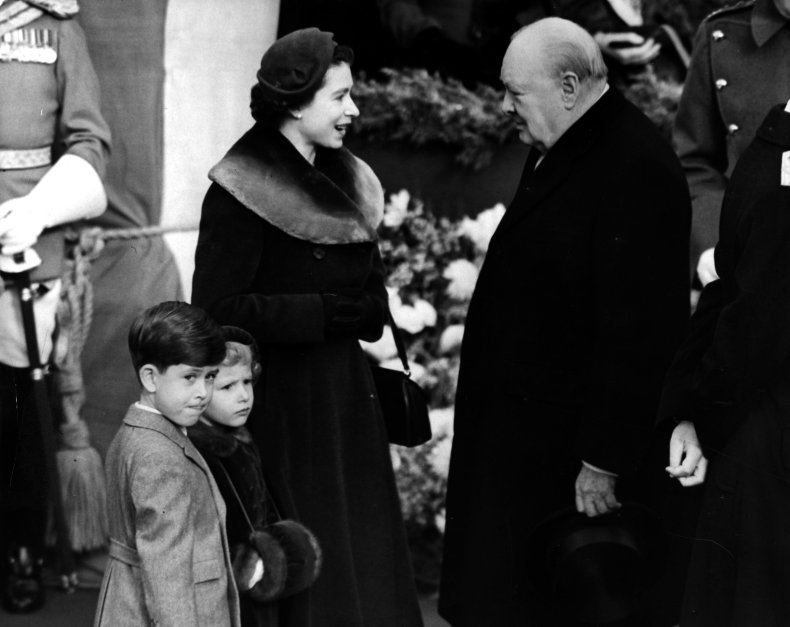 The queen has also met every U.S. president during her reign—apart from Lyndon B. Johnson and Joe Biden—and hosted John F. Kennedy at Buckingham Palace in 1961.
Quoted on Town & Country, the President wrote Elizabeth a letter afterwards which read: "May I also at the same time say how grateful my wife and I are for the cordial hospitality offered to us by your Majesty and Prince Philip during our visit to London last Monday.
"We shall always cherish the memory of that delightful evening."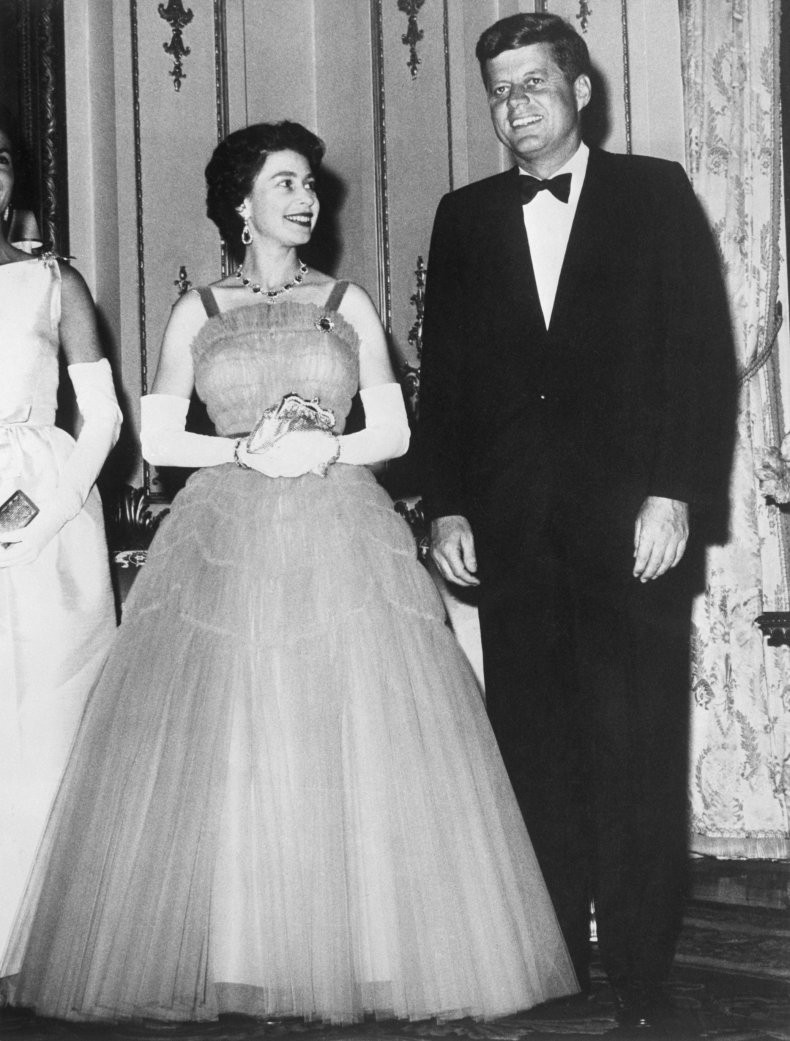 The queen and Prince Philip, who died last month, had four children. The first, Prince Charles, was born on November 14, 1948.
Princess Anne was born two years later on August 15, 1950, while Prince Andrew was born on February 19, 1960.
Prince Edward is their youngest child and was born on March 10, 1964.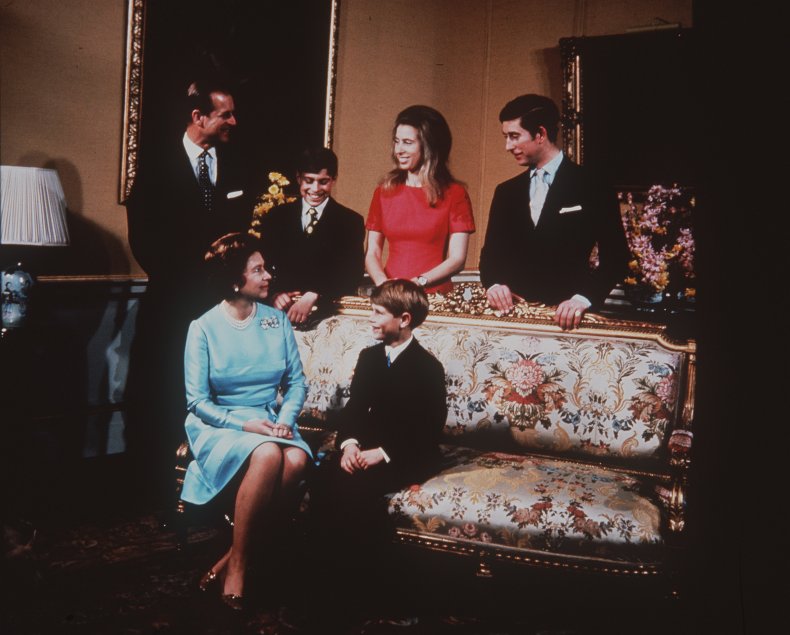 Throughout her life, the queen has been a keen fan of horse racing and regular at Royal Ascot, in Berkshire.
She personally owns race horses and here she attends with Prince Philip at Newbury, in Berkshire, in 1966.
The monarch has previously shared some of her favorite horses from throughout her reign, including Auerole, inherited from father George VI, Doublet, rode by Princess Anne when she won the European Eventing Championships.
In Horse and Hound magazine, Elizabeth also named Estimate, who won a historic Ascot Gold Cup, the first won by a monarch, in 2013, among a list of eight.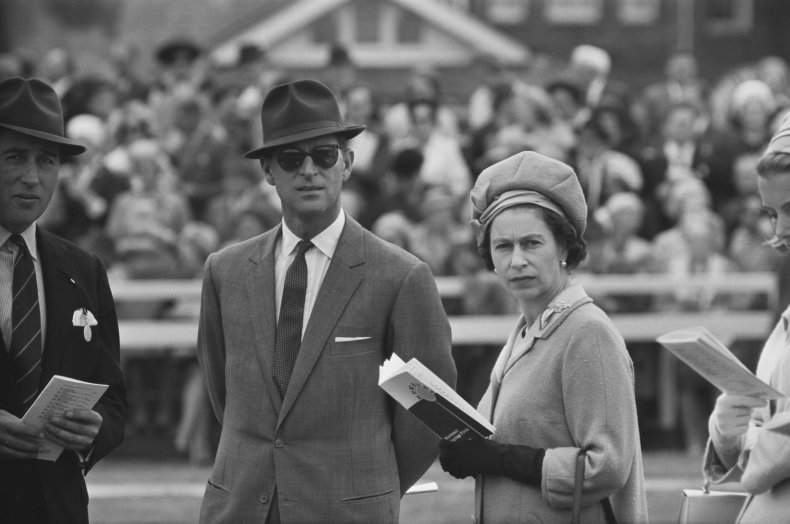 One of the queen's greatest projects throughout her reign has been the Commonwealth of Nations which redefined Britain's relationship with the countries that used to make up its Empire.
In 1961, with the British government reportedly concerned that Ghana might leave the group and fall under the Soviet's influence, the queen was photographed dancing with then-President Kwame Nkrumah.
The queen was asked to undertake a vital diplomatic mission on a visit to Accra, where they danced at the State House.
Ghanaian historian Nat Nunoo Amarteifio described how the dance showed President Nkrumah she respected him during 2018 documentary The Queen: Her Commonwealth Story.
He said: "A man could not have done it. Here is our president, being respected enough by the Queen of England for her to put her arms around him. She was fairly graceful."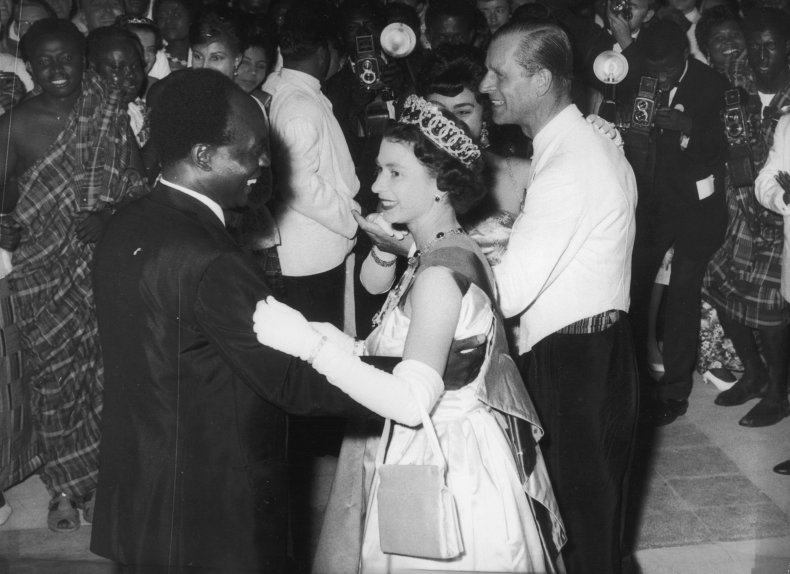 When Churchill died in 1965, Elizabeth mourned his death.
The queen and Prince Philip were among dignitaries who gathered at St Paul's Cathedral on January 30, that year.
The BBC described the televised service as the biggest national event since the coronation.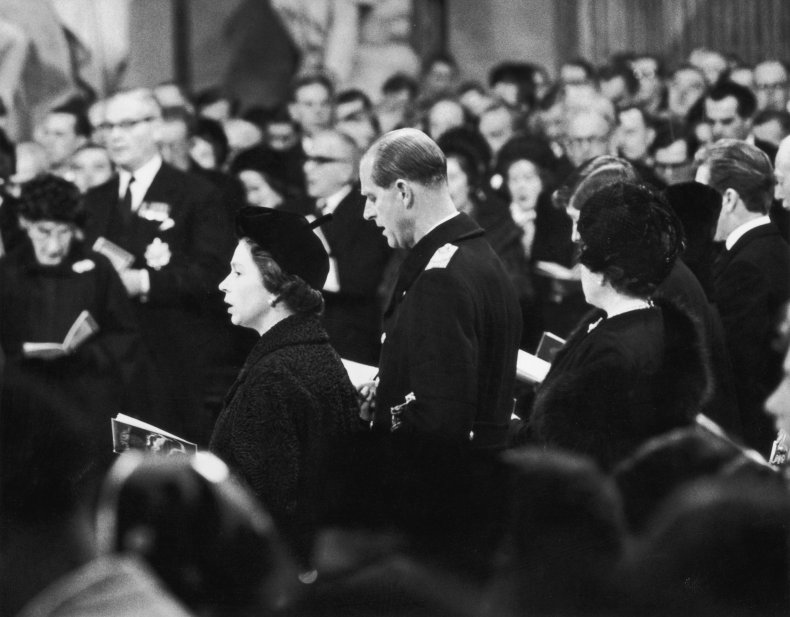 Richard Nixon met the Queen and Prince Philip at Buckingham Palace on February 25, 1969, however, the visit did not go entirely to plan.
Prince Philip attended a dinner with the U.S. president "stag"—meaning without his wife—and had to write a follow up note to apologize for a diplomatic faux pas.
The Duke of Edinburgh wrote in a November 7, 1969, letter quoted in the L.A. Times: "After the brilliance of the other speakers and yourself, I am afraid my contribution was very lame.
"That night I woke up in a cold sweat when I realized I had forgotten to propose your health!"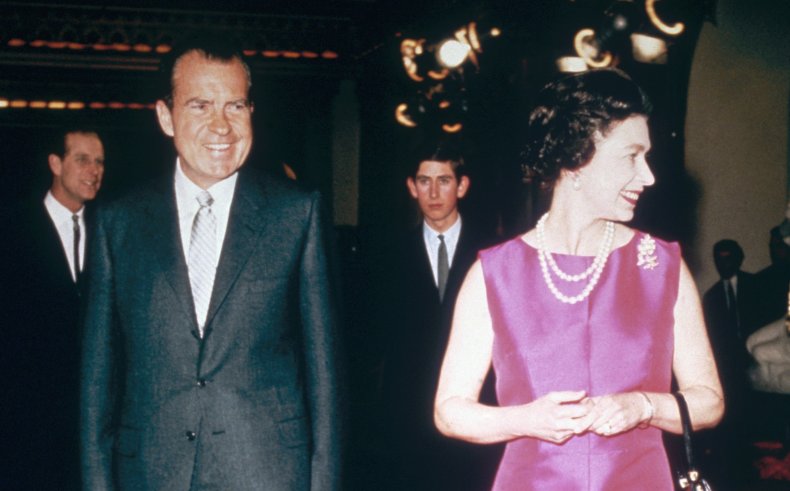 The world welcomed a new princess as Prince Charles married Princess Diana on July 29, 1981.
Elizabeth was photographed on the Buckingham Palace balcony with the couple after the bride stunned with her 25ft train during their ceremony at St Paul's Cathedral, in London.
However, as fans of The Crown will know, the union proved to be more complicated than anticipated at the time, with the princess experiencing bulimia behind palace walls.
Princess Diana gave her famous assessment of her marriage in a TV interview in which she referenced Charles' affair with Camilla Parker-Bowles, now his wife the Duchess of Cornwall.
She told the BBC: "Well, there were three of us in this marriage, so it was a bit crowded."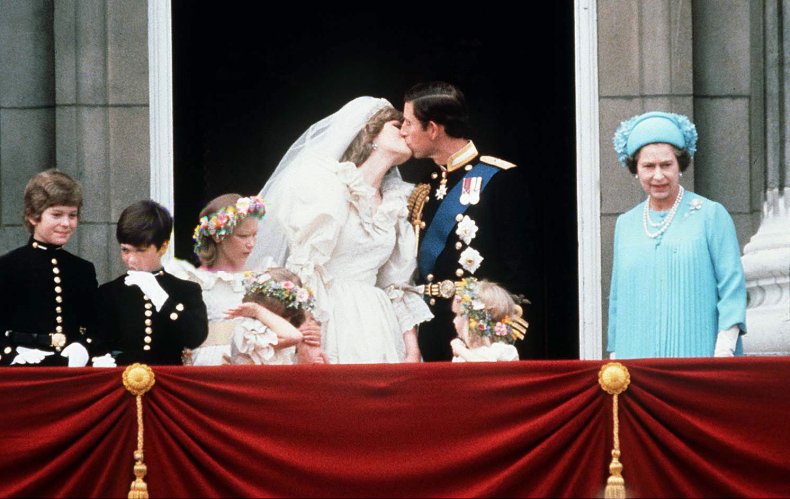 Elizabeth greeted Pope John Paul II during the first visit to Britain of a reigning pope in more than 400 years, on May 28, 1982.
Hundreds of thousands lined the streets to be greeted and blessed by him at 16 different venues, though the queen was lucky enough to have him come to her at Buckingham Palace.
A website for the visit reads: "The first stop was Westminster Cathedral and from there he travelled to meet the Queen at Buckingham Palace, the sick at Southwark Cathedral, religious at Roehampton, Archbishop of Canterbury Dr Robert Runcie in Canterbury Cathedral, representatives from the Polish Community at Crystal Palace and thousands of young people at National Youth Rally in Cardiff, to mention just some of the highlights."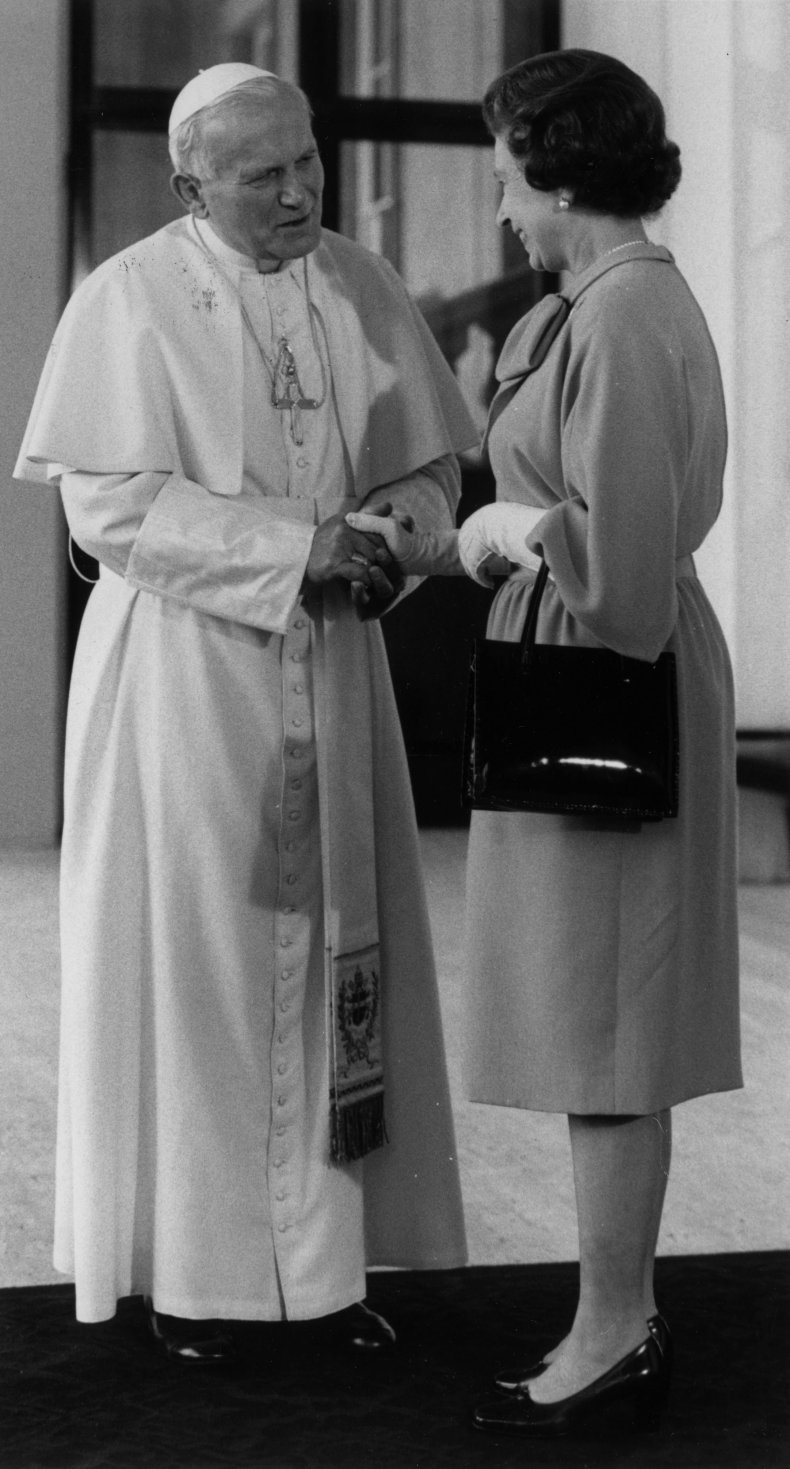 The queen visited America in May, 1991, where she met President George Bush Sr. at the White House and the pair gave speeches.
While seen talking cordially in the picture below, the event took an awkward turn after the president's address when he did not adjust the microphone for his somewhat shorter guest.
Standing at 5ft 4ins, Elizabeth's face was entirely obscured by the microphone, which had been positioned for her taller host.
In a Q&A with reporters recorded on the U.S. Government website, Bush Sr. was asked why he didn't pull out a step for her to stand on.
He said: "Well, I feel badly I didn't. And I thought about it and - but she started to speak.
"And I didn't realize how it would look from a straight angle, or I would have interrupted her because it wasn't fair to her.
"And I'm just sorry that it was overlooked."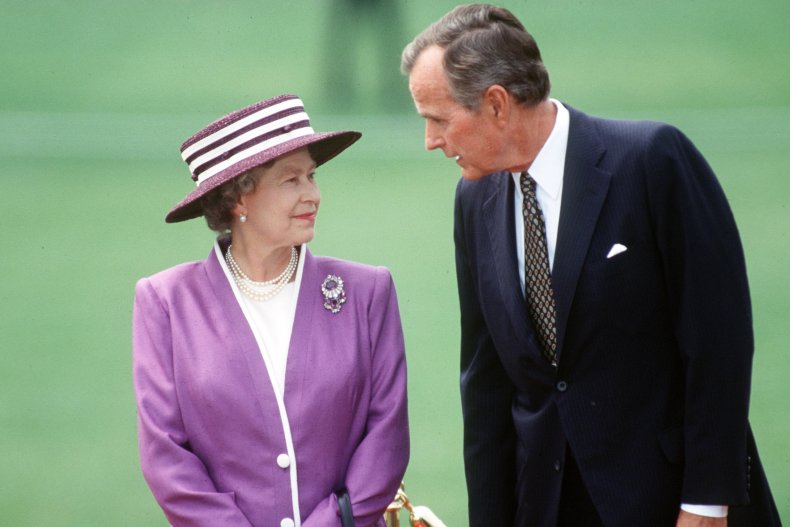 One of the lowest moments in the queen's reign came during a fire at Windsor Castle on November 20, 1992.
The Royal Collection Trust records: "The fire started in Queen Victoria's Private Chapel, where a faulty spotlight ignited a curtain next to the altar. Within minutes the blaze was unstoppable and had spread to St George's Hall next door.
"The fire was first spotted around 11:30. Three hours later 225 firemen from seven counties were battling the flames. At the peak of the operation they were using 36 pumps, discharging 1½ million gallons of water."
A major operation was launched to evacuate art stored at the castle, with only two pieces being lost.
However, by the time the 15 hour inferno was put out, 115 rooms including nine state rooms had been destroyed.
Elizabeth inspected the damage the following day and later famously described 1992 as her "annus horribilis."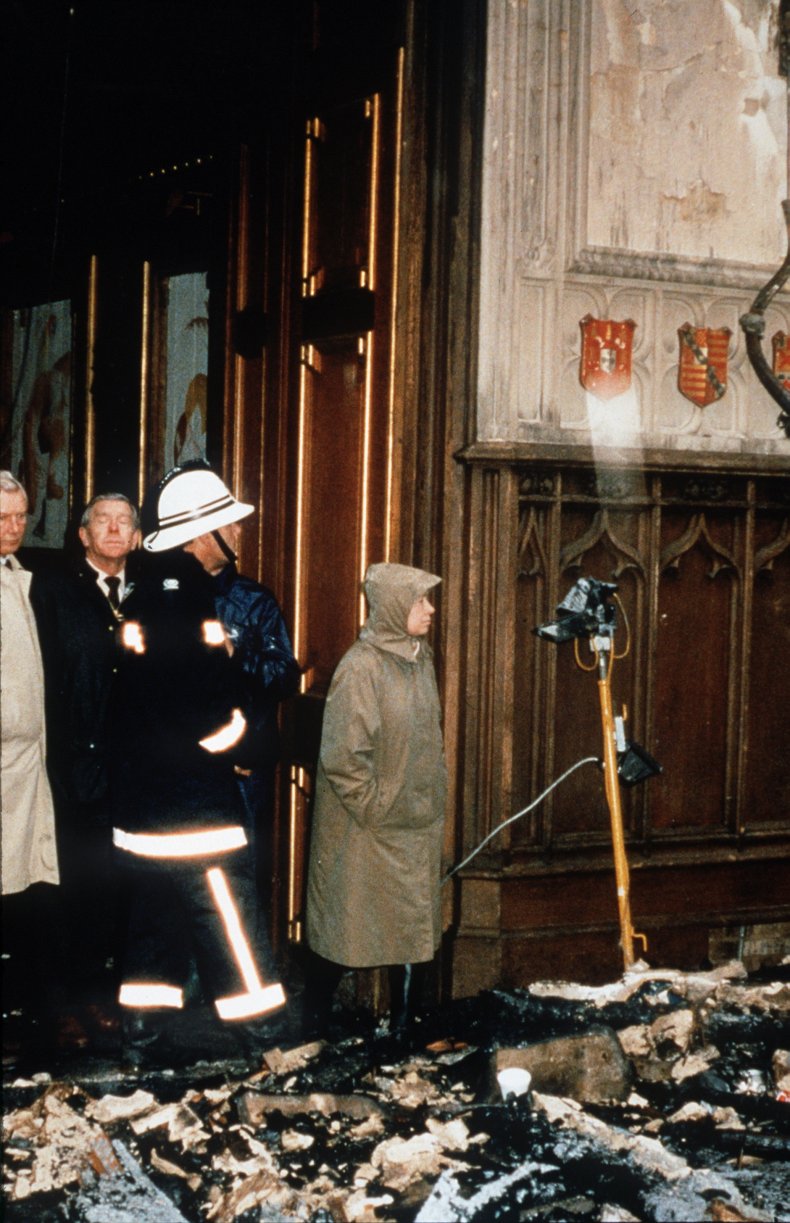 Queen Elizabeth met President Bill Clinton at Portsmouth Guildhall, on England's south coast, to mark the 50th anniversary of the D-Day landings on May 4, 1994.
They were joined by French President François Mitterrand during a state banquet where there was a toast.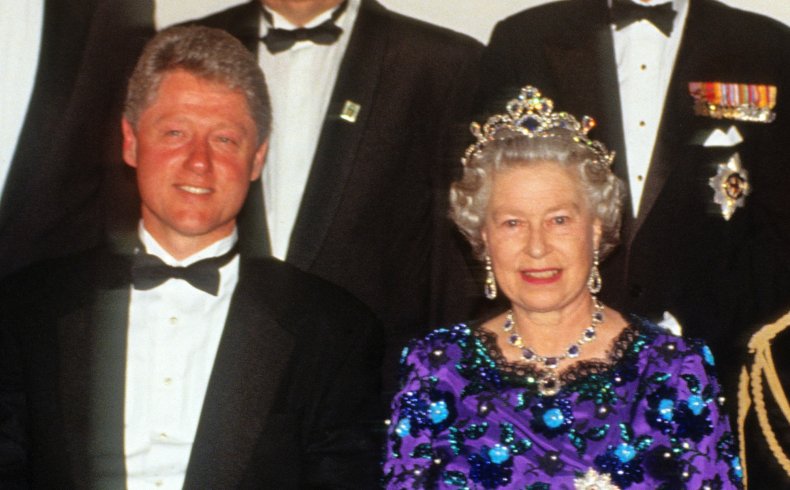 Princess Diana died in a Paris car crash on August 31, 1997, while the car she was a passenger in was chased by the paparazzi.
A year earlier her and Prince Charles' divorce had been finalized and she was with new boyfriend Dodi Fayed at the time.
The tragedy sent the world into mourning and shattered her sons Prince William and Prince Harry, who were at Balmoral, Elizabeth's Scottish retreat at the time.
A shocked nation soon began demanding the royal family return to London to join the country in grief and to break royal tradition by flying the Buckingham Palace flag at half mast out of respect.
From a tragedy, a royal crisis was born which ultimately led to a compromise as the Union Jack, rather than the Royal Standard, was flown at half mast in honor of the princess.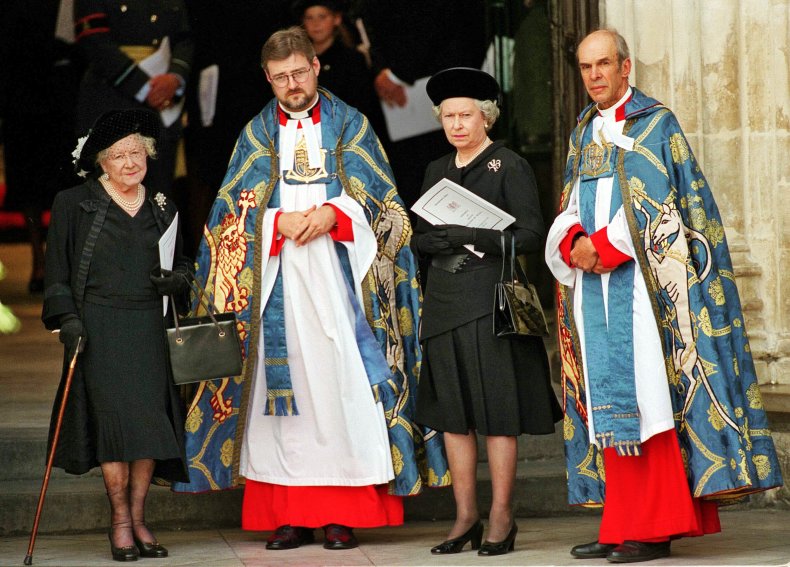 The deaths of the Queen Mother, aged 101, on March 30, 2002, and of Princess Margaret a month earlier left Elizabeth in mourning again.
For the Queen Mother, there was a ceremonial procession at Westminster Hall, London on April 5 followed by her funeral on April 9.
The coffin was brought from the Palace of Westminster to Westminster Abbey on an open coffin featuring a touching hand writted message from the queen, i News reported.
Using her nickname, Elizabeth wrote: "In loving memory, Lilibet."
In a special, televised broadcast, the queen said: "I thank you for the support you are giving me and my family as we come to terms with her death and the void she has left in our midst."
She added: "I thank you also from my heart for the love you gave her during her life and the honour you now give her in death."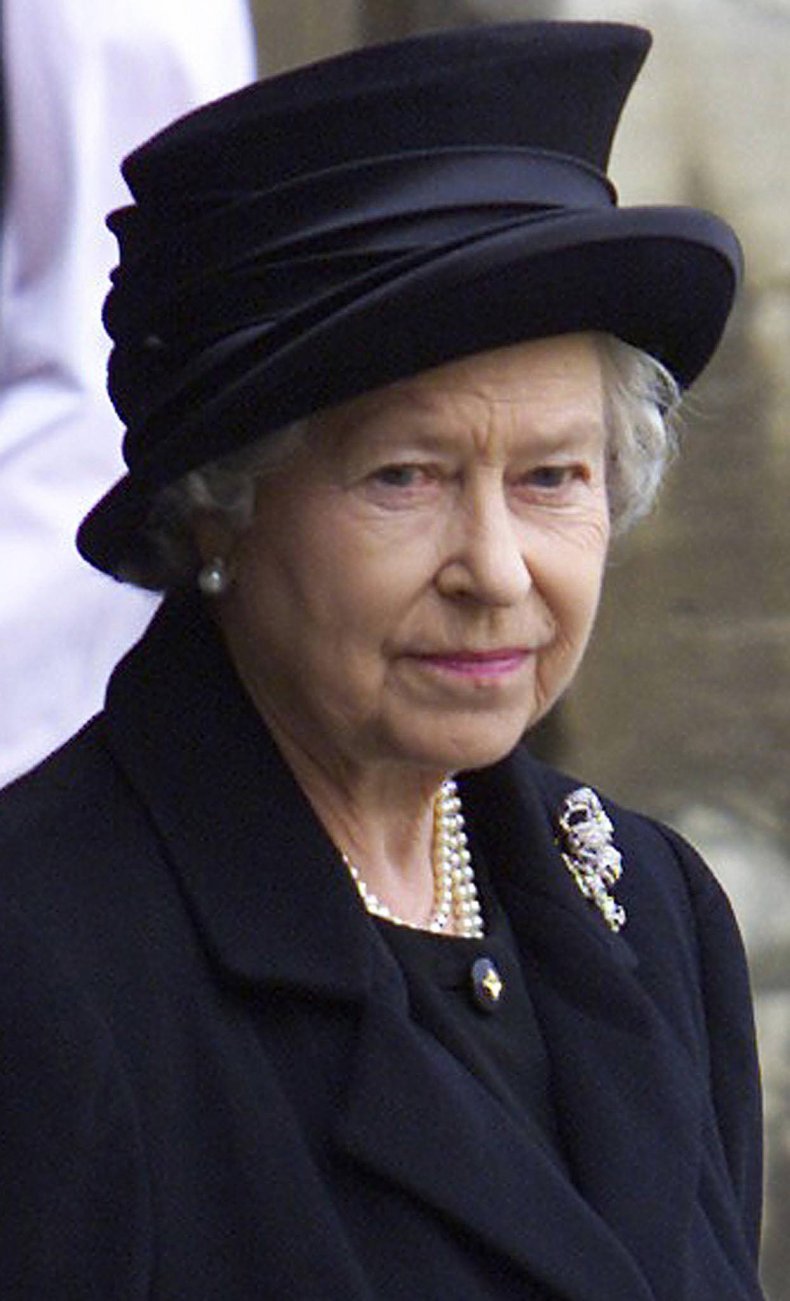 The queen saw her son Prince Charles marry Camilla Parker-Bowles on April 9, 2005.
Now the Duchess of Cornwall, Camilla famously felt so anxious she struggled to get out of bed on the morning of the ceremony fearing there would be anger from supporters of Princess Diana.
The couple were denied the right to marry at St George's Chapel, in Windsor Castle, under Church of England rules due to Camilla having a living ex-husband.
The decision was down to the discretion of the Archbishop of Canterbury, then Rowan Williams, however he declined.
Instead, they got married at Windsor Guildhall in the absence of the queen, who has a personal policy that she only attends church weddings.
Elizabeth is pictured here at a blessing at St George's Chapel held after the legal ceremony.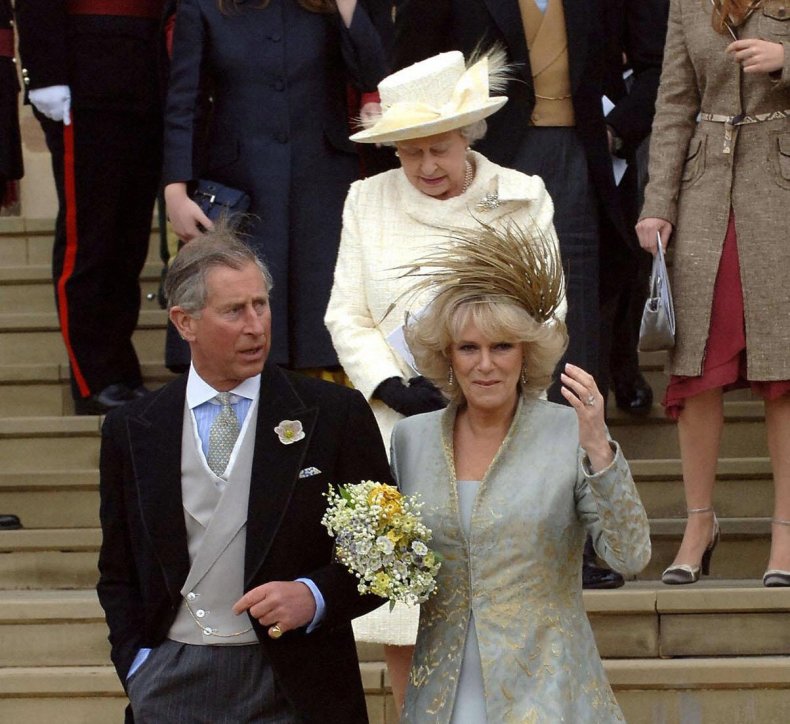 President George W. Bush hosted the queen at the White House on May 7, 2007, during her final tour of America.
Since 2015, the monarch has not carried out overseas visits, leaving those to her younger children and grandchildren.
She was treated to a trademark verbal slip up from the President, who mistakenly said she had helped mark America's bicentennial in 1776, rather than 1976, The Guardian reported.
Bush, realising his mistake, winked at the queen before telling guests on the White House lawn: "She gave me a look that only a mother could give a child."
Elizabeth got her own back at a later dinner when The Guardian quoted her saying: "I wondered whether I should start this toast by saying, 'When I was here in 1776...'"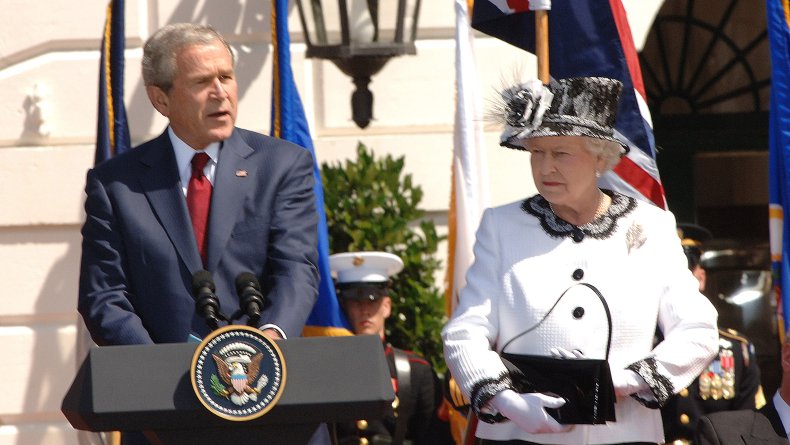 Barack and Michelle Obama met the queen on a visit to Buckingham Palace in 2009, when the first lady and the queen surprised royal watchers by hugging.
Touching the monarch in any form other than a handshake was considered a breach of royal protocol.
However, Angela Kelly, the queen's dresser, wrote in her book The Other Side of the Coin: "Much has been made about the meeting between Michelle and Her Majesty when an instant and mutual warmth was shared between these two remarkable women, and protocol was abandoned as they stood closely with their arms around each other's backs.
"In reality it was a natural instinct for the Queen to show affection and respect for another great woman and really there is no protocol that must be adhered to."
Kelly added: "When fondness is felt or the host of a State Visit goes to guide her Majesty up some steps, it truly is about human kindness and this is something the Queen will always welcome warmly."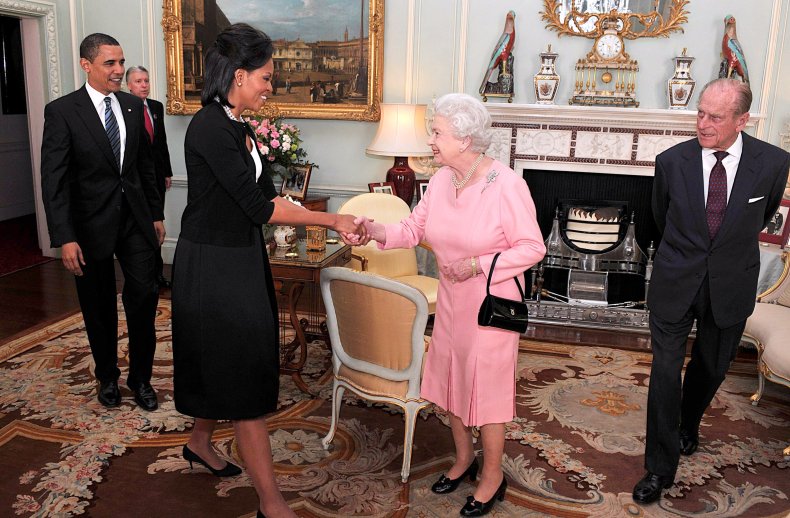 Kate Middleton was made a future queen when she married Prince William at Westminster Abbey, on April 29, 2011.
Elizabeth watched on during the star-studded ceremony with celebrity guests including David and Victoria Beckham and Elton John alongside dignitaries like then Prime Minister David Cameron and his wife and the King and Queen of Spain.
The church is the same one where the funeral of William's mother Princess Diana was held, with the prince and brother Prince Harry famously walking behind her coffin as crowds looked on aged just 15 and 12.
Quoted in Hello!, Elton John, a friend of Diana's, said: "I can't imagine at that young age having to walk in the public, following your mother's coffin... And the next time we're in the Abbey it's to see him walking up the aisle with a beautiful woman, the love of his life.
"I think it's the most joyous result and I'm sure Diana would be very, very happy about it."
The queen began her Diamond Jubilee year in February 2012 with a visit to King's Lynn, near her Sandringham Estate.
Over the course of the year, 440,000 jubilee medals were given to public servants, 112 voluntary organizations were honored and local councils received 9,500 road closure applications as street parties brought communities to life.
Royalists decked the country in bunting as around 2 million private neighbours put differences aside and celebrated together in honor of the monarch between June 2 and 5, according to The Street Party Site.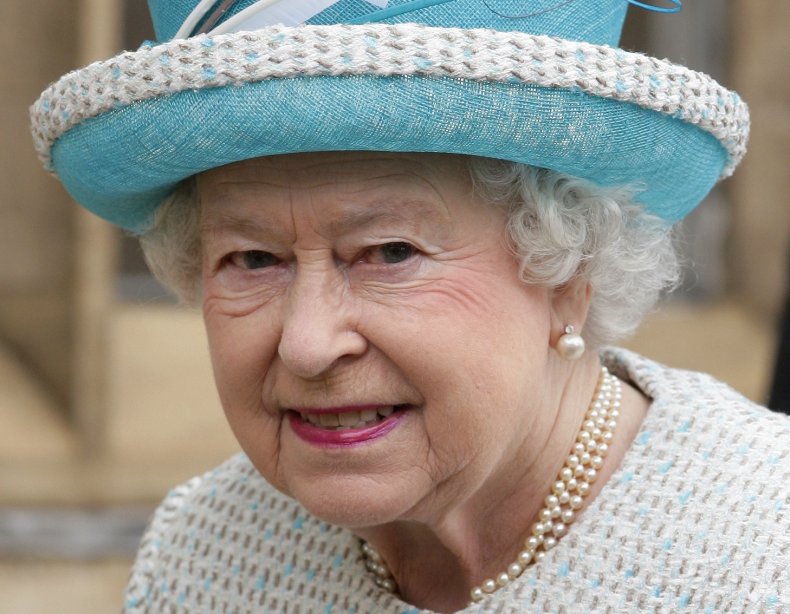 Elizabeth sat with her son and next-in-line to the throne, Prince Charles, and his wife Camilla during an open topped carriage procession down The Mall in London on the final day of the celebrations.
The Queen Elizabeth Diamond Jubilee Trust was launched to make a "real and enduring impact on the lives of those who live within the Commonwealth," the Royal Family's website said.
The festivities extended beyond her people themselves as three towns, Chelmsford, Perth and St. Asaph, were given city status as part of a competition to mark the occasion.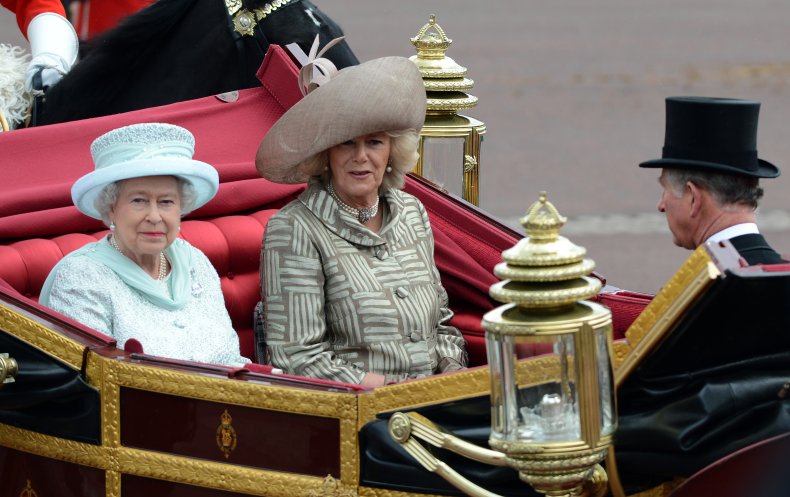 Perhaps more used to a throne, the queen took another fiercely coveted seat when she had her first outing on the front row of London Fashion Week.
And real royalty met fashion royalty as she was positioned next to Vogue magazine's formidable editor-in-chief Anna Wintour.
The actual queen spoke from the runway after the show.
Quote by the BBC, she said: "Our fashion industry has been renowned for outstanding craftsmanship for many years, and continues to produce world-class textiles and cutting edge, practical designs."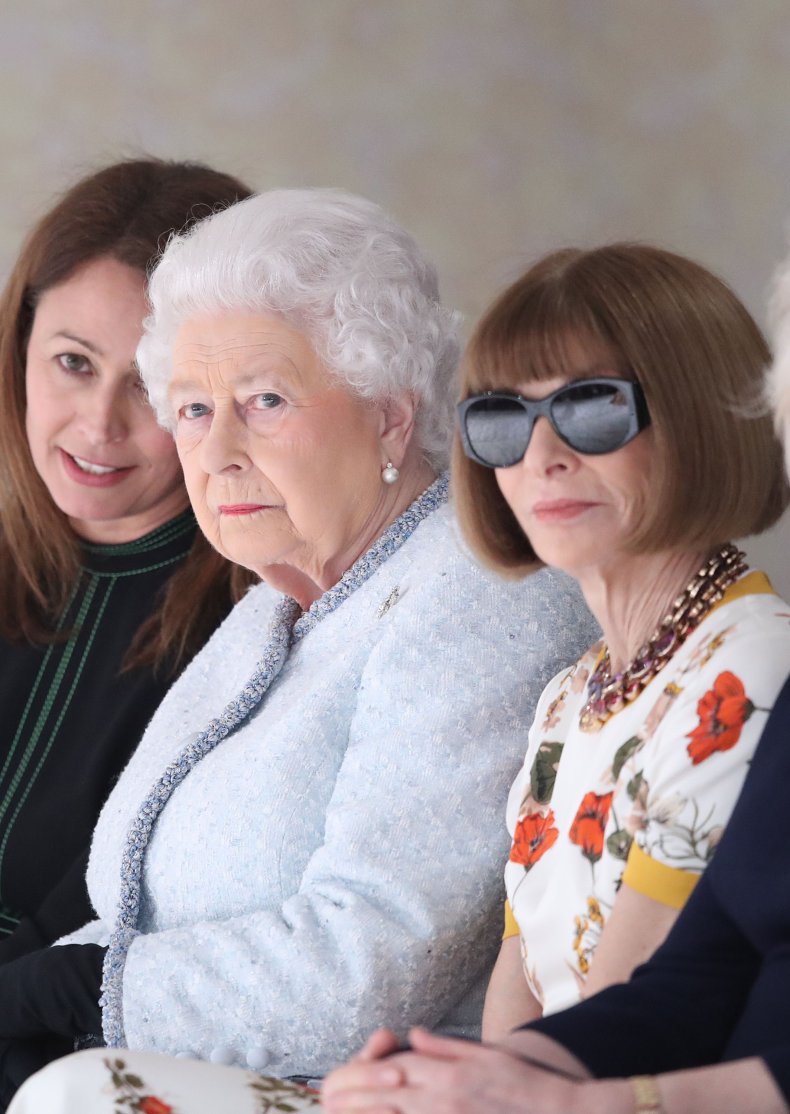 Elizabeth watched grandson Prince Harry marry wife Meghan Markle in a spectacular ceremony watched by adoring crowds who filled the streets in Windsor, plus millions around the world through their televisions.
The Duke and Duchess of Sussex were married by Archbishop of Canterbury Justin Welby at St George's Chapel, Windsor Castle, before stars including Oprah Winfrey and George Clooney on May 19, 2018.
Less than two years later, Meghan and Harry would shake the royal family to their core by stepping back from royal duties to begin a new life in America.
In the biggest test of her leadership since the 1990s, the queen chose to strip the prince of his honorary military titles, ruling he could not be half in and half out of royal life.
However, in March the couple levelled royal racism allegations, accusing an unnamed family member of expressing concern their unborn child's skin would be too dark.
They ruled out the queen and her husband before Elizabeth expressed compassion for the young couple while acknowledging "some recollections may vary."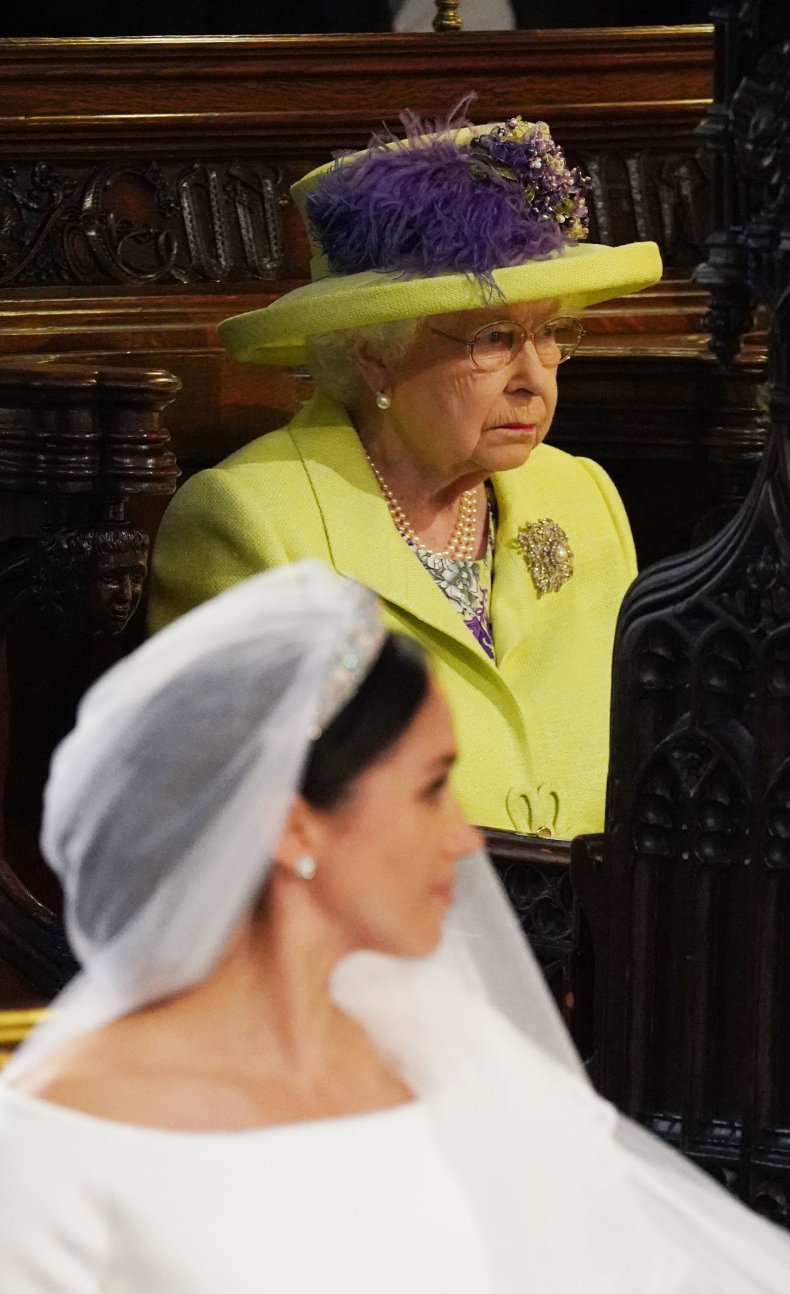 The queen moved many to tears shortly after Britain was sent into national lockdown by the coronavirus pandemic in April last year.
During a rare special broadcast on April 5, she said: "I hope in the years to come everyone will be able to take pride in how they responded to this challenge.
"And those who come after us will say that the Britons of this generation were as strong as any.
"That the attributes of self-discipline, of quiet good-humoured resolve and of fellow-feeling still characterise this country.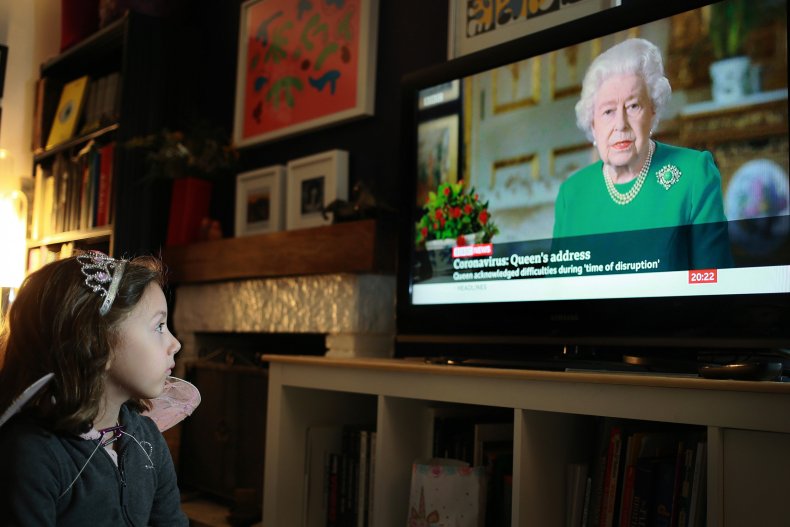 "The pride in who we are is not a part of our past, it defines our present and our future.
"The moments when the United Kingdom has come together to applaud its care and essential workers will be remembered as an expression of our national spirit; and its symbol will be the rainbows drawn by children."
She added: "We should take comfort that while we may have more still to endure, better days will return: we will be with our friends again; we will be with our families again; we will meet again."
The queen spent coronavirus lockdown with husband Prince Philip at Windsor Castle, the same residence where she saw out World War Two as a child.
The couple spent their time in isolation with just a skeleton staff who themselves had to undergo rigorous self-isolation to ensure they did not pose a risk to her majesty prior to each tour working at the castle.
However, after the first lockdown eased in May, photographs were released of Elizabeth doing the activity she is known to love most, riding one of her cherished Fell Ponies, Balmoral Fern, at Windsor Home Park.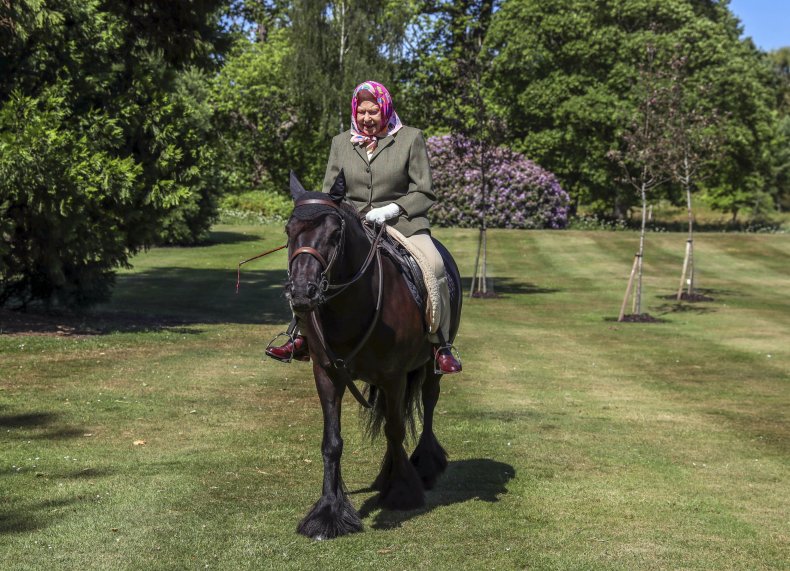 The queen said goodbye to her husband of 73 years on April 17, just months before he was due to turn 100.
The service at St George's Chapel, Windsor Castle, was paired down to just 30 guests due to coronavirus restrictions.
A strict observer of rules, Her Majesty mourned alone during the socially distanced ceremony after Prince Charles, Prince William, Prince Harry and other royals walked behind the Duke of Edinburgh's coffin.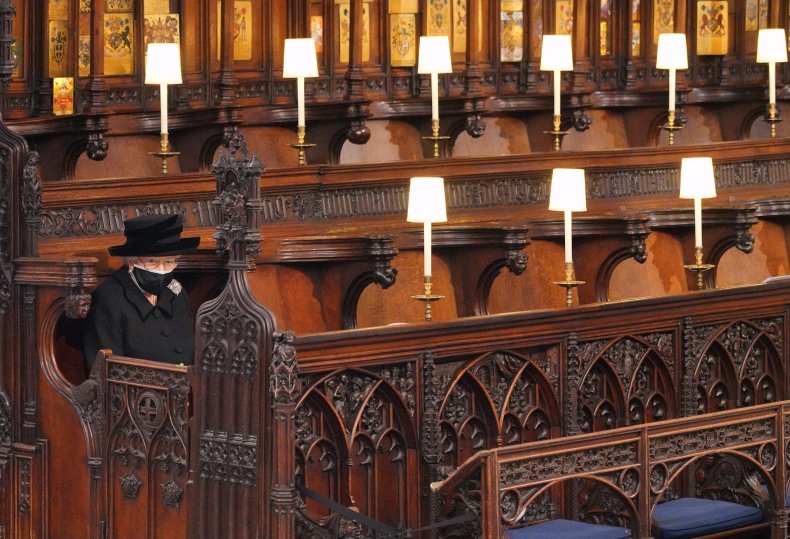 The following week, on April 21, the queen did not release a picture to mark her 95th birthday.
Instead, she issued a message to her people expressing her great sadness at his death.
She said: "I have, on the occasion of my 95th birthday today, received many messages of good wishes, which I very much appreciate.
"While as a family we are in a period of great sadness, it has been a comfort to us all to see and to hear the tributes paid to my husband, from those within the United Kingdom, the Commonwealth and around the world."
The queen, now 95, is set to mark 70 years on the thrown next February.