Joe Biden Laughs at Trump's 'Sleepy Joe' Tweet Questioning His Intelligence: 'Everybody Knows Donald Trump'
Former Vice President Joe Biden, the latest candidate to enter the race for the 2020 Democratic presidential nomination, laughed off a tweet from President Donald Trump that dubbed him "Sleepy Joe" and questioned his intelligence.
"Everybody knows Donald Trump," Biden said as he stopped for pizza at Gianni's in Wilmington, Delaware. The key player in the administration of President Barack Obama laughed and waved off a journalist as he asked about the president's tweet, which backhandedly welcomed Biden to the 2020 race.
"Welcome to the race Sleepy Joe. I only hope you have the intelligence, long in doubt, to wage a successful primary campaign. It will be nasty - you will be dealing with people who truly have some very sick & demented ideas. But if you make it, I will see you at the Starting Gate," the president tweeted after Biden announced his long-expected candidacy, his third bid for the presidency, on Thursday.
Biden has set his campaign in direct opposition to Trump. In a video shared on social media to announce his campaign, he said he could not bear to stand on the sidelines. "If we give Donald Trump eight years in the White House, he will forever and fundamentally alter the character of this nation," Biden said. Speaking to reporters after he picked up his pizza, Biden said it was time for America to return to its true self and be accountable to its allies.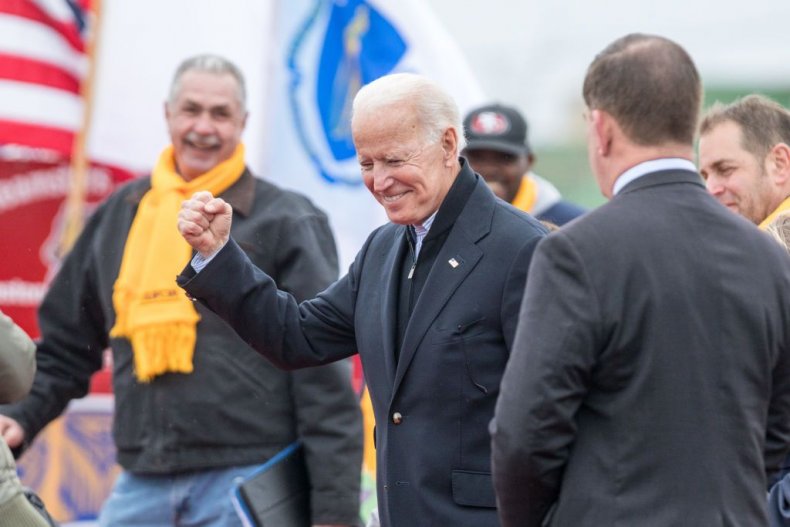 Twitter has been left both gleeful and perplexed by Trump's moniker for Biden, although he had made the "Sleepy Joe" joke before. It is not clear what aspect of Biden's character the president regards as sleepy, and it may not matter. Trump used the name "Low Energy Jeb" to refer to Jeb Bush, the initial front-runner in the 2016 Republican race and the 2016 presidential favorite, and "Crooked Hillary" to refer to his Democratic opponent, Hillary Clinton, to devastating effect.
"Sleepy Joe, Crazy Bernie, Pocahontas...is he just writing a Disney movie?" Nashville comedian Jesse Case asked about Trump's choice of nicknames on Twitter, referring to the names the president uses for Democratic presidential candidates Bernie Sanders and Elizabeth Warren.
Others on Twitter used the opportunity to call Biden "Creepy Joe," a name that emerged on social media after Nevada politician Lucy Flores said the former vice president had kissed her on the back of the head at a campaign event. After Flores came forward, several other women described how Biden had invaded their personal space and made them feel uncomfortable. The former vice president, while not exactly apologizing, addressed the troublesome touching in a video, and promised to do better: "The boundaries of protecting personal space have been reset," he said. "I get it, I get it. I hear what they're saying, and I understand it."
The Associated Press reported that in a diverse and crowded field, Trump allies have voiced concerns that Biden may present the greatest re-election threat. The Scranton, Pennsylvania, native, with blue-collar roots, plans to visit the Key State three times in the opening weeks of his campaign. The state narrowly swung to Trump in 2016—he won 48.2 percent of the vote compared with 47.5 percent for Hillary Clinton—after decades of voting for Democratic presidential candidates.