Joe Biden Leads Democratic Candidates in These Key Swing States, New Poll Shows
While Democratic presidential candidate Joe Biden has appeared to lose ground to fellow contender Bernie Sanders in recent weeks, new polling shows that the former vice president still leads the pack in key swing and early voting states.
When looking at registered voters Iowa, New Hampshire, Nevada and South Carolina – the first four states to hold primaries or caucuses respectively—Biden leads with 26 percent, according to the latest data from Morning Consult. Sanders comes in second with 20 percent, while billionaire former hedge fund manager Tom Steyer has surged, with 17 percent overall. Senator Elizabeth Warren comes in fourth at 11 percent, followed by former Mayor Pete Buttigieg at 10 percent, and entrepreneur Andrew Yang at 8 percent.
Notably however, Biden's overall support has declined by 3 points while Sanders has dipped by 2 points. Steyer and Yang have both gained 3 points, while Warren and Buttigieg have remained stagnant. The poll surveyed voters between Jan. 20 and Jan. 26 and has a margin of error of plus or minus 1 point.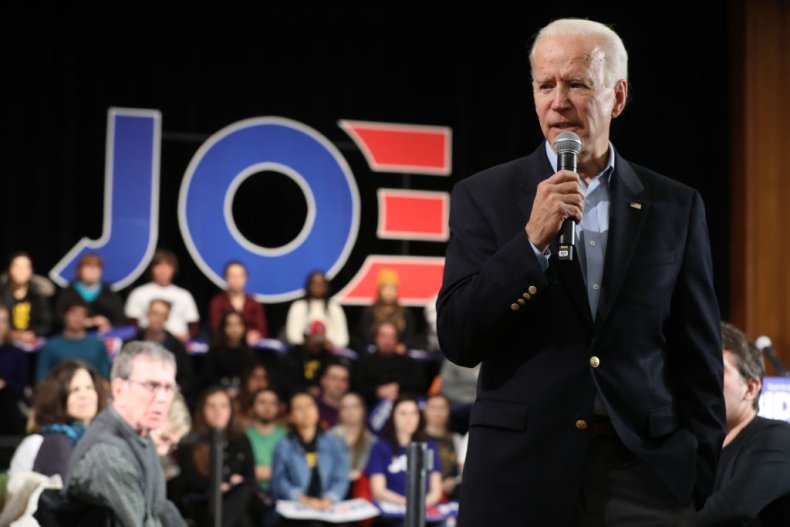 In recent weeks, momentum in the Democratic primary has appeared to be with Sanders as he has surged in early-state and national polls alike. The independent senator from Vermont has built an impressive grassroots movement of volunteers, canvassing neighborhoods across the country and raking in more small-dollar contributions than any other Democratic contender.
But Biden had long been the frontrunner since even before he entered the race last April. The former vice president has capitalized on his time serving under popular former President Barack Obama, as well as strong support from black voters. Yet in recent weeks, Biden's support among black voters also appeared to be in question.
A recent VICE News-Ipsos Poll found that Biden and Sanders were in a statistical tie, with Sanders slightly ahead with support in the black community. In that survey, 54 percent said they would "consider voting" for Biden, while slightly more—56 percent—said they would "consider voting" for Sanders. Both politicians were significantly ahead of any other candidate, with only 39 percent of respondents saying they were considering Warren as an option.
An average of major national polls compiled by Real Clear Politics shows Biden leading nationally with 28.7 percent support, followed by Sanders with 23.4 percent. Warren comes in as a distant third, with just 15 percent.
Despite Biden leading overall, Morning Consult's latest data showed that Biden and Sanders are now tied for favorability among voters. Previously, Sanders was a few points ahead of Biden. Now, both candidates are viewed favorably by 73 percent of respondents. Additionally, 21 percent of those polled said they viewed Sanders and Biden unfavorably, while 6 percent had no opinion for both.