Joe Biden Leads Trump by Double Digits in New Mexico, State With Highest Percent of Latino Voters
New polling out of New Mexico—which has the highest percentage of Latino residents of any state—shows Democratic presidential nominee Joe Biden leading Republican President Donald Trump by double digits.
The poll, which was conducted by Public Policy Polling for NM Political Report and published Tuesday, found that 53 percent of voters in the state back Biden while just 39 percent support Trump. That's a lead of 14 percentage points for Biden, although the polls margin of error was plus or minus 3.3 percentage points.
Latino voters in New Mexico were even more likely to support Biden than the average voter in the Southwestern state. Among Latinos, Biden leads Trump by 41 percentage points—with the support of 67 percent of the demographic compared to just 26 percent who back the incumbent president.
New Mexico voted for the Democratic candidates in 2008, 2012 and 2016. Trump lost the state to then–Democratic presidential nominee Hillary Clinton in the last presidential election by a margin of 8.3 percentage points. Trump was backed by 40 percent of the state's voters while Clinton received just over 48 percent. Former Libertarian Party candidate Gary Johnson, who previously served as New Mexico's governor, received a sizable percentage of his state's votes in 2016 as well.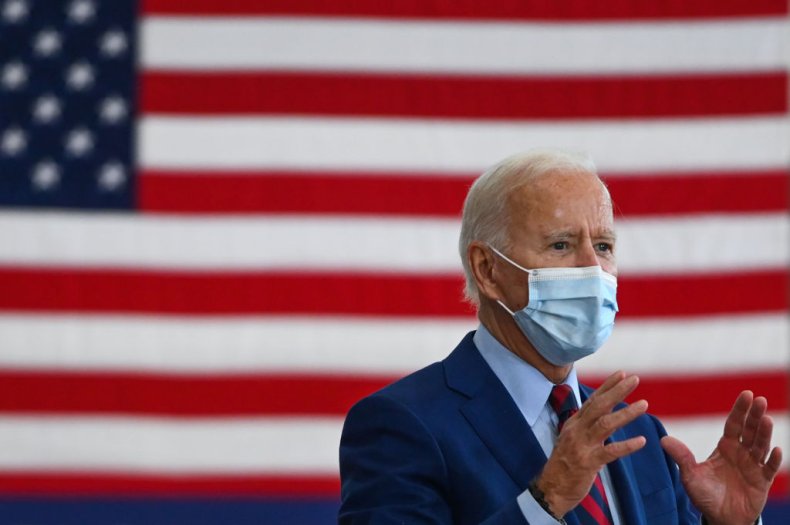 Biden has seen a boost in his polling following the first presidential debate of the 2020 election season, which was held on September 29. National polling by NBC News and The Wall Street Journal mirrored the results in New Mexico, showing 53 percent of voters backing Biden nationwide while just 39 percent support Trump. A poll carried out by CNN following the debate shows Biden with 57 percent support across the country and Trump with just 41 percent.
The current Real Clear Politics average of national polls shows Trump trailing Biden by about 9.2 percentage points, while the FiveThirtyEight average shows the Democratic nominee ahead of the president by about 8.8 percentage points. The most recent polling out of six closely watched battleground states—which are expected to decide the outcome of the election—shows Biden is favored there as well.
In Wisconsin and Pennsylvania, the current Real Clear Politics averages show Biden ahead by 6 or more percentage points. In Michigan, Biden is ahead by about 5.8 percentage points. Trump is down by an average of 3.4 percentage points in Arizona and by about 2.3 percentage points in Florida—the president's state of official residency. The race is close in North Carolina, although Biden is slightly favored with an average lead of 1.2 percentage points.