Joe Biden Draws Laughs With Marjorie Taylor Greene Jibe
During a speech on Tuesday in Virginia Joe Biden mocked Georgia Representative Marjorie Taylor Greene for her outbursts during his State of the Union speech in February.
In the latter, Biden spoke about alleged plans from Republicans to cut Social Security and Medicare, to the disdain of Republican party members in the room.
Greene bellowed out "liar, liar" in response to Biden's comments and repeatedly heckled the president.
Biden said he did not think a significant portion of Republicans were suggesting such cuts but noted he believed there were plans.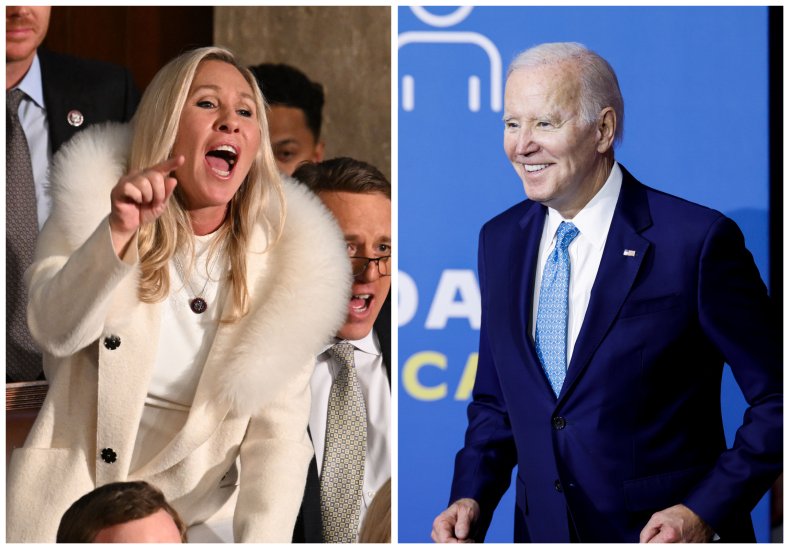 Biden was able to get the support of both Democrats and Republicans in the room for not cutting Social Security and Medicare after he asked those against any plans to cut support to stand up and applaud the seniors of America.
On Tuesday, Biden delivered remarks in Virginia Beach about protecting access to affordable healthcare for Americans.
He referenced Greene's interruptions during his State of the Union speech and then crossed himself, drawing laughs from the crowd.
Biden said: "I have been around for a lot of State of the Unions, I never saw one where the president got to negotiate openly with everybody.
"I was pleased to see so many Republicans stand up. Remember when Marjorie Taylor Greene was yelling "liar, liar, Biden is a liar'...," he then paused before making the sign of the cross.
The gesture is used in moments of need or danger and at the beginning and end of prayer as well as some other occasions.
Sometimes it is used for comedic effect, as seen on Tuesday by Biden suggesting Greene's behavior is a danger to him.
After the laughter had died down, he continued: "I'm going to be good. They don't want to cut anything so when…I said: 'OK, everyone says we are not going to cut Medicare or Social Security'
"When I asked them to join us and reject the cuts, wasn't it something, they all stood up.
"They all stood up, and they are all on camera, we have got all their pictures. Like I said, I believe in conversion.
"Maybe they found it, like my grandpa used to say, maybe they found religion on Social Security Medicare, I sure hope so, all kidding aside. But I'll believe it when I see it."
Following the State of the Union address, Greene defended her actions during Biden's speech and reaffirmed her belief that the president was lying.
She said: "People are pissed off and for the president of the United States to come into the people's house and lie like he did about the economy, the border and then act like he's terrified of China and unwilling to talk about the fact that they spied on us last night, yeah.
"What am I going to do, stand up and give golf claps? No thank you, I don't clap for liars."
Newsweek has contacted Marjorie Taylor Greene for comment