Joe Biden Mocked for Apparent Teleprompter Flub: 'Repeat the Line'
Joe Biden was mocked on social media Friday after making an apparent mistake by reading teleprompter instructions during a speech. The president was speaking about protecting women's reproductive rights when he made the flub, accidentally saying "end of quote, repeat the line" as he finished a sentence.
"It is noteworthy that the percentage of women who register to vote and cast a ballot is consistently higher than the percentage of the men who do so—end of quote, repeat the line. Women are not without electoral and, or, political—let me be precise: not and, or—or political power," Biden said during his address.
The teleprompter had instructed him to repeat the line "Women are not without electoral or political power," a sentence that he first said moments earlier.
The president later signed an executive order to help protect and expand women's access to abortion and contraception after the Supreme Court's recent decision to overturn Roe v. Wade. Because of the ruling, women living in states with so-called trigger laws will have to go elsewhere to get an abortion. As for birth control, some states have seen spiking inquiries about vasectomies.
Biden's teleprompter error during his speech sparked different reactions on Twitter, with some criticizing the president for the mistake.
"Biden is so far gone that he will literally read anything put on the teleprompter in front of him. 'End of quote' ... 'Repeat the line,'" Washington Times columnist Tim Young tweeted.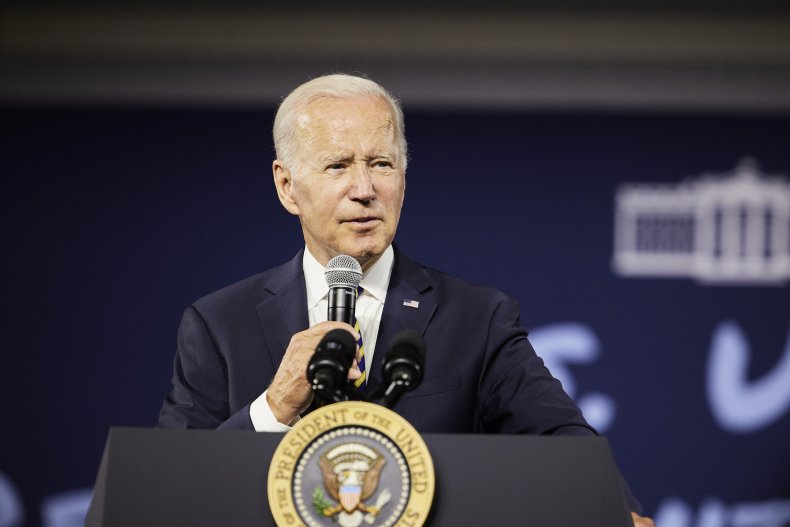 Clay Travis, author of Republicans Buy Sneakers Too, tweeted: "Joe Biden accidentally reads the teleprompter telling him to repeat the line. He just keeps getting worse. Do we really have 30 more months of this? Scary. And sad."
Newsmax host Benny Johnson tweeted: "The teleprompter is UNDEFEATED against Joe Biden." He wrote in another tweet, "Biden gets stumped by the teleprompter: "End of quote. Repeat the line."
Kyle Hartzell, a head coach for the lacrosse team at the University of Texas, tweeted, "Every week this guy does something that shows how mentally impaired he is and we as a society just accept it...so sad."
Others on social media jumped in to defend Biden and criticized conservatives for attacking the president for the teleprompter error. The Palmer Report site tweeted: "Trump supporters love mocking Biden when he occasionally makes a teleprompter gaffe, even though Trump used a teleprompter every single time and still didn't give one coherent speech in four years."
Filmmaker Chip Franklin wrote on Twitter: "Biden misread a teleprompter. Trump tried to overthrow the government & hang his VP. Both r old & prone to gaffes while speaking in public. But only one is an orange colored reckless sociopath who would destroy the world for his own personal gain. F*** you if you can't see that."