Joe Biden Mocked for Saying He Was 'Raised in the Puerto Rican Community'
President Joe Biden was ridiculed on Twitter after claiming he was "politically" raised in the Puerto Rican community during a press conference held on the U.S. island territory.
The president and first lady visited Puerto Rico on Monday to meet with community leaders and families impacted by Hurricane Fiona after the storm hit the island on September 18. While pledging $60 million in disaster recovery during the press conference, Biden referenced his political history working in Puerto Rico, mentioning that his home state of Delaware has a "very, in relative terms, large" Puerto Rican community.
"I was sort of raised in the Puerto Rican community at home politically," Biden said.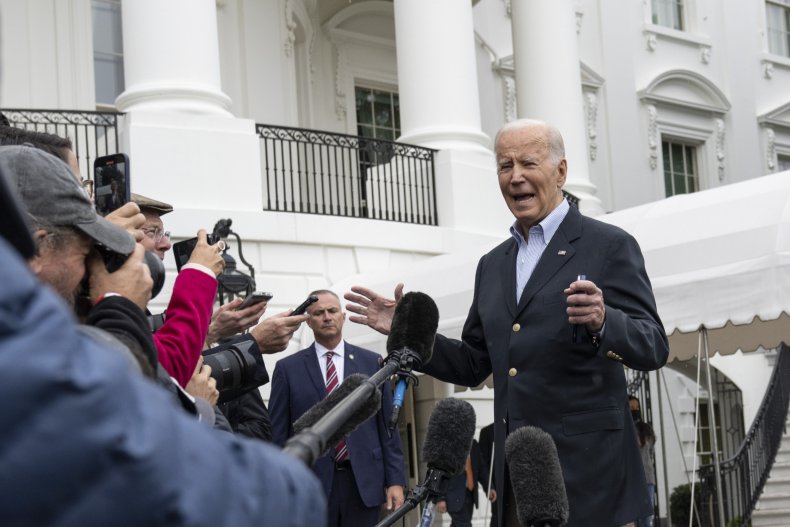 The comment was met with backlash Monday evening from several conservative leaders, including Dr. Mariela Roca, a Republican running for Congress in Maryland who was born in San Juan, Puerto Rico.
"Why is the left so thirsty for the Hispanic community?" Roca commented along with a quote tweet of Biden's press conference video. "Que locos."
American Radio personality Chris Stigall also reposted a clip of Biden's comment, writing "I didn't know Corn Pop was Puerto Rican."
The name "Corn Pop" is in reference to a story that Biden had been continuously mocked for in the past, in which the president supposedly fought off a gang leader in Wilmington, Delaware, named Corn Pop after Biden broke the rules at an all-black pool.
Jack Posobiec, a conservative commentator and senior editor at Human Events, also poked fun at Biden's statement.
"Joe Biden just seriously tried to go to [Puerto] Rico and tell them he's Puerto Rican too," Posobiec tweeted.
Some users came to the president's aid, however, including hip-hop journalist Jayson Rodriguez, who tried to provide more context to Biden's statement.
"The discourse on Twitter can be so dumb," Rodriguez wrote. "In Delaware, specifically in Wilmington, there's a large Puerto Rican community (where my family lived). And Biden was mentored by/engaged with a lot of Latin + Black community activists as a young U.S. Senator."
Biden was first elected into public office in 1970 through a council seat in Delaware's New Castle County, home to the city of Wilmington and the densest Puerto Rican population in the state.
Fellow Democrats also turned the focus away from Biden's controversial comments and instead praised the hurricane relief aid in Puerto Rico.
Illinois Senator Dick Durbin said that he had recently met members of the Puerto Rican community in Chicago "to discuss how Congress can support our fellow Americans" on the island after Hurricane Fiona.
"Pleased to see @POTUS announce $60M through the Bipartisan Infrastructure Law to help [Puerto Rico] become better prepared for future storms."
Cate Long, who leads the research service Puerto Rico Clearinghouse, also praised Biden's promise to deliver aid to the island.
"I advocated for this after Hurricane Maria and am glad it's finally happening," Long wrote. "Residents have waited too long."
On Monday, at least 100,000 Puerto Rican residents were still without power from Hurricane Fiona, and officials have reported at least 25 hurricane-related deaths.
Newsweek reached out to the White House for comment.