Rising prices at the gas pump are not going to be enough to persuade President Joe Biden from keeping to his commitment to fight climate change.
Asked whether Biden will prioritize his clean energy proposal or lowering gas prices, White House press secretary Karine Jean-Pierre insisted that the administration "could do both at the same time."
"What we're trying to deal with right now is how do we lower costs for American families," she said during a Thursday briefing. "One of the things that we are seeing currently right now with oil refiners is they are using this moment—that there is a war in Ukraine—to actually make a profit."
Jean-Pierre, who said Biden would "continue to move forward with [the administration's] clean energy proposal, [the administration's] climate change proposal," defended the president's actions on inflation, arguing that consumer prices would be much higher without Biden's economic plan.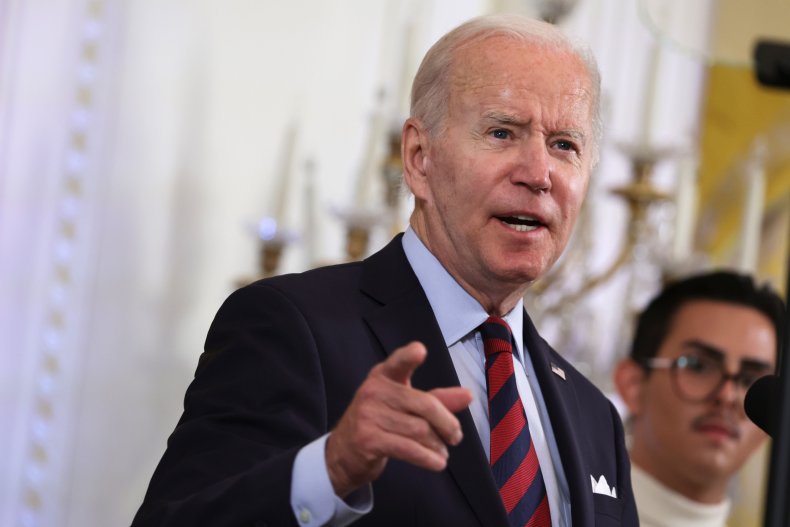 This week, Biden sent a letter to seven of major U.S. oil refiners asking for help in boosting output to help lower gas prices—which averaged, nationally, above $5 a gallon on Thursday—in an effort to avoid abandoning his commitment to combat climate change.
On Wednesday, the president said he was "prepared to use all reasonable and appropriate federal government tools and emergency authorities to increase refinery capacity and output in the near term."
Biden's warning comes after oil and gas producers in the U.S. have criticized his administration for canceling pipeline projects, emphasizing its promise to reduce greenhouse gas emissions to net zero and refusing to issue new drilling leases on public lands.
Republicans have also maintained that Biden's climate policies are partially to blame for the rising gas prices across the country.
In response to Biden's letter, American Petroleum Institute CEO Mike Sommer urged the president to reconsider his "misguided" plan to turn to foreign oil production and allow U.S. companies to drill more at home.
"Ahead of his travel to the Middle East next month, we urge the President to prioritize unlocking U.S. energy resources—that are the envy of the world—instead of increasing reliance on foreign sources," Sommers wrote to Biden on Wednesday.
The U.S. has lost nearly 6 percent of its refining capacity since 2019 and in the last three years, at least nine petroleum processing plants have been idled in the U.S. No new American refineries have been built in decades.
The decline has in turn led to new opportunities for the Middle East, where oil companies have upped their refinery capacity to nearly 13 percent in the last three years and where Biden is expected to visit next month to meet with Saudi officials about oil.