President Joe Biden stopped to pick a dandelion for his wife and first lady Jill Biden in a sweet moment captured as the pair walked across the White House lawn to board Marine One on Thursday.
Video of the incident shows the president bending over to pluck the flower from the grass before handing it to his wife and ushering her onto the chopper with his arm around her waist.
Originally uploaded to Twitter by CBS White House Correspondent Weijia Jiang, the short 28-second clip has since gone viral, garnering more than 1.4 million views since it was posted on Thursday afternoon.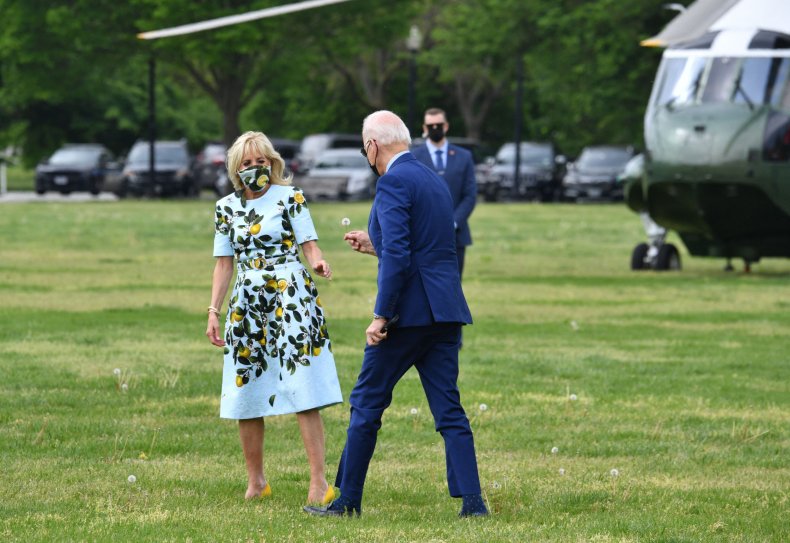 The couple were en route to Georgia to commemorate Biden's first 100 days in office and to visit former president Jimmy Carter.
Viewers were quick to gush over the wholesome moment, with many describing the exchange as "sweet" and "refreshing."
"I love how President Joe Biden, the busiest man in America, still makes the time for little gestures to show his wife how much he loves and appreciates her," one woman noted.
"Lovely people, human, humble, kind and beautiful ... My faith in humanity is a little bit restored," one man added as another replied, "And he allowed her to walk ahead of him to board. Nice to see a president who is a gentleman."
Others drew comparisons between the pair and former presidential couple Donald and Melania Trump.
"Remember that day when Trump spontaneously stopped to make a beautiful gesture toward Melania? (No? Me either)" columnist and author Frida Ghitis quipped.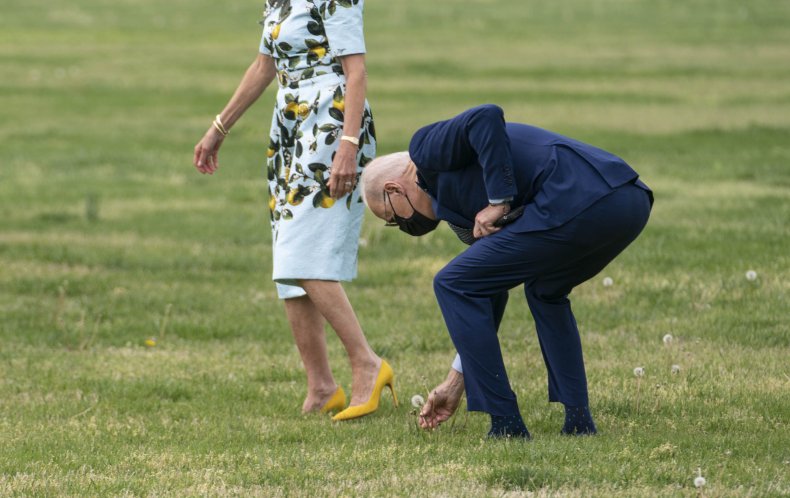 "Remember the day when Trump tried to hold Melania's hand and she swatted it away?" one woman asked, as others posted footage of the former first lady appearing to reject her husband's attempt as the pair disembarked Air Force One last year.
Some criticized the choice in flower, calling a dandelion a weed.
"He should have given her roses," one man replied. "You guys go nuts over Biden handing his wife a weed. Really?"
Fittingly, Jill Biden was wearing a pastel blue dress with a floral leaf and fruit print. The couple have regularly been spotted stealing kisses as presidential event and Joe Biden has never been shy about his affection for his wife of 44 years.
"I adore her," he told CBS Sunday Morning in August last year. "I'm gonna sound so stupid – I was saying the other day, when she comes down the steps and I look at her, my heart still skips a beat."
Last year, the president gushed about his wife on their wedding anniversary writing on Instagram, "...I'm forever grateful you agreed to spend the rest of your life with me. I love you, Jilly!"