Joe Biden's COVID Response Wins Bipartisan Support: Poll
Nearly three-quarters of Americans approve of how President Joe Biden is handling the coronavirus, and his overall job approval ratings continue to soar in the first two months of his term, according to a poll just released.
The findings of the survey by the Associated Press-NORC Center for Public Research shows that Biden is enjoying support across party lines over his tackling of the pandemic, with 70 percent of Americans backing his response, including 44 percent of Republicans.
Biden has pledged to make tackling the pandemic a focus of his presidency by urging social distancing, mask guidelines and a commitment to speeding up vaccine distribution.
He is also hoping to get Congress to approve his $1.9 trillion relief plan aimed at putting money in the pockets of Americans left reeling by the coronavirus. One of the plan's provisions is for full payments of $1,400 for individuals who earn less than $75,000 a year.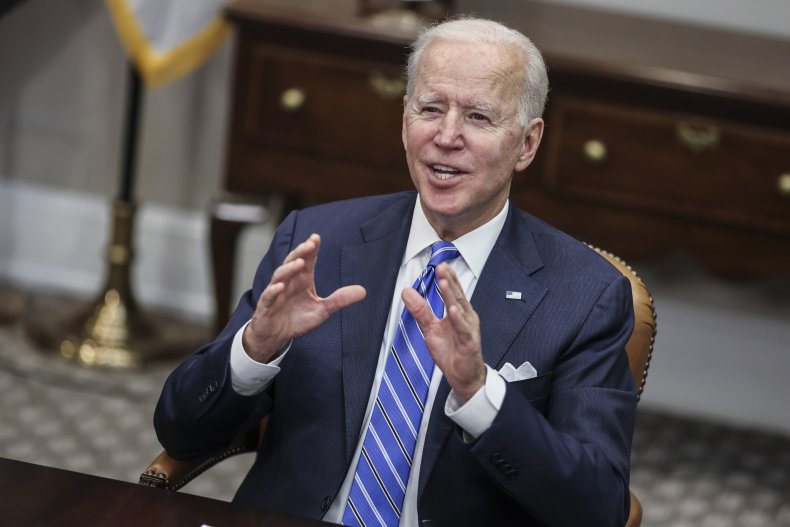 But the public is less sure about his fiscal stewardship according to the poll, which showed that only 55 percent of Americans approved of the way he was handling the economy. Only 17 percent of Republicans had confidence in his economic know-how.
It comes amid Friday's announcement that the economy added 379,000 jobs in February, exceeding expectations.
However, 60 percent of people approved of his job performance in his first six weeks in the poll conducted between February 23 and March 1 with a margin of error of plus or minus 3.4 percent.
This is 20 percentage points higher than 40 percent approval rating that Biden's predecessor, Donald Trump, had in an AP-NORC poll conducted in December 2020.
Trump's highest rating for handling of the economy was 56 percent in AP-NORC polls, and his overall approval rating never went above 43 percent.
Biden received a 58 percent approval rating in an Ipsos survey conducted for Reuters this week. An average of polls by FiveThirtyEight put his approval ratings as of Thursday at 53.1 percent. A Harris poll this week gave him a 61 percent approval rating.
Biden has tried to manage expectations over when life would get back to normal post-pandemic. He said he hoped all Americans should be able to be vaccinated by the end of May and a return to life without masks, may not happen until the end of the year or the start of 2022.
The latest poll did show a spike in optimism with nearly half (48 percent) of respondents saying the U.S. is heading in the right direction, up from 37 percent who thought so in December, before he took office.
The poll also shows that 43 percent of Americans expect things in the country overall to get better in the next year. Newsweek has contacted the White House for comment.