As Stimulus Debate Rolls On, Most Want Congress To Do More To Ease Hardship
Many Americans have struggled to pay for basic living costs and most want Congress to do more to help those who have seen their income hit during the COVID-19 crisis, according to recent polling.
According to results of a Kaiser Family Foundation survey conducted February 15 to 23, 73 percent of those asked feel Congress is not doing enough to support people who have lost a job or income due to the pandemic.
This feeling is shared across the political spectrum, with 74 percent of Democrats, 73 percent of independents and 79 percent of Republicans feeling Congress is not doing enough in that regard.
Asked if they have struggled to pay for basic living costs, 37 percent of respondents said they had had some issue with this in the past three months.
Nearly a quarter, 23 percent, had fallen behind on credit cards or other bills. Almost a fifth, 17 percent, had problems paying for food, 16 percent had fallen behind on rent or mortgage payments, 16 percent had issues paying for health insurance and 16 percent had problems paying medical bills.
The questions were put to 1,874 U.S. adults chosen from a random digit dial telephone sample. The margin of error is plus or minus 3 percentage points.
The polling comes as people continue to await a third round of stimulus checks.
Legislation to sign off a third round of checks of up to $1,400 for those eligible is still being discussed by lawmakers. The House of Representatives passed a bill last week including $1,400 checks.
The COVID-19 relief legislation is now to be debated in the Senate.
While the White House has stood firm on wanting checks worth up to $1,400, the amount of people eligible for them is set to be reduced from prior rounds.
This came after members in the upper chamber suggested aspects of the bill be more "targeted." Further debate is due to take place in the Senate.
Democrats are looking to push the relief through using reconciliation, which would mean it could pass the Senate without any Republican support—if the entire Democratic caucus unites behind the plans to be able to secure a simple majority in the upper chamber.
However, they must get the full support of their caucus for this to work. A plan to pass a measure to raise the minimum wage alongside relief has also been stalled after the Senate parliamentarian ruled it should not be passed through reconciliation. Other aspects of President Joe Biden's $1.9 trillion relief plans could be passed this way.
The bill is expected to be delayed somewhat by Republican requests for it to be read in its entirety prior to the Senate debate beginning.
Senate Minority Leader Mitch McConnell (R-KY) has also spoken of Republicans working to fight it in "every way we can." President Biden has urged unity from Democrats in the Senate to get it passed.
Newsweek has contacted Democratic and Republican leaders in Congress for comment.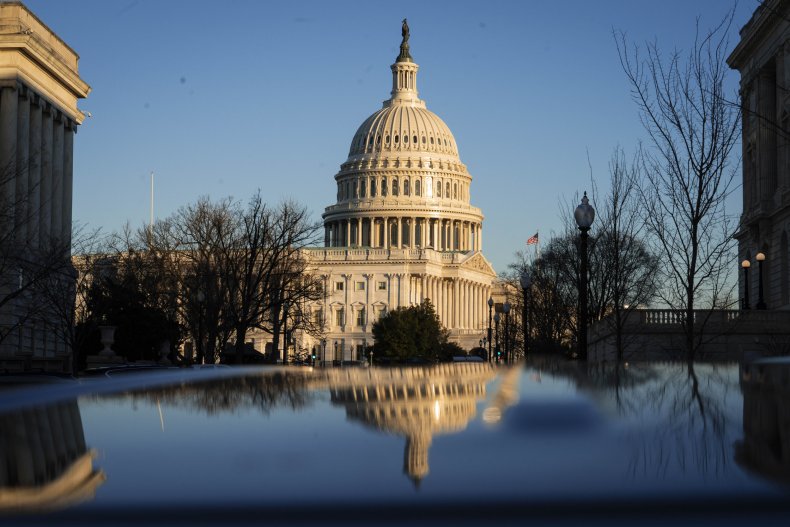 Newsweek, in partnership with NewsGuard, is dedicated to providing accurate and verifiable vaccine and health information. With NewsGuard's HealthGuard browser extension, users can verify if a website is a trustworthy source of health information. Visit the Newsweek VaxFacts website to learn more and to download the HealthGuard browser extension.