McConnell to Fight Stimulus Bill 'In Every Way' as Biden Urges Senate Dems to Get it Done Now
Senate Minority Leader Mitch McConnell has vowed that Republicans will fight the $1.9 trillion stimulus bill "in every way we can" as President Joe Biden urged Senate Democrats to stick together and pass the package quickly.
McConnell called the sprawling package "wildly expensive" and warned that Republicans will oppose the bill "in every way that we can" in a Tuesday press briefing. "It is my hope that at the end, Senate Republicans will unanimously oppose it just like House Republicans did," he said.
Meanwhile, Biden aggressively pushed Senate Democrats to unify and rally around the package in a virtual conference call. Moderates in the party such as Senator Joe Manchin of West Virginia have publicly opposed some provisions of the bill for being too costly, but Biden urged all members to get it passed fast, even if they don't accept the full package.
After the call, Senator Tim Kaine reiterated the message from Biden to reporters as: "This is really important. Democrats stick together. Let's get this done."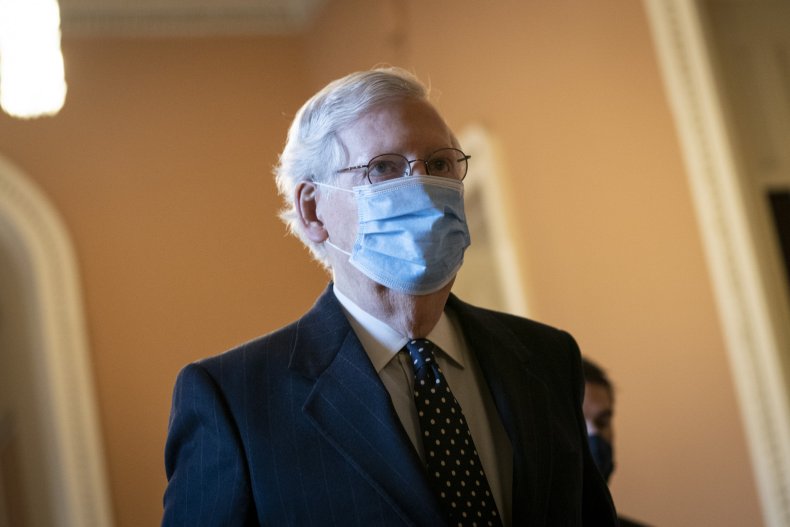 The House of Representatives passed the economic relief bill, called the America Rescue Plan, largely along party lines in a 219-212 vote on Friday night. The aid measure now advances to the Senate, where some provisions are expected to be amended, including the $15 minimum wage hike. All successful amendments will then be sent back to the House for a final vote.
With the Senate split 50-50 and Vice President Kamala Harris having the tie-breaking vote, every single Democrat will need to align on the package to pass it using the budget process called reconciliation. All 50 Senate Republicans are expected to oppose the bill.
Manchin, a moderate from one of the country's poorest states, has said he would oppose the current legislation and is using his crucial vote to push Democrats into lowering the income threshold for the $1,400 stimulus checks and decreasing the $400 weekly federal unemployment benefits to $300.
On Monday, Biden met with Manchin and other moderate Democrats at the White House to discuss amendments. The senator said he's still "negotiating" with party leaders to ensure the measures are "targeted," according to The Hill.
The wage hike is one of the biggest sticking points remaining in discussions. Senators Bernie Sanders of Vermont and Elizabeth Warren of Massachusetts on Monday urged Harris to override Senate Parliamentarian Elizabeth MacDonough's ruling that reconciliation cannot be used for the measure. Harris has the authority to override the decision, but Democrats have signaled that they could cut it instead.
The path forward for Senate Democrats is unclear. After their meeting with Biden on Tuesday, Senate Majority Leader Chuck Schumer told reporters that the president "said we need to pass this bill and pass it soon."
Newsweek reached out to Schumer's office for further comment.