President Joe Biden and Senate Democrats have agreed to tighten income thresholds for the next round of $1,400 stimulus checks, according to the Associated Press.
Eligibility would remain the same, as individuals earning less than $75,000 and couples earning less than $150,000 would be able to receive the full direct cash payment. But under Wednesday's agreement, checks would end for individuals making $80,000 and couples earning $160,000.
That's a shift from the income requirements passed by the House on Saturday. Under their version of the bill, those earning over $100,000 per year and couples earning over $200,000 would not be eligible to receive a check.
Asked about the new stimulus check agreement, White House press secretary Jen Psaki told reporters on Wednesday that Biden is "comfortable with where the negotiations stand."
"He has been open from the beginning for those [checks] being more targeted," Psaki said.
The news comes as the Senate braces for a marathon debate on Biden's $1.9 trillion coronavirus relief package, also known as the American Rescue Plan. Democrats are aiming to pass the bill via reconciliation, a legislative process that would bypass the need for any Republican support.
Along with a third round of stimulus checks, the president's package would expand unemployment benefits and provide aid for state and local governments as well as vaccination programs and school reopenings.
According to the Associated Press, Biden was flexible on income limits for the $1,400 checks but wouldn't budge on unemployment benefits—an issue that has split some moderate Democrats.
Senator Joe Manchin (D-W.Va.), a critical vote in the bill's negotiations, told reporters on Tuesday that he was looking to decrease the unemployment payments in Biden's relief package by $100, arguing that giving people a financial boost at this point doesn't make sense.
Biden's plan would increase the federal unemployment benefit to $400 per week, as opposed to the $300 benefit that was in the relief bill passed by Congress in December and signed by former President Donald Trump.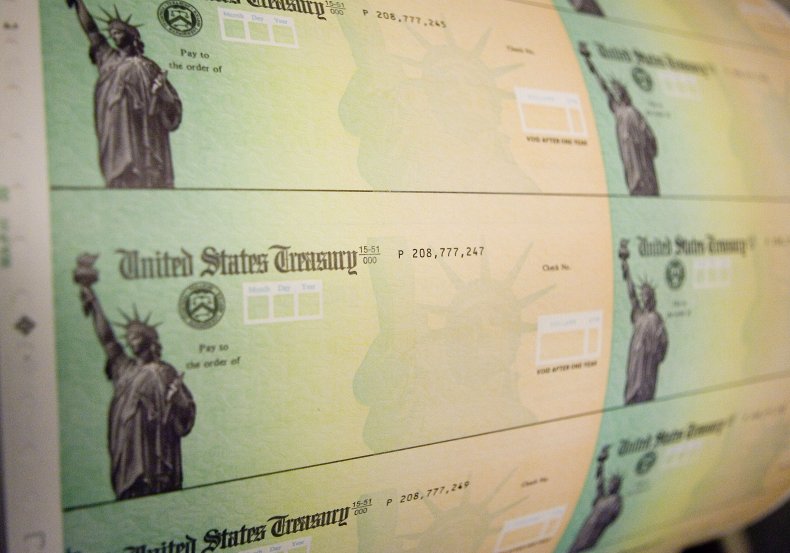 Senate Majority Leader Chuck Schumer said the chamber could hold a procedural vote on the legislation as early as Wednesday, which would set up 20 hours of debate on the bill and a so-called vote-a-rama where lawmakers can propose amendments to the legislation.
Asked Tuesday if he would support additional changes to the bill, the New York Democrat responded, "We want to get the biggest, strongest, boldest bill that can pass. And that's what we're working to do."
Democrats, who control the 50–50 Senate by the slimmest of margins, thanks to Vice President Kamala Harris' ability to cast tie-breaking votes, cannot afford to lose any of their members in the final vote. So far, no Republicans have expressed total support for the $1.9 trillion package.
"This is a wildly expensive proposal largely unrelated to the problem," Senate Minority Leader Mitch McConnell told reporters on Tuesday. "We think this package should have been negotiated on a bipartisan basis.... Instead, the new administration made a conscious decision to jam us."
The Kentucky Republican emphasized, "We'll be fighting this in every way that we can."