Joe Biden's Team Thinks He'll Be President, Expect to Take Pennsylvania, Michigan, Nevada and Wisconsin
Joe Biden's team are confident the former vice president can win in four key battleground states that are yet to declare—pushing the Democratic candidate over the line by guaranteeing him the 270 Electoral College votes needed to win the presidency.
Jen O'Malley Dillon, Biden's campaign manager, said the election results indicated that the Democrats were "on a clear path victory" with the party expecting to win in Wisconsin, Nevada, Michigan and Pennsylvania.
A victory for Biden, she said, was "already a foregone conclusion" with the 78-year-old on course to garner more votes than any presidential candidate in history.
Securing a Democratic majority in all four states would hand Biden 52 Electoral College votes, which added to his current tally, would secure him more than the 270 needed. Biden's team said two more contested states—Georgia and North Carolina—were either a toss-up or leaning towards Donald Trump.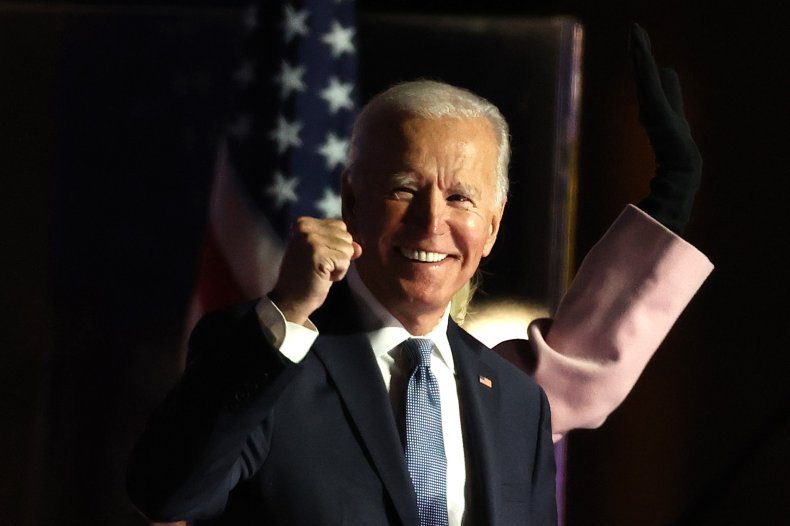 In Wisconsin, which flipped to Trump in 2016, the first for a Republican candidate in more than three decades, Biden's team said they expected to win the 10 Electoral College votes.
Nevada and Michigan were also forecast to back Biden, his campaign team said, with the final results expected either today or tomorrow.
In Pennsylvania, Biden's team said there were still approximately 1.4 million votes to be counted, and their analysis showed the outstanding ballots "heavily favor" the Democratic nominee.
O'Malley Dillon acknowledged there were "a couple of states that are still in play": Georgia, which was currently a "toss-up" but which still had "many outstanding ballots" in the Atlanta area that favored Biden; and North Carolina, which was described as "tight" and "leaning to Trump right now."
O'Malley Dillon said she had always been sceptical of polls showing a decisive lead for Biden but was now optimistic he could win.
"We're not surprised. We always expected this to be a long night," she said during a press conference Wednesday. "We knew this was going to be very close."
O'Malley Dillon also criticized Trump for claiming victory in a late night post-election speech in which he called for "all voting to stop."
"The American people get to pick their president," she said. "The president does not get to pick the people whose votes get counted."
The razor thin margin one or the other candidate claimed in several states has raised the prospect of protracted legal battles and a delay to the final result being announced.
Biden campaign adviser Bob Bauer said his team were primed to respond to any legal challenge initiated by Trump or his backers, saying they were "ready to act within an hour" of papers being filed.
"His [Trump's] mission is to attack the democratic process and our mission is to defend it," Bauer said.