Joe Biden Pushed for Saddam Hussein to Be Taken Down Five Years Before Iraq War
Joe Biden pushed for Saddam Hussein to be taken down five years before the 2003 invasion of Iraq, a resurfaced video from 1998 has revealed.
In a clip from a Senate Foreign Relations Committee hearing in September 1998, unearthed by The Intercept, the former vice president said he believed there was "no reasonable prospect" of weapons inspectors obtaining a "guarantee" that Iraq did not possess weapons of mass destruction while Hussein was "at the helm" of the country.
The then-senator of Delaware went on to suggest Hussein could only be removed by men in uniform "back on foot, in the desert taking the son of a—taking Saddam down," four years before Biden voted in favor of the Iraq War.
As the frontrunner in the Democratic presidential primary race some 22 years after his comments at the hearing of former U.N. weapons inspector Scott Ritter, Biden has faced criticism over his support for the Iraq War and made attempts to distance himself from it.
But his recent claims to have "opposed" the Iraq War from its inception have been repeatedly rebutted, as noted by The Intercept, with CNN reporting that Biden was "a vocal supporter" of the conflict.
Addressing Ritter during the 1998 Senate hearing, Biden said: "I think what you've done is you've forced us to come to our milk here, all of us in the United States Congress."
Biden added that he hoped senators would not "shrink from the choices" presented to them regarding Iraq, Saddam Hussein and "weapons of mass destruction" found to have been non-existent.
Speaking about the Clinton administration policy to maintain sanctions imposed against Iraq following its 1990 invasion of Kuwait, Biden said: "The primary policy is to keep sanctions in place. To deny Saddam the billions of dollars that would allow him to really crank up his program, which neither you or I believe he's ever going to abandon as long as he is in place.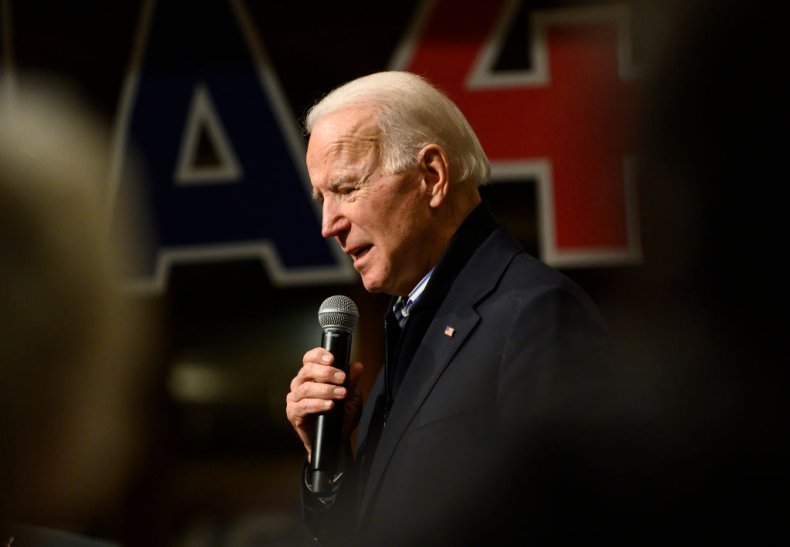 "But that doesn't guarantee, if these sanctions are in place, that the program's going to be anything other than curtailed. Doesn't guarantee we're going to be able to stop it."
"I think you and I believe, and many of us believe here, as long as Saddam's at the helm, there's no reasonable prospect you or any other inspector is ever going to be able to guarantee that we have rooted out, root and branch, the entirety of Saddam's program relative to weapons of mass destruction," Biden added.
He later said the only way to oust Saddam Hussein would be to "require guys like you in uniform to be back on foot, in the desert taking the son of a— taking Saddam down."
"You know it and I know it, so I think we should not kid ourselves here," the senator added.
Newsweek has contacted the Biden 2020 campaign for comment on the former VP's remarks in the resurfaced C-Span footage.
Biden's 1998 comments calling for Saddam Hussein to be taken down five years before the invasion of Iraq reemerged following criticisms of his record by Senator Bernie Sanders.
Biden's biggest closest rival in the 2020 Democratic primary race has specifically taken aim at his stance on the Iraq War, telling CNN's Anderson Cooper that the frontrunner "voted and helped lead the effort for the war in Iraq, the most dangerous foreign policy blunder in the modern history of this country."
The Vermont senator also said Biden had "a lot of baggage" in a Washington Post interview and told the Los Angeles Times that President Trump would eat the former vice president's lunch if the two face off at the 2020 election—citing the Democrat's vote for the Iraq War.
Biden has since hit back at Sanders, calling his criticisms "ridiculous" and arguing that he has "enough baggage" of his own.