Biden Compares Trump Election to Martin Luther King Jr., Kennedy Assassinations: 'Reawakened' New Generation
Former Vice President Joe Biden compared the election of President Donald Trump to the "reawakening" that occurred among Baby Boomers after the assassinations of Martin Luther King Jr. and Robert Kennedy.
Biden spoke with MSNBC's Al Sharpton Saturday at the South Carolina Democratic Convention, where he insisted he understands the "consequence" behind his recent comments about working worth with two pro-segregation Senators, James Eastland and Herman Talmadge, early in his career.
The current Democratic front-runner told his supporters during a speech that Trump's tactics at the U.S. border are "cruel" and he said left-leaning Millennials are becoming politically motivated in the wake of Trump's election.
"There's so much we can do, and it's within our capacity to do it," Biden said. "That's the interesting thing."
"I think what's happening now is, I think that Donald Trump may have reawakened sensibilities in this country to say 'Whoa, maybe we can do this now,' just like our generation was awakened when Dr. King and Bobby Kennedy were assassinated," Biden told Sharpton Saturday evening. "Our whole generation saying 'I'm back in, man.'"
"These millennials, they get it, Rev. And now they want to get engaged," he added.
Biden responded to criticism from several 2020 Democratic rivals over his decades-old embrace of the segregationist senators, including from Senators Kamala Harris and Cory Booker. The former vice president told Sharpton he understood why the word "boy" was offensive in his initial recounting of the story and he also sees the "consequence" and "hurt feelings" underlying the racial undertones of the phrase.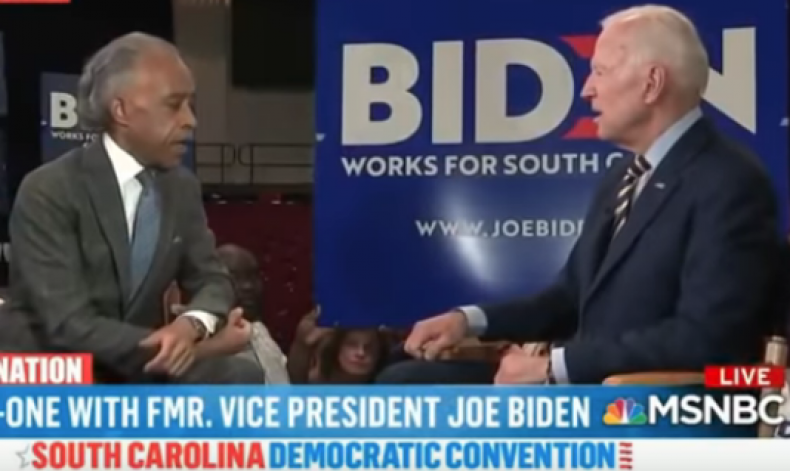 Biden said his use of the word was intended to show that the older senators simply liked the 29-year-old political upstart from Delaware, because they called him "son" and not "boy," as they did with late Democratic Senator Ted Kennedy.
"I do understand the consequence of the word 'boy,'" Biden said in his defense. "But it wasn't said in any of that context at all."
Biden tackled several hot-button issues among South Carolina voters, particularly those affecting the state's large African American population.
"There should be job training in prisons, not training on how to become criminals they're so much we can do," Biden told Sharpton and the South Carolina Democratic convention attendees. "Wall Street did not build America. You built America; average people given a chance built America."
"Four more years of Donald Trump will permanently change the character of this country," Biden continued during a Saturday speech to the audience. "We can't let that happen. We have to beat Donald Trump as the overwhelming imperative we have. We have to begin to rebuild the backbone of this nation. Hardworking people. Middle class people. But right now the poor are getting poorer."
Biden said he would eliminate Trump's tax cuts "for the top one-tenth of the one percent" on "day one" of his presidential term should he be elected in November 2020.
Several Biden supporters dismissed his comments last week about the segregationist senators and told CNN and other news outlets the former vice president's record under Barack Obama stands in its own right.
"Barack picked him for a reason," one woman said, drawing the agreement of several other convention attendees.
While Biden has enjoyed a high approval rating among African American voters, conservative group Club for Growth announced last week that it intends to air ads during the upcoming Democratic debates that use the long-time politician's past comments on race against him.