Joe Biden Risks Impeachment if Democrats Lose Both House and Senate
Democrats could be facing major losses in this year's crucial midterm elections as Republicans aim to take back the House of Representatives and the Senate in November.
If President Joe Biden's party loses control of both chambers, he could end up facing impeachment after several Republicans indicated that GOP majorities would move in that direction.
In January, Republican Senator Ted Cruz said there would be "multiple grounds" for impeaching Biden, while in April, Republican Representative Ken Buck told a virtual meeting that the House Judiciary Committee would "hold the hearings to determine whether impeachment is appropriate. We'll vote on impeachment. And then it will be presented to the full House."
A University of Massachusetts Amherst poll published in May found that 68 percent of Republicans and 66 percent of conservatives wanted Biden to be impeached if Republicans take the House, while 53 percent of Republicans believed a GOP-led House would impeach him.
Articles of impeachment can be passed by a simple majority vote in the House but a president can only be removed by a two-thirds majority vote in the Senate. This has never happened and it appears unlikely Republicans will have the necessary number of seats in 2023.
However, former President Donald Trump was impeached twice - in 2020 and 2021 - and on both occasions he was acquitted by the Senate. There is nothing to prevent a Republican-led House voting on articles of impeachment even if there is little chance of conviction.
Political experts who spoke to Newsweek said it was likely Republicans could consider impeachment but they could pay a political price if they attempted it.
A Polarized Chamber
John Owens, professor emeritus of United States government and politics at the Centre for the Study of Democracy at the University of Westminster in the U.K., told Newsweek that Democrats could still manage to retain the House and the Senate in November.
"Assuming the Republicans take over one or both houses, it's pretty likely they will try to impeach Biden," Owens said.
He said this was "especially from the House side" because supporters of the "Big Lie" will "become a larger presence in the House Republican Conference within an even more polarized chamber."
Owens was referring to Republicans who have supported former President Trump's unfounded claims that the 2020 presidential election suffered from fraud and other irregularities.
Point Scoring
If Republicans retake the House but not the Senate, which remains a possibility, any impeachment effort could end up looking like political "point scoring", according to Robert Singh, a professor at the Department of Politics at Birkbeck, University of London.
"Impeachment has increasingly become a kind of routine part of the hyper-partisan dynamics in Washington, rather than - as was intended - an extremely rare occurrence only applicable to the most egregious acts," Singh told Newsweek.
Singh said it was "still not certain" that Republicans will win both chambers of Congress.
"If they don't capture the Senate, then any impeachment becomes pretty pointless beyond point-scoring and embarrassing the administration," he said.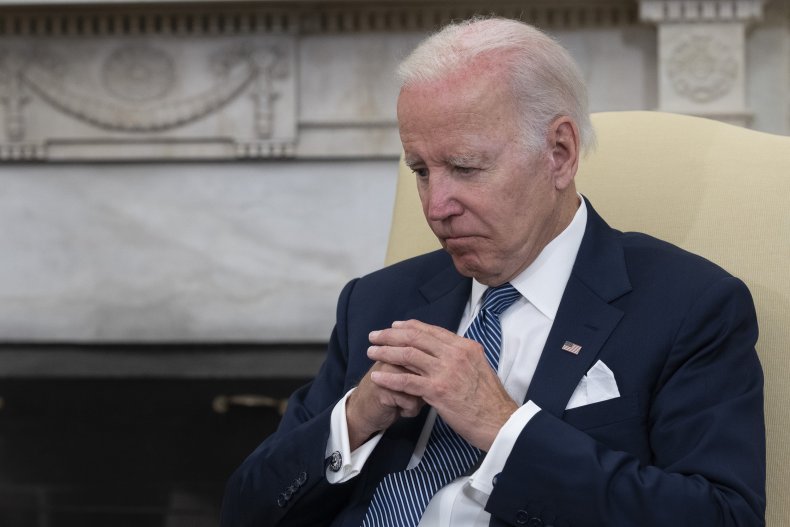 "The second aspect is how far Trump Republicans can prevail against 'establishment' types," Singh went on. "I suspect that while the latter won't object to committees investigating the various aspects of Biden - from Hunter and Ukraine to more policy related issues - Mitch McConnell and Kevin McCarthy would probably not want to endanger the party's prospects in 2024."
House Republicans have already indicated a willingness to launch investigations into a variety of issues, including Biden's son, Hunter Biden, and the U.S. withdrawal from Afghanistan. Those investigations could potentially form a basis for impeachment.
Political Damage
Impeaching Biden may be an enticing prospect for some Republicans but it could also see them paying a political price.
Thomas Gift, founding director of University College London's Centre on U.S. Politics, told Newsweek that "there's a wide chasm between what a small minority on the right pledges to do and what GOP leadership would actually stand for if the party regains control of both congressional chambers."
"Without a compelling case for impeachment, cooler heads will almost certainly prevail if for no other reason than impeaching Biden would be bad politics," Gift went on.
"Voters would see the move for what it is: an egregious misuse of oversight power, a petty attempt to avenge Trump's two impeachment trials, and ultimately a distraction," he added.
Robert Singh said it was not clear how much Senate Minority Leader Mitch McConnell and House Minority Leader Kevin McCarthy could control "the more extreme elements" in their caucuses if they're leading the majority.
"I would not bet against some House Republicans drawing up articles of impeachment, regardless of the damage it could cause the party politically. As much as anything they may think - wrongly, I suspect - that this would add pressure on Biden not to run in 2024, making the field easier for a GOP nominee," Singh said.
Moderate Republicans
While impeaching Biden could be politically difficult for Republicans, moderates in the party may move to prevent it.
Paul Quirk, a political scientist at the University of British Columbia in Canada, told Newsweek that Republicans "will certainly launch numerous investigations" if they regain majorities.
"With Biden still in the White House, they won't be able to enact much legislation," Quirk said. "And there will be matters clearly warranting investigation - the administration's bungled withdrawal from Afghanistan and failed management of the refugee problem, among others."
He added the GOP "may attack Department of Justice prosecutions of minor participants in the January 6 invasion of the Capitol, whom many Republicans think of as legitimate, peaceful protestors."
"But the more moderate wing of the congressional Republicans, and especially the party leaders, will almost certainly block any attempted impeachment—unless credible allegations of impeachable offenses actually emerge," Quirk said.
He said that any "obviously unwarranted, retaliatory impeachment" would "hurt Republicans in competitive states and districts."
"It would also allow Democrats, by way of comparison, to remind the public of Trump's concerted efforts to overturn the results of the 2020 election," Quirk went on. "Republican leaders will not want a partisan debate about which president, Trump or Biden, is more impeachable."