Trump Still 'Alpha Dog' of GOP Despite Jan. 6 Hearings: GOP Strategist
Former President Donald Trump is still the "alpha dog" of the Republican party despite the series of hearings from the House committee investigating the January 6, 2021, Capitol riot, according to a GOP strategist.
Doug Heye, who used to serve as the spokesman for the Republican National Committee, said to CNN on Wednesday that though he believes Trump is still the GOP "alpha dog," he is less so now than he was "three or four weeks ago." The first of the January 6 public hearings took place on June 9.
The House committee held its seventh hearing Tuesday, focusing on plans from right-wing extremist groups to storm the Capitol and Trump's alleged encouragement of those groups, including in tweets telling supporters that his January 6 rally would be "wild." This and previous hearings have drawn Trump's ire and outrage, while the former president has publicly denied several of the allegations and testimonies presented by the committee.
When asked by CNN's Jim Sciutto if the hearings were hurting Trump's political prospects for 2024, when the next presidential election will take place, Heye responded: "It is."
"And we know that it is because we see angry responses from Trump, angry statements from Trump with the hearing last week. He responded, 'I never even met this woman, I barely knew her,' things like this," Heye said.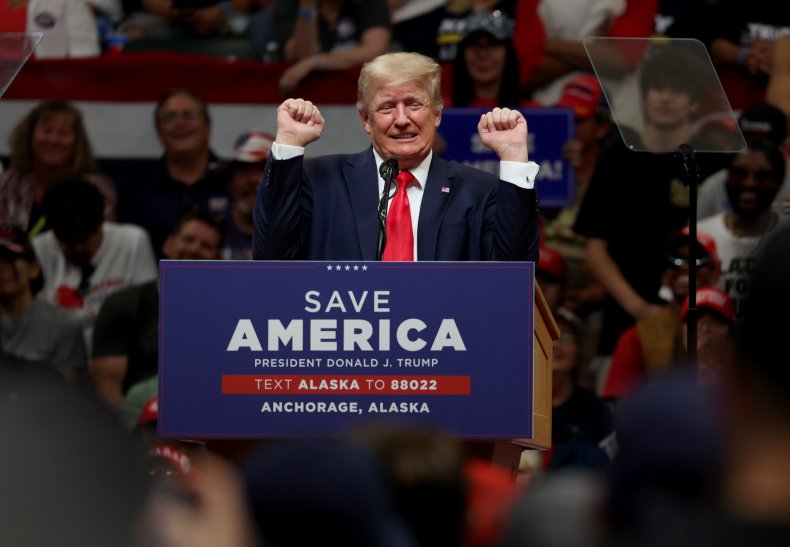 Heye was referring to former White House aide Cassidy Hutchinson, who testified about Trump's alleged movements and actions in the days surrounding the Capitol riot at the House committee's sixth hearing on June 28.
"I hardly know who this person, Cassidy Hutchinson, is, other than I heard very negative things about her (a total phony and 'leaker'), and when she requested to go with certain others of the team to Florida after my having served a full term in office, I personally turned her request down," Trump said in a Truth Social post at the time of her hearing. "Why did she want to go with us if she felt we were so terrible? I understand that she was very upset and angry that I didn't want her to go, or be a member of the team. She is bad news."
"We know that he is angry about it and we know that it is having an effect," Heye said of Trump and the January 6 hearings. "It is not having a dramatic effect politically in the polls but what we're seeing is an erosion, a slow erosion of support that also gives a lot of Republican candidates, potential candidates looking to run in 2024, more of a lane and avenue to do so and that is because of his weakened status right now."
Trump has yet to officially announce whether he will seek the Republican nomination again, but he has teased the possibility.
After the first January 6 hearing, a Fox News poll showed that his popularity rating took a slight dip compared to an earlier February poll, though it was not immediately clear if the change was caused by the hearing.
But an Emerson College poll released on June 29 found that Trump was still the most popular option among a group of potential GOP presidential contenders.
Newsweek reached out to Trump's spokesperson for comment.