The administration of President Joe Biden is confident the move to mandate COVID vaccines for workers at some companies will withstand GOP legal challenges, White House chief of staff Ron Klain has said.
Klain also said the administration would wait for the Federal Drug Administration (FDA) and the Centers for Disease Control and Prevention (CDC) to decide on booster shots that, if they get the go ahead, would be "available immediately within 24 hours."
Some Republican governors have vowed to challenge the move by Biden, who announced last week private companies with 100 employees or more must require them to be vaccinated or tested for COVID-19.
Klain told the Pod Save America podcast on Monday that "the political backlash is something we expected" but that "the only way" to get the country back to normal, "is to really put on these kinds of requirements to raise the share of the country that is vaccinated."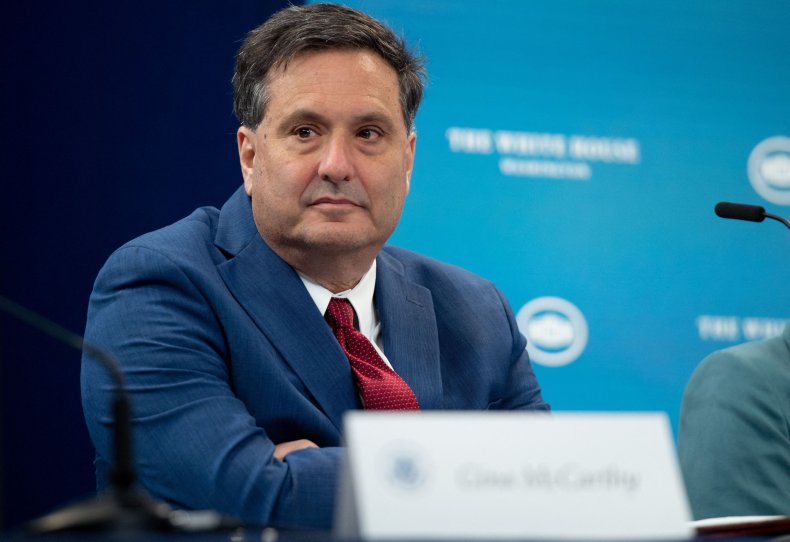 Klain said he was "very confident" that Biden's order would hold up legally with the requirement of vaccination for federal employees and federal contractors "clearly within his authority."
He acknowledged that the area most debated is how private businesses with over 100 workers could face Occupational Safety and Health Administration (OSHA) violations if their staff are not vaccinated or tested weekly.
"What the lawyers have told us is that's a very standard application of OSHA's authority to protect the workplace," Klain said, citing the example of an order by OSHA for those working on a construction site to wear a hard hat.
Governors and legal experts are debating whether it is an overreach for OSHA to rely on the health safety and well being test to mandate vaccination and whether a law tackling workplace conditions can reasonably be applied to a disease.
Klain said: "We're in a pandemic right now and to keep workers safe to keep people in the workplace safe, requiring vaccinations is part of OSHA's mandate, part of OSHA's responsibility to keep people safe on the job."
Biden's chief of staff was also asked about a report in The Lancet questioning the efficacy of COVID booster shots which the Biden administration has set a goal of September 20 to roll out.
It comes as White House COVID-19 task force officials and the FDA have accused CDC of withholding critical data needed to develop the booster shot plan, Politico reported.
Klain said: "I am not going to debate the scientists about the science," adding that "we are going to let the FDA and CDC sort this out," pointing out they were going to have an advisory meeting soon.
"We are going to let the regulators decide that." He added that "whenever the experts decide" boosters are needed, "they will be available immediately within 24 hours to whomever is authorized to get them through a massive network of retail distribution."
Newsweek has contacted the White House for comment.
The graphic below by Statista shows the share of people who say their employer encourages or requires COVID vaccination.