President Joe Biden will visit Saudi Arabia next month, where he will have to strike a delicate balance between promoting diplomacy with Saudi authorities while also pushing for transparency on the 9/11 attacks.
The trip comes as Biden hopes to find a diplomatic path with Saudi Arabia after years of taking a hardline stance against the country over the death of Washington Post journalist Jamal Khashoggi in 2018. But now, he may move to strengthen diplomacy in pursuit of a solution to high gas prices ahead of the midterm elections later this year.
Meanwhile, 9/11 Families United, an organization consisting of family members of those killed in the September 11, 2001, terrorist attacks, is pressuring Biden to demand transparency from Saudi officials on the trip. The organization has said documents declassified last year on the 20th anniversary of the attack proved that Saudi Arabia was involved.
The organization, in a statement sent to Newsweek on Tuesday, said that while it appreciates Biden's support for the families, "empathy is not enough."
"President Biden must do what past Presidents have not, which is to demand transparency from Saudi Arabia and accountability for those who supported al Qaeda and the hijackers who murdered our loved ones," the organization's National Chair Terry Strada wrote in the statement.
The president's trip marks a shift in Biden's previous rhetoric against Saudi Arabia. He has previously said Saudi Arabia is a "pariah" over its alleged human rights abuses and that its government has "very little social redeeming value" and has murdered "children...and innocent people" in Yemen. During his presidential campaign, Biden pledged accountability against the nation.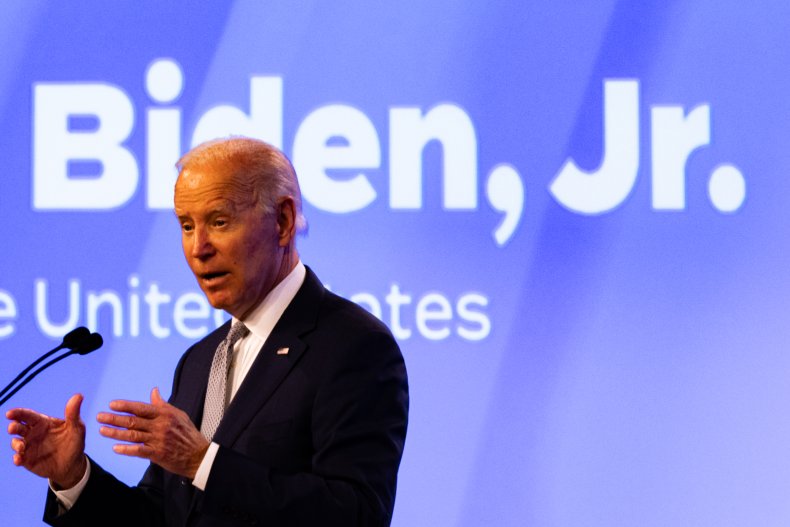 A White House spokesperson wrote in a statement to Newsweek that Biden has made a commitment to "ensuring the maximum degree of transparency under the law" and helping victims' families seek full accountability in connection to the September 11 attacks.
Relations between the United States and Saudi Arabia have been especially tense following the 2018 death of Khashoggi, as U.S. intelligence has said Crown Prince Mohammed bin Salman was involved in the incident.
Gas prices have remained high over the past several months, in part due to sanctions against Russia's oil amid its invasion of Ukraine. Biden has called for increased oil production to offset the losses and is expected to focus on oil production during his trip.
Patrick De Haan, head of petroleum analysis at GasBuddy, said in a phone interview that while Biden may push for Saudi officials to increase oil production during his trip, they may be hesitant to do so over his hardline stance on Khashoggi—but it could set the groundwork for a future deal.
He explained that if a deal were to be reached to increase oil production, the U.S. would still need more refining capacity, which was slashed when many Americans limited travel at the start of the COVID-19 pandemic.
Still, he said, it could lower prices by 25 to 75 cents per gallon.
"Even if there is an increase in Saudi Arabia, we still have the challenge of turning that oil into something like diesel, gasoline and jet fuel," he said.