Biden for President in 2020? Former VP Says He 'May Very Well' Run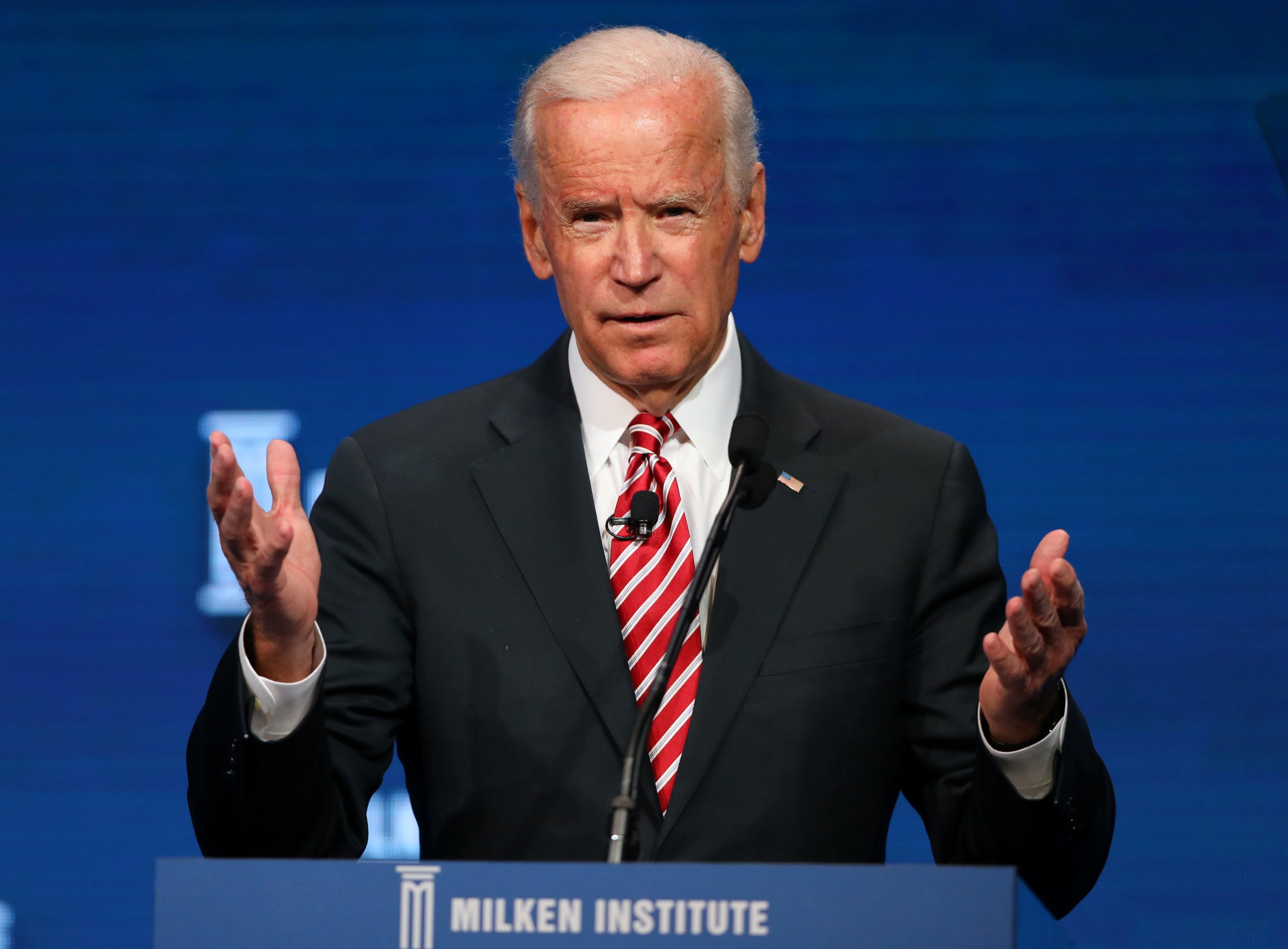 It's been six months since Donald Trump defeated Hillary Clinton in the 2016 presidential election, and former vice president Joe Biden still seems to be harboring regrets that he didn't run. Speaking Thursday night at the SALT Conference in Las Vegas, Biden said that "he may very well run" for president in 2020, although he hasn't yet made a decision.
"I never thought [Hillary Clinton] was the correct candidate," Biden added. "I thought I was the correct candidate."
Biden has been vaguely intimating regrets about not opposing Clinton since he formally announced he would not be entering the race in October of 2015. His comments Thursday night mark his harshest criticism of Clinton's candidacy to date, as well as the most concrete indication that he may run in 2020, when he will be 74 years old.
Biden expressed interest in running in 2016, and on several occasions has said that he thinks he would have beaten Trump if he did decide to run. He ultimately chose to abstain because his son Beau died of cancer in May of 2015, and the family was still grieving.
"As my family and I have worked through the grieving process, I've said all along what I've said time and again to others: That it may very well be that that process, by the time we get through it, closes the window on mounting a realistic campaign for president, that it might close," Biden said as he announced he would not be running. "I have concluded that it has closed."
Despite his age, Biden would have to like his chances against Trump in 2020. Democratic firm Public Policy Polling on Tuesday released a poll that found he would have a better chance of defeating Trump than any other Democrat. In a hypothetical matchup, the poll found that Biden would defeat Trump by 14 percentage points, 54-40. Not far behind was Bernie Sanders, whom the poll found would beat Trump by 13 percentage points, 52-39. Sanders, however, is currently 75 years old, and would be 79 in 2020. Donald Trump in January became the oldest president to assume office at the age of 70.
Bashing Clinton and teasing a presidential run were not the only reasons Biden's name was in the news on Thursday. Cornell University, which has an on-site dairy brand called Cornell Dairy, will name a flavor of ice cream after the former VP, who will deliver the university's commencement address later this month. Biden is a big fan of ice cream. He's professed his love for the dessert publicly, but the proof is evident.