A Timeline of Joe Biden's Conflicted Presidential Run That Wasn't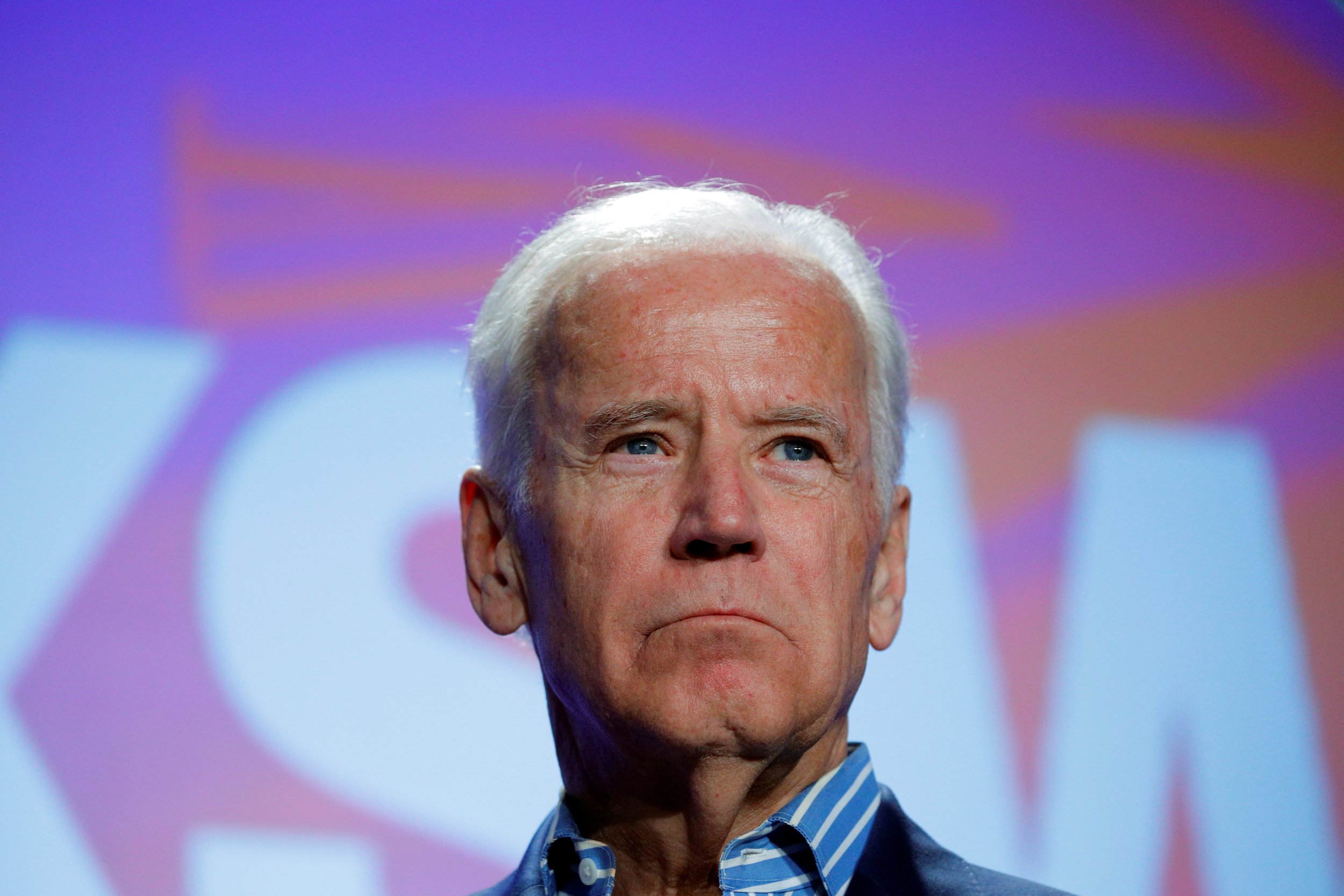 Joe Biden said in a speech at Colgate University on Friday that he feels he could have beaten Donald Trump and that he regrets not being president.
The admission came after university president Brian W. Casey asked the former vice president if he had any regrets about not running. "I had a lot of data," Biden said. "I was fairly confident that if I was the Democratic Party nominee, I had a better-than-even chance of being president."
Related: Joe Biden tells Donald Trump to 'grow up, time to be an adult'
Biden then became emotional as he recounted the death of his son Beau, which he has cited as the sole reason he didn't run, despite reports that Beau had encouraged him to. "The press began to think I was playing a game, but I couldn't tell them about my boy," Biden said. "He wanted me to run.... My son Hunter, my daughter Ashley, my wife, all thought I should."
In what was both an explanation of his own decision and possibly also a jab at Donald Trump, Biden said that, "No man or woman should announce for president of the United States unless they can look the public in the eye and say, 'I promise you I am giving 100 percent of my attention and dedication to this effort.'"
"Do I regret not being president?" he added. "Yes. Do I regret not running for president, in light of everything that was going on in my life at the time? No."
His statements at Colgate are only the latest instance of Biden expressing conflicted feelings about his decision in October of 2015 not to run for president, an office he had sought for his entire career and which he had already run for twice, in 1988 and 2008. It's one of the greatest political "what ifs" in recent memory and—depending on the rest of Trump's presidency—possibly in American history. Here's a brief rundown of the rise and tragic fall of the potential for Biden to have been the 45th president of the United States.
October 2008: In Newsweek, the month after Obama was elected:
At a secret meeting in mid-August at the Graves 601 Hotel in St. Paul, Minn., that lasted two to three hours, Obama told him it wouldn't work unless Biden viewed the vice presidency as "the capstone" of his career, not a step down. "Not the tombstone?" Biden joked.

"Will this job be too small for you?" Obama asked, with a deft appreciation of the art of flattery.

"I said no, as long as I would really be a confidant. I told him, 'The good news is, I'm 65 and you're not going to have to worry about my positioning myself to be president. The bad news is, I want to be part of the deal'."
July 2013: "I can die a happy man never having been president of the United States of America," he tells GQ. "But it doesn't mean I won't run."
"The judgment I'll make is, first of all, am I still as full of as much energy as I have now—do I feel this?" he continued. "Number two, do I think I'm the best person in the position to move the ball? And, you know, we'll see where the hell I am. And by the way, if you come in the office, I have two portraits hanging—one of Jefferson, one of Adams. Both vice presidents who became presidents."
February 2014: Biden said on CNN that he can't think of a reason why he shouldn't run for president. "There may be reasons I don't run," he said, "but there's not (an) obvious reason for me why I think I should not run."
"For me, the decision to run or not run is going to be determined by me," he continued, "as to whether I am the best-qualified person to focus on the two things I've spent my whole life on: giving ordinary people a fightin' chance to make it and a sound foreign policy that's based on rational interests in the United States."
Taking it a step further, he noted on The View how he is "uniquely qualified" to be president. "I think my knowledge of foreign policy, my engagement of world leaders, my experience uniquely positions me to follow through on the agenda Barack and I have of bringing world peace that is real and substantive," he said.
March 2014: In a profile of Biden in Politico, Glenn Thrush writes that, "Every one of the dozen Biden friends I interviewed predicted he wouldn't actually run for president in 2016." They also, however, said it "wouldn't be a surprise if he jumped in at the last minute."
July 2014: A Gallup poll shows that while Biden would be the second-most recognizable name to enter the 2016 race next to Hillary Clinton, he is neck-and-neck with Rick Santorum for the lowest favorability among voters. A few weeks later, the New Yorker releases a piece on Biden in which Obama speaks highly of his vice president's qualifications. "I think Joe would be a superb president," Obama said. "He has seen the job up close, he knows what the job entails. He understands how to separate what's really important from what's less important. I think he's got great people skills. He enjoys politics, and he's got important relationships up on the Hill that would serve him well."
Jimmy Fallon debates the pros and cons of a Biden presidency on the Tonight Show.
December 2014: A Monmouth University poll shows Biden at 2 percent among potential Democratic hopefuls. The poll had Hillary Clinton at 48 percent followed by Elizabeth Warren at 6 percent. Joining Biden at 2-percent favorability was Bernie Sanders.
A Qunnipac University poll had Clinton well above 50 percent, followed by Warren at 13 percent and Biden at 9 percent. If Clinton were not to run, however, the poll had Biden leading all other Democrats at close to 35 percent.
January 2015: Biden tells George Stephanopoulos on Good Morning America that "there is a chance" he will challenge Clinton. "I haven't made my mind up about that," he said. "We've got a lot of work to do between now and then. There's plenty of time."
He said the same to Today's Matt Lauer, adding that he thinks the position would suit him. "To be blunt with you, I think I could do a good job, but that's not my focus now," he said. "My focus now is keeping this recovery moving. I have plenty of time to make that decision between now and the summer, and I will make that decision in that time frame."
February 2015: Biden reiterates to reporters that he will make a decision at the end of the summer. "That's a family personal decision that I'm going to make sometime at the end of the summer," he said while on an official trip to Iowa.
Following his trip to Iowa, Biden in February visited both South Carolina and New Hampshire, which led many to believe the vice president was testing the waters for a potential presidential run. It is hard to overstate the degree to which Clinton was perceived as a lock to land the nomination in early 2015. In a piece urging Biden to run while at the same time acknowledging that he had no chance to win, Slate's Jamelle Bouie wrote that "barring a change to the landscape, there won't be a Democratic primary campaign next year."
"Hillary Clinton will announce her bid for the nomination, and we'll almost immediately move to a general election campaign," he continued. "The former secretary of state is the definition of inevitable: There are dissenters, but after winning second place in the momentous 2008 race, the party and its machinery are mostly behind her candidacy."
May 2015: Biden's son Beau dies at the age of 46 after battling brain cancer. "Beau Biden was, quite simply, the finest man any of us have ever known," Biden wrote in a statement.
June 2015: Amy Davidson writes a piece in the New Yorker titled "Why Joe Biden Should Run." Like Bouie in February, however, the case is based more around the effect it could have on Clinton. "Hillary Clinton may not want him to," Davidson writes. "But it might do her good, even if she is, as everyone say, the inevitable candidate. And it can only make the Democratic Party better."
The Wall Street Journal reports that Biden's sons encouraged him to run, including his late son Beau. "It's no secret that Beau wanted him to run," Former South Carolina Democratic chairman Dick Harpootlian said. "If he does what Beau wanted him to do, he'll run."
August 2015: Obama gives Biden his "blessing" to run for president during a lunch at the White House.
At the same time, many doubt the viability of a Biden candidacy. In a piece for the Washington Post, Chris Cillizza speaks to a number of skeptical Democratic strategists. Concerns ranged from how Biden "lacks any real niche in the race" to how late he would be entering the race. He also pointed to a number of points made by Ryan Lizza of the New Yorker.
Just as liberal Americans failed to properly assess the appeal of Donald Trump, so too did they overestimate that of Clinton.
October 2015: Biden announces he is not running for president.
"As my family and I have worked through the grieving process, I've said all along what I've said time and again to others: That it may very well be that that process, by the time we get through it, closes the window on mounting a realistic campaign for president, that it might close," Biden said from the White House. "I have concluded that it has closed."
A week later, Biden says on 60 Minutes that he didn't run because he didn't feel like he could have won. "I'll be very blunt," he said. "If I thought we could've put together the campaign that our supporters deserve and our contributors deserved, I would have gone ahead and done it."
December 2015: Biden tells Bloomberg that he made the right decision not to run. He also changes course by noting that he feels he could have won. "I believed I could win, but that's not enough," he said. "I know myself. And I know it takes time. You've got to get through the first Thanksgiving—the first empty chair; the first Christmas, the first smell of spring."
January 2016: A month after reaffirming his decision, Biden says that he regrets "every day" that he didn't run while still claiming it was the right thing to do. "I regret it every day, but it was the right decision for my family and for me. And I plan on staying deeply involved," he told a Connecticut NBC affiliate.
February 2016: Reuters reports that a Democratic donor is pushing Biden to reconsider and enter the race. Concern Democrats will continue to wonder for months whether Biden could eventually "come to the rescue," as the New York Observer put it in March.
May 2016: Biden tells Robin Roberts on Good Morning America that he would have done pretty well should he have run for and won the presidency. "I had planned on running," he said. "It's an awful thing to say: I think I would have been the best president."
June 2016: Biden endorses Clinton. A few hours later, Obama would do the same.
October 2016: Biden says on CNN that he thought he could beat Clinton, and that the only reason he didn't run was his son Beau's death.
March 2017: During a keynote address at South by Southwest in Austin, Texas, Biden says he regrets missing the chance "to be the president who presides over the end of cancer as we know it.
"Your generation can be the first generation on earth that goes through life with a completely different understanding of cancer as preventable—a controllable disease, rather than a death sentence," he added. Biden was at SXSW to promote the cancer prevention, diagnosis and treatment work he and his wife Jill are doing through the recently founded Biden Foundation.
A few weeks later, Biden says that he could have beaten Trump, and that he regrets not being president while speaking at Colgate University.
Read more from Newsweek.com:
- Joe Biden compares 2016 to 1968
- Obama deserves an apology from Trump, says Joe Biden
- Joe Biden discusses cancer research at SXSW