Joe Biden Compares 2016 to 1968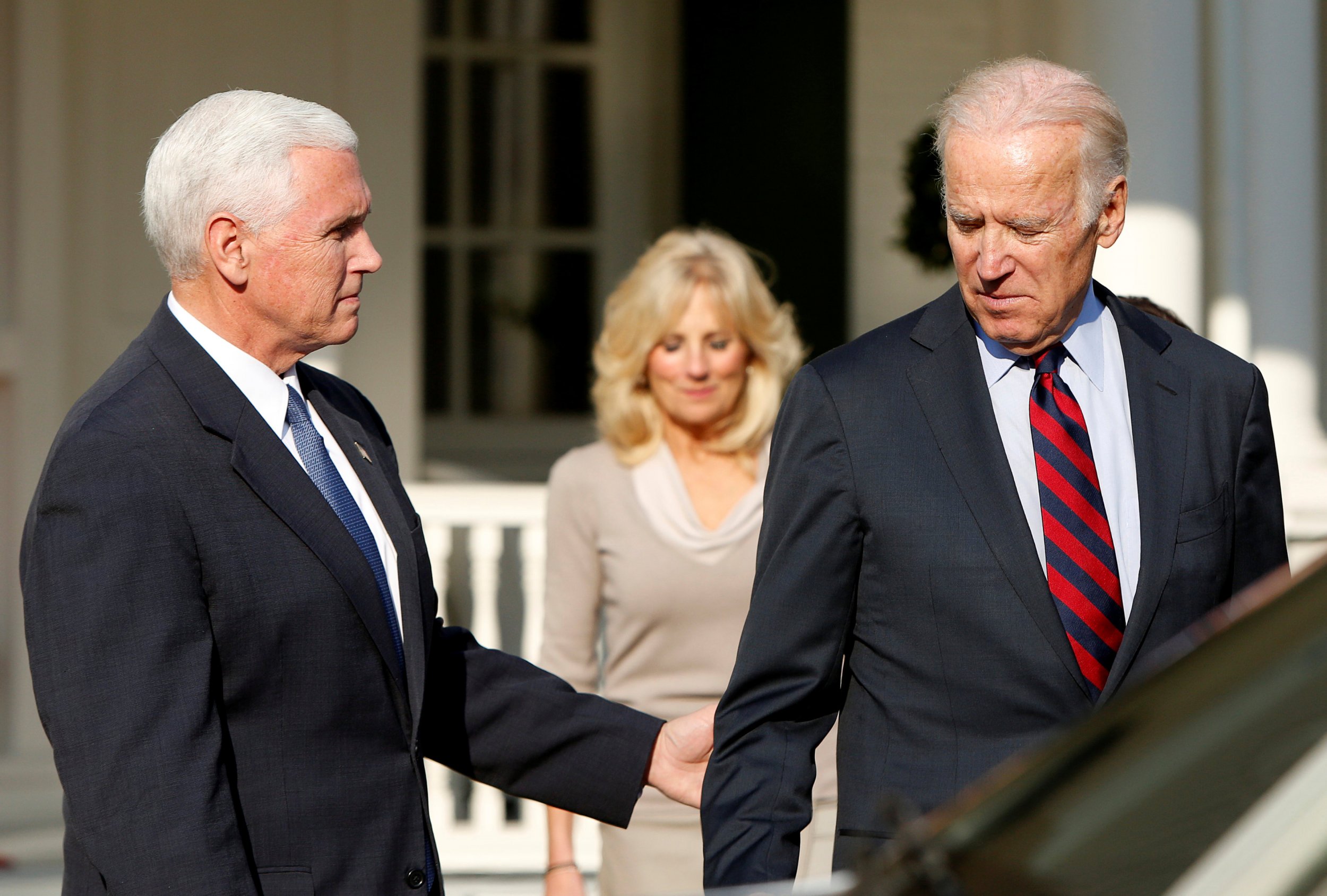 As Vice President Joe Biden received the Robert F. Kennedy Ripple of Hope Award on Tuesday night in New York City, he compared 2016 to 1968, one of the most tumultuous years in modern American history.
"I remind people, '68 was really a bad year. Really a bad year. And America didn't break. America didn't break," he said on stage at the Hilton Midtown Hotel. Biden went on to cite some of the low points of that year, including the assassinations of Kennedy and Martin Luther King, Jr. He also mentioned the gunning down of students at Kent State University in Ohio in 1970.
"As bad as it was, the center still held," Biden said. "It's as bad now, but I'm hopeful."
Biden also spoke about his admiration for Kennedy, who he called "the one true hero of my life."
Biden received the award in recognition for his support of numerous social justice and human rights initiatives, including equal pay for women and civil rights, and for supporting survivors of sexual assault and gender-based violence. Winning it, said Biden, "means more to me than any of you will ever know. It's the single greatest honor of my life."
Related: Joe Biden says public sexism will grow under Hillary Clinton
He also spoke about the state of the U.S. in the wake of Donald Trump being elected president last month.
"Even at moments like now, when this country seems so divided, we can still find common hopes and aspirations. There need not be this false choice that's being debated now on my side of the political ledger, between social justice and economic opportunity," said Biden. "They go hand in hand, they're not different."
He added: "We have to take a hard look at the hard truths about our country now, and our economy, and why so many people feel left out. We have to stop being blinded by anger, we have to start to listen to each other, see each other again."
On Monday, Biden dropped something of a bombshell, telling reporters that he'd be open to running for president in 2020. Asked if he was kidding, Biden said: "I'm not committing not to run." Biden didn't discuss his comments during his acceptance speech, but further clarified his remarks on The Late Show with Stephen Colbert on Tuesday night.
"I'm a great respecter of fate. I don't plan on running again. But to say you know what's going to happen in four years, I just think is—is not rational," Biden said.
Howard Schultz, CEO of Starbucks, and Scott Minerd, global chief investment officer at Guggenheim Partners, were also presented with awards. During his acceptance speech, Biden said that his niece works for Starbucks, and he told Schultz: "I hope you're paying her well."
Before Biden accepted his award, a number of actors and celebrities, including Danny DeVito, Lorraine Bracco, Harry Belafonte, Joy Behar and Alec Baldwin, read portions of a speech given by Kennedy from the back of a truck in Indianapolis on the night of King's death. Kennedy was assassinated two months later, on June 5, 1968, in the Ambassador Hotel in Los Angeles. Speaking with Newsweek on the red carpet before the event, Baldwin said his main human rights concern regarding the coming Trump administration is the "out of control prison industry."
"I would like to see mandatory sentencing really knocked out of the ballpark," says Baldwin. "We have created a corrections industry in this country and a lot of people have grown to depend on those dollars."
"We have a lot of people in prison in this country for just insane drug crime sentencing, and it's not helping," he added.
DeVito, meanwhile, says his biggest worry is climate change.
"We're screwing up the planet and a lot of people are going to be displaced," says DeVito. "If you think the refugee problem is tough now, it's a drop in the bucket compared to when the seas rise and people have to flee the places where they dwell. It's going to be very difficult."
"Pretty much right now we have a lot of work to do because everybody has their heads up their ass," DeVito added.
Read more on Newsweek.com:
-Joe Biden will make an appearance on 'Law & Order: SVU'
-Joe Biden tops Hillary Clinton's short list for Secretary of State
-Barack Obama, Joe Biden and the Virality of Friendship