Joe Biden Says He'd Rather Catch Passes From Patrick Mahomes Than Tom Brady
It has become a tradition for the President of the United States of America to sit down for a pre-Super Bowl interview prior to the game on the network that has the rights to that year's contest.
President Joe Biden sat down with CBS' Norah O'Donnell for that interview. A quick clip aired Sunday afternoon in the 4 p.m. hour—more than two hours before kickoff between the Kansas City Chiefs and Tampa Bay Buccaneers.
O'Donnell let the audience know that Biden played receiver in his younger days, and asked the president who he'd rather catch passes from—Patrick Mahomes or Tom Brady
"As a former receiver, which quarterback would you rather have throw to you?" O'Donnell asked Biden.
Biden threw praise toward Tampa Bay's Tom Brady, who has six Super Bowl titles in nine appearances—both NFL records. But Biden said he would rather catch passes from Kansas City's Mahomes.
"Obviously Brady's a great quarterback," Biden said. "Mahomes seems like he's got a lot of potential, and so I'd probably take a shot with the young guy that he doesn't expect as much from."
When pressed on who he thought would win, Biden didn't choose either team.
"I think they're both great quarterbacks. One is just a younger version potentially of an old, great quarterback," Biden said. "Not old, but in NFL terms old."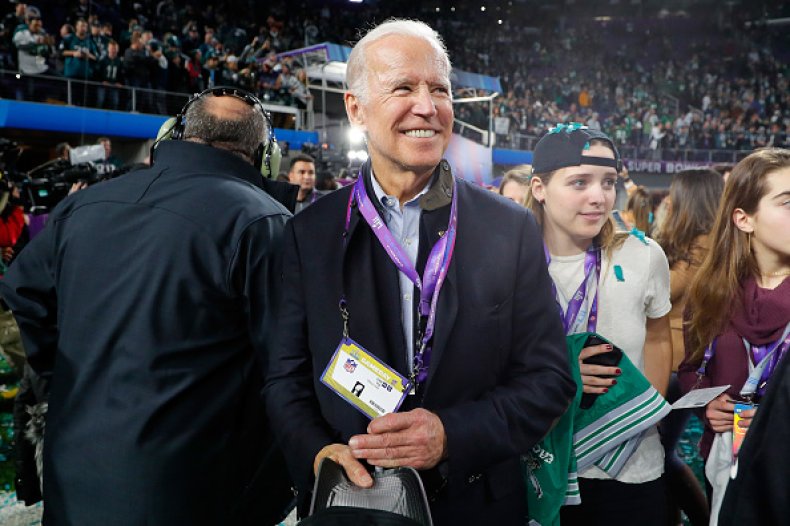 Mahomes is looking to become the first quarterback to win back-to-back Super Bowls since Brady accomplished the feat with the New England Patriots following the 2003 and 2004 seasons.
Brady led the Patriots to nine Super Bowl games during his 20-year tenure with the Patriots. He has more Super Bowl appearances and wins than any other quarterback in history. Brady signed with the Buccaneers last offseason, and he guided the team to the Super Bowl as a wild card team. Tampa Bay is also becoming the first team to ever play the Super Bowl in its home stadium.
Brady has been known to be friends with former President Donald Trump. The two have golfed together and attended functions alongside each other. Politics was not brought up during this portion of the interview, however.
The first part of Sunday's interview focused on COVID-19 and vaccinations. Biden said he hopes the country can get back to normalcy of having full stadiums, kids back in schools and house parties for events like the Super Bowl.
"It's my hope and expectation if we're able to put together and make up for all the lost time fighting COVID ... that we'll be able to watch the Super Bowl with a full stadium," Biden said. "The Super Bowl is just one of those great American celebrations. And all those house parties and all those things that aren't happening. But God willing, we're going to be able to celebrate it all as usual in a year from now."
O'Donnell said that house parties are likely still happening around the country regardless.
"Oh, I'm sure there are. It was hard at Christmas, Thanksgiving, New Year's," Biden said. "But I hope people, if you're watching, be careful."
Biden said one of the "disappointments" was previous administration of handling the virus was "more dire than we thought." He went on to say his administration could take advantage of an offer from the NFL to use its giant stadiums as vaccination sites.
"I got a call from Commissioner [Roger] Goodell saying we could have all 32 NFL stadiums available for mass vaccinations," Biden said.
Biden said he's telling his team that stadiums are available and believes they can use those stadiums across the country. There are only 31 stadiums as the Los Angeles Chargers and Los Angeles Rams actually share the new SoFi Stadium, which will host the Super Bowl in 2022.
The remainder of the Biden-O'Donnell interview will air Monday evening on CBS.