Australians Aghast as Joe Biden Calls Prime Minister 'That Fella Down Under'
President Joe Biden delighted some and confused others in Australia when he appeared to forget the name of Prime Minister Scott Morrison, whom he referred to as "that fella from Down Under."
He reverted to the catch-all term for the Antipodes during a video media conference announcing a trilateral security partnership involving the U.S., the U.K and Australia.
But it was more awkward than AUKUS—the name of the deal they struck—when Biden said, "I what to thank...uh...that fella down under," before adding, "thank you very much pal. Appreciate it Mr. Prime Minister." He then eventually referred to Morrison by his name.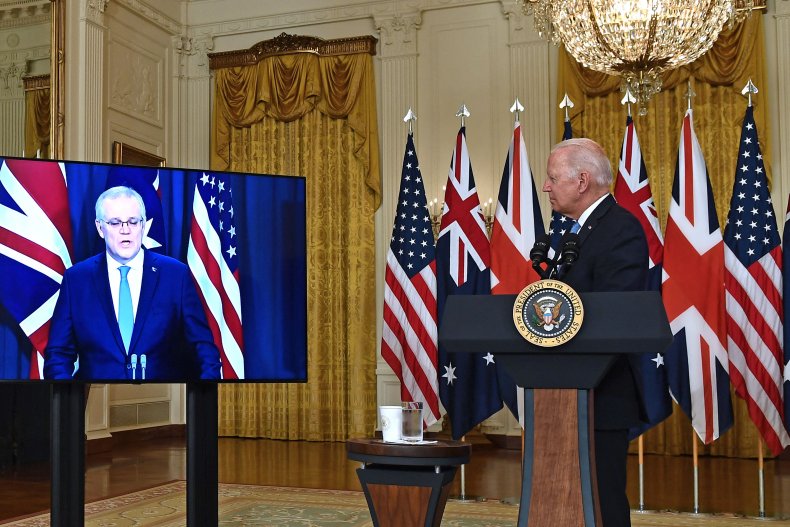 Many took to social media in Australia to speculate whether it was a memory lapse, another gaffe, or just an attempt at informality and banter. After all, Biden often uses the word "pal" when speaking in public.
In any case, it seems that the U.S. president has unwittingly coined a new nickname, as #ThatFellaDownUnder started trending.
Kirsten Ferguson, a writer and speaker from Queensland, tweeted: "Surely 'That fella Down Under' is the equivalent of running into someone in the pub whose name you can't remember and can only come up with 'Maate'."
Matt Bevan, a host with Australia's broadcaster ABC, tweeted how their leaders' names are often difficult to recall on the world stage.
"NOOOOOOOOOOOOOOOOOOOOOOOOOOOO THAT'S SO MUCH WORSE THAN TRUMBLE," he wrote, in reference to 2017 when former White House press secretary Sean Spicer twice called the previous Australian PM Malcolm Turnball "Malcolm Trumble."
In a sardonic follow-up tweet, Bevan wrote: "This is devastating for our national psyche. Our cultural cringe just tripled."
Melbourne-based comic book author Tom Taylor tweeted: "Joe Biden forgets Scott Morrison's name like our Prime Minister forgets everywhere that isn't Sydney."
Comedian Kirsty Webeck tweeted "Biden just laid the "Scotty From Marketing" nickname to rest permanently," referring to his moniker stemming from his time as a marketing executive.
Another Australian user, Belinda Jones, tweeted to her 32,000 followers: "I get the feeling Biden doesn't like Morrison. If he did, then he'd have no trouble saying Morrison's name. Speaks volumes."
Breakfast television and tabloids in Australia jumped at the chance to use Biden's slip of the tongue to sell the story over the trilateral deal, which will see the U.S. share nuclear technology that can help Australia build a fleet of nuclear-power submarines.
Michael Koziol, deputy editor of The Sun-Herald, said Australians were taking the story in good spirit. "Probably it says something about our relative position in this AUKUS ménage à trois," he told Newsweek, "we are used to our place as the middle power and the ranking that comes with it."
Newsweek has contacted the White House for comment.