Joe Biden Is Only Second Candidate To Lose Both Iowa and New Hampshire But Still Win the Democratic Nomination
Former Vice President Joe Biden is only the second candidate in modern history to have lost both the Iowa caucus and New Hampshire primary but go on to win the Democratic nomination.
Biden's victory was cemented on Friday after gaining the required 1,991 delegates after Tuesday's primaries across seven states and the District of Columbia.
"It is definitely unusual," Caitlin Jewitt, a political scientist at Virginia Tech, said of Biden's victory. "It's really a different path to the nomination than we have ever seen before."
Not since 1992, when then-Arkansas Governor Bill Clinton was running for president, has a Democratic candidate not been successful in either of the first two nominating contests but go on to secure the party's nomination.
Clinton actually skipped over Iowa in his first campaign because it was the home state of one of his opponents. But he performed much better in New Hampshire than expected, which prompted his campaign to coin the nickname "Comeback Kid." He went on to score his first primary win in Georgia just a week later.
Biden didn't enjoy that same momentum. He came out of the New England state in fifth place with just 8 percent of the vote. Then he got crushed by Vermont Senator Bernie Sanders in Nevada, losing the Western state by a 20-point margin.
The former vice president's campaign—his third run at the White House in his near 50-year career in politics— was at a make-or-break moment heading into the last early-voting state: South Carolina.
"I think it reflects the unique dynamics of this race," Chris Kofinis, a longtime Democratic strategist, said of Biden's climb to the nomination. "It's definitely unorthodox."
Biden's bet on South Carolina paid off. He defeated his next closest competitor by 40 percentage points, the largest margin of victory in any of the primaries or caucuses up until that point. That win caused two of his biggest moderate rivals, Pete Buttigieg and Amy Klobuchar, to drop out and endorse him.
Three days later, Biden had a Super Tuesday sweep, winning 10 of the 14 states in play. The victories put him in the delegate lead ahead of Sanders, who had previously been the front runner. The former vice president then expanded that lead throughout the March primaries.
Kofinis, the Democratic strategist, said the keys to Biden's nomination were winning South Carolina and the rest of the moderate candidates exiting the race and coalescing their support around him.
"This wasn't because the Biden campaign was running a better campaign on the ground, there was no ground campaign. It wasn't because the Biden campaign was running better commercials, they weren't running commercials in most of these states," he said. "I think it was simply voters getting the clarity they needed and it happened to go Biden's way."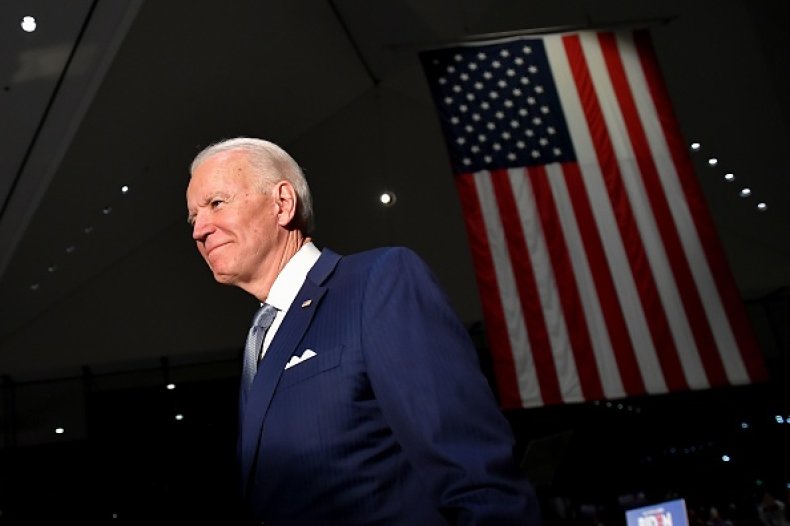 Throughout his primary campaign, Biden pitched himself as the best alternative to Trump's divisive administration and has repeatedly referred to the 2020 election as a "battle for the soul of the nation."
Trump has responded by giving Biden the nickname "Sleepy Joe"— a jab at the former vice president's age. Biden is 77 and, if elected, would be 78 when he's sworn into office. Trump is 73. Before becoming the nominee, the Trump 2020 re-election team sent out a tweet calling Biden a "rotting corpse of a candidate."
But polls consistently showed throughout the Democratic primary that Biden could defeat Trump in a head-to-head match up. A result survey from Morning Consult found Biden besting Trump by 7 points among all voters. It was a 3 percent increase from February, where the gap between the two men was 4 points.