Joe Biden's Lead Over Trump in National Election Grows to Largest Margin of 2020, New Poll Shows
Democratic presidential frontrunner Joe Biden's lead over President Donald Trump in a hypothetical general election match-up has grown to a 2020 high, according to new polling data.
The poll, conducted by Morning Consult from March 5 to 8, showed Biden besting Trump by 7 points, 48 percent to 41 percent among all voters. That's a 3 percent increase from February, when the gap was just 4 points. However, 11 percent of respondents still said they do not know or have no opinion on the potential match-up.
Biden also beats Trump among independent voters. The Morning Consult data showed that 41 percent of the demographic currently back Biden, while just 35 percent said they back Trump. In late February, Trump and Biden were tied with 37 percent each. Meanwhile, 24 percent of independents said they remained uncommitted to either the former vice president or the incumbent president.
Biden's lead over Trump in the new poll, which has a margin of error of plus or minus 1 percent, aligns with the results of most other recent national surveys. The latest average of recent national polls compiled by Real Clear Politics showed Biden beating Trump by about 6.5 percent.
Recent polls by CNN, Quinnipiac and Yahoo News/YouGov showed Biden trouncing Trump by significant margins of 10 percent, 11 percent and 9 percent respectively. In fact, out of the recent polls compiled by Real Clear Politics, only one—conducted by Emerson from February 16 to 18—showed Biden losing to Trump. That survey showed Trump beating Biden by 4 points, 52 percent to 48 percent.
But Biden has yet to secure the Democratic presidential nomination, although he is seen by many analysts as the likely nominee after significant wins in South Carolina and Super Tuesday states. He also appears set to perform well in the six additional states holding their primaries on Tuesday.
Senator Bernie Sanders of Vermont, the second place contender, also polled well against Trump. Recent polls by CNN, Quinnipiac and Yahoo News/YouGov showed him ahead of the president by 7 points, 7 points and 6 points respectively.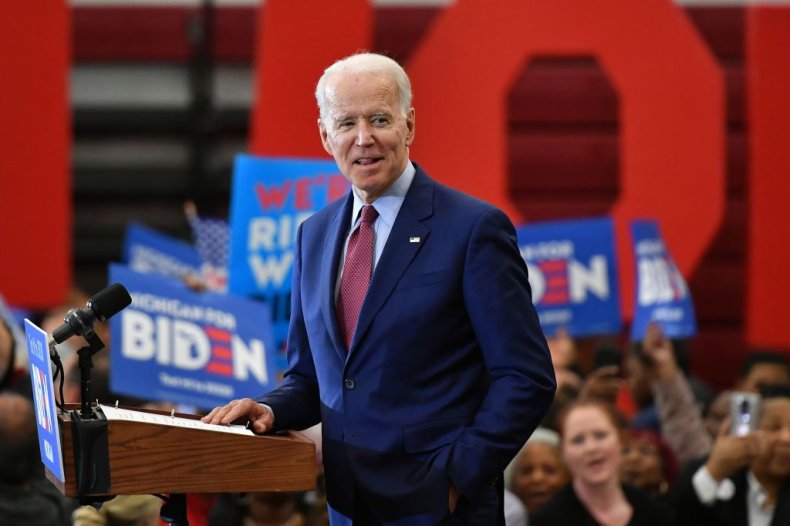 However, Democrats learned in 2016 that commanding leads in national polls doesn't necessarily translate into victory in the general election. Former Democratic presidential candidate Hillary Clinton was ahead of Trump by more than 20 points in some polls months before the November election. But Trump went on to win the Electoral College with a series of narrow victories in battleground states, despite Clinton receiving about 3 million more votes.